The Gift Theatre Presents HAMLET This June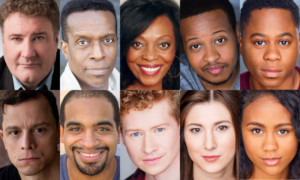 The Gift Theatre is pleased to continue its 17th season with William Shakespeare's HAMLET. Directed by guest artist Monty Cole, this production of the Bard's great tragedy will crack open the mind of one of western drama's most fascinating and complex characters. HAMLET will play June 1 - July 29, 2018 at 4802 N. Milwaukee Ave. in Chicago's Jefferson Park neighborhood. Single tickets and season subscriptions are currently available by calling the Gift's box office at (773) 283-7071 or visiting thegifttheatre.org.
HAMLET features Daniel Kyri as Hamlet with Gift ensemble members John Kelly Connolly* as Claudius, Gregory Fenner* as Laertes, Martel Manning* as Guildenstern and Hannah Toriumi* as Rosencrantz, and guest artists Robert Cornelius as Ghost/Polonius, Shanésia Davis as Gertrude, Alexander Lane as Fortinbras/Marcellus/Gravedigger, Casey Morris as Horatio, and Netta Walker as Ophelia.
After the death of his dad, a young black man named Hamlet returns home to grieve and seek revenge. Fighting against the injustice of his father's murder and the powers that want him out of the picture, Hamlet quickly loses power and sanity.
Director Monty Cole comments, "Over the last year, this script has only become more personal to me and my production team. What makes this Hamlet unique isn't necessarily "a new spin" from me but rather a process of personalization from incredibly respected Chicago artists working to make this 400 year old story feel prescient."
Artistic Director Michael Patrick Thornton adds, "Experiencing Shakespeare at The Gift is electrifying. In our intimate space, we can deliver performances that mirror Hamlet's advice to the players: stripped-down, clear, lyrical, and conversational. To be mere feet away from Hamlet's heartache and blazing mind would be gift enough; with the colossal talents of these artists, our HAMLET will be one for the ages."
The production team for HAMLET includes: William Boles (scenic design), Samantha C. Jones (costume design) Claire Chrzan and Michelle Benda (lighting design) Jeffery Levin (sound design), Gaby Labotka (violence choreographer) and Michael Petersen, Ph.D. (dramaturg).
PRODUCTION DETAILS:
Title: HAMLET
Playwright: Williams Shakespeare
Director: guest artist Monty Cole
Cast (in alphabetical order): John Kelly Connolly* (Claudius), Robert Cornelius (Ghost, Polonius), Shanésia Davis (Gertrude), Gregory Fenner* (Laertes), Daniel Kyri (Hamlet), Alexander Lane (Fortinbras Marcellus, Gravedigger), Martel Manning* (Guildenstern), Casey Morris (Horatio), Hannah Toriumi* (Rosencrantz) and Netta Walker (Ophelia).
Location: The Gift Theatre, 4802 N. Milwaukee Ave., Chicago
Dates: Previews: Friday, June 1 at 7:30 pm, Saturday, June 2 at 7:30 pm, Sunday, June 3 at 2:30 pm and Wednesday, June 6 at 7:30 pm
Press openings: Thursday, June 7 at 7:30 pm
Regular run: Friday, June 8 - Sunday, July 29, 2018
Curtain Times: Thursdays and Fridays at 7:30 pm; Saturdays at 2:30 pm & 7:30 pm; Sundays at 2:30 pm. Please note: there will not be a 3 pm performance on Saturday, June 9.
Tickets: Previews $25. Regular run $35 - $40. Single and season subscriptions are currently available by calling the Gift's box office at (773) 283-7071 or visiting thegifttheatre.org.
*Denotes Gift Theatre ensemble member
About the Director
Monty Cole is a director based in Chicago and Los Angeles. Cole has directed for The Goodman Theatre, Victory Gardens Theater, American Theatre Company, Definition Theater Company/ALTA, The House Theatre of Chicago, the Chicago Theater Marathon, California Institute of the Arts and others. Cole directed the critically acclaimed and Jeff Award winning production of The Hairy Ape for Oracle Productions. Monty is working with collaborator and choreographer Breon Arzell on revitalizing In Dahomey, the first black written and performed Broadway musical from 1903 for the Center for New Performance. Recently, he directed Kiss by Guillermo Calderon at the California Institute of the Arts where he is currently an MFA2 Directing candidate.
About The Gift Theatre
The Gift's 17th season consists of Stacy Osei-Kuffour's world premiere of Hang Man, directed by Jess McLeod (March 2 - April 29, 2018); Shakespeare's Hamlet, directed by Monty Cole (June 1 - July 29, 2018); and the Midwest premiere of Tony Award-winning playwright and ensemble member David Rabe's Cosmologies, directed by Artistic Director Michael Patrick Thornton (October 12 -December 9, 2018). The Gift subscribers ("Gifters") receive admission to three shows, free parking at Gale Street Inn, free admission to all Wednesday night "Natural Gas" improv shows and invitations to special subscriber-only special events. Subscribe at thegifttheatre.org or by calling (773) 283-7071.
PHOTO CREDIT: The cast of The Gift Theatre's HAMLET includes (top, l to r) John Kelly Connolly, Robert Cornelius, Shanésia Davis, Gregory Fenner and Daniel Kyri (bottom, l to r) Alexander Lane, Martel Manning, Casey Morris, Hannah Toriumi and Netta Walker.