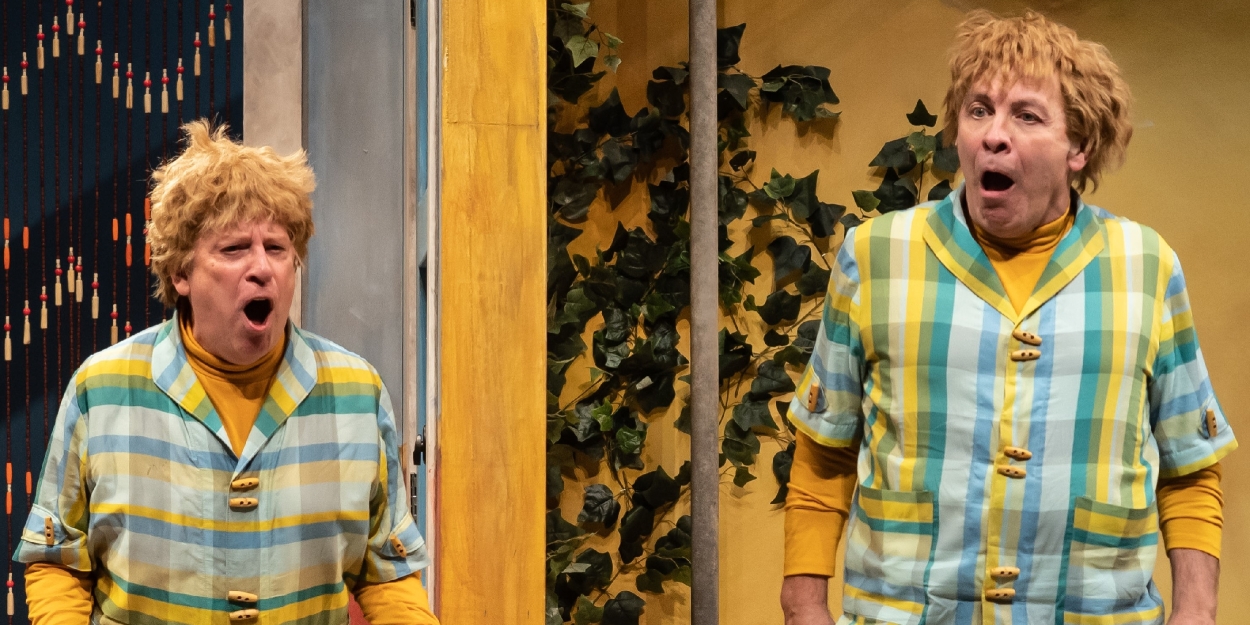 Review: THE COMEDY OF ERRORS at Chicago Shakespeare Theater
Outgoing Artistic Director Barbara Gaines's final production is a romp on a 1940 film set
Chicago Shakespeare Theater Artistic Director Barbara Gaines cleverly marries play and production concept in THE COMEDY OF ERRORS for her final production.
With studio scenes written by Ron West, Gaines transports audiences to a 1940 British film set in which a wacky cast of "Old Hollywood" types come together to film THE COMEDY OF ERRORS. The play within a play concept works well (even if some of the added framing scenes extend their welcome). While the result is more amusing than laugh-out-loud funny, the slapstick antics of the quirky film production mirror the typically Shakespearean antics of the play. Likewise, the film actors all occupy distinct tropes that sync up with the character tropes in THE COMEDY OF ERRORS. It's a fun overarching concept and James Noone's elaborate scenic design and Mika Van Der Ploeg's costumes make the production a colorful treat.
While the synchronicity of the play and the vision for the production are key, this is also a COMEDY OF ERRORS that succeeds in creating many character moments. Ross Lehman is daffy and delightful as the film's director Dudley Marsh, who doubles as Dromio of Syracuse in the film (not to be confused with his identical twin, Dromio of Ephesus, played by Lord Brian Hallifax a.ka. Kevin Gudahl). The layers of actor to "film actor" to play character sometimes make it hard to keep track of who's who, but that's half the fun. Lehman likewise sometimes struggle to maintain ahold of his production, but he easily toggles between harried-yet-commanding director and his in-film antics as Dromio.
Susan Moniz owns all of her scenes as resident diva Veronica Lester, Marsh's unfaithful wife and the leading lady Adriana. Moniz has a farcical, pitch-perfect take on Adriana; she's outrageous in every scene, but she makes it clear that Adriana takes herself entirely too seriously. Melanie Brezill is mostly sweet as Alice Boggs and Adriana's sister, Luciana. But in keeping with the fact that some individual moments are what really the production work, she's at her best when she's trying to fend off Emerson Furbelow (Robert Petkoff) as he woos her as Antipholus of Syracuse. Evidently, Furbelow has a bad case of halitosis (though Petkoff makes clear that he's entirely unaware), and Brezill makes a magnificent scene of her desire to escape him.
Dan Chameroy is great as famous singer Phil Sullivan, on leave from the navy so that he can take on the role of Antipholus of Ephesus (a fantastic pairing with Gudahl). Sullivan bemoans that "this Shakespeare crap is hard to memorize," and in character, Chameroy delightfully stumbles through his first scene clearly syncopating the Shakespearean rhythms without emoting at all. I only wish he'd kept up the charade for the rest of the play to maintain consistency, but it's obviously reassuring to remember that Chameroy understands the assignment better than his character.
Ora Jones is slyly "over it" as Doris, Veronica's wardrobe assistant, and brings down the house as the Abbess later in the play.
These are just a few of the delightful company members in the production. It's magnificently cast, and the whole production has a real ensemble feeling with moments for each player to shine.
Overall, this COMEDY OF ERRORS happily melds play and production. The 1940 film nostalgia is a delight, and the antics-on-antics could not be more fitting. The production could use a trim and some of the laughs don't land as hard as they should, but it embodies Gaines's understanding of Shakespeare. I fully contend that for a Shakespeare production to work, the director needs to have a specific reason and vision for staging the play. Gaines displays that immense creativity and playfulness in THE COMEDY OF ERRORS, and it's a joyful send-off.
THE COMEDY OF ERRORS plays the Courtyard Theater at Chicago Shakespeare Theater on Navy Pier, 600 North Grand Avenue, through April 16, 2023.
Photo by Liz Lauren