Review Roundup: FUN HOME at Victory Gardens Theatre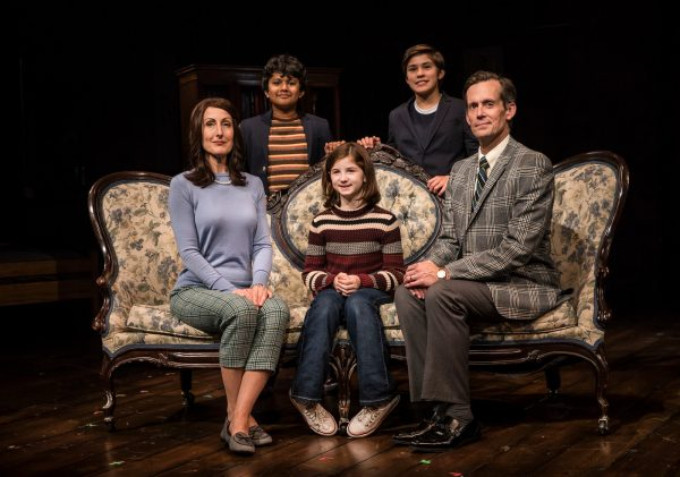 FUN HOME runs at Victory Gardens Theatre through November 12. When her father dies unexpectedly, graphic novelist Alison dives deep into her past to tell the story of the volatile, brilliant, one-of-a-kind man whose temperament and secrets defined her family and her life. Moving between past and present, Alison relives her unique childhood playing at the family's Bechdel Funeral Home, her growing understanding of her own sexuality, and the looming, unanswerable questions about her father's hidden desires.
During its broadway run the show won five Tony Awards, including Best Musical. Based on the graphic memoir by Alison Bechdel, FUN HOME has a book and lyrics by Lisa Kron and music by Jeanine Tesori.
The cast stars Danni Smith as Alison, Hannah Starr as Medium Alison, Stella Hoyt and Sage Elliot Harper as Small Alison, Rob Lindley as Bruce, McKinley Carter as Helen, Preetish Chakraborty as John, Danielle Davis as Joan, Leo Gonzalez as Christian, and Joe Lino as Roy.
The show is directed by Gary Griffin (Hand To God, NeverThe Sinner), with musical direction by Doug Peck, set design by Yu Shibagaki, costume design by Melissa Ng, lighting design by Paul Whitaker, and sound design by Ray Nardell.
Let's see what the critics had to say!
Hedy Weiss, Chicago Sun-Times: Griffin's choice of actors is flawless. Smith is tough yet just vulnerable enough as the artist still coming to terms with her family. Lindley, who gives a chilling rendition of "Edges of the World," is marvelously volatile as a man who finally implodes. Carter is beyond breathtaking in her performance of the aria-like "Days and Days." Starr could not be more vulnerable and beguiling as she captures the euphoria of a first sexual encounter in "Changing My Major." And Hoyt is simply uncanny in her Broadway level mastery of every aspect of her performance, from her take on the show's iconic song "Ring of Keys" to her hilarious collaboration with her brothers in "Come to the Fun Home."
Emily Schmidt, The Hawk Chicago: This blend of comedy and tragedy would not be effective, of course, without three talented "Alisons" (Alison, Medium Alison, and Small Alison), and Victory Gardens outdoes the national tour on this account. Danni Smith (Alison) leads us through her recollections with such subtle emotional shifts that her nostalgia, laughter, misgivings, and regrets seem tragically, wonderfully real, and her powerful voice transitions effortlessly between speaking and singing... Still, the play's ultimate effect is one compounded with laughter, tears, and inspiration. To say the things we feel while we can. To avoid judgment and seek understanding. To speak our truths, to ourselves and to other people.
Suzanne Magnuson, Splash Magazine: Adult Alison, the always superb Danni Smith, is on the stage much of the play, leading us through the moments of her life as they happen while she tries to come up with cartoons and captions to explain them. Her younger aspects are played by two other actresses, the amazing Stella Rose Hoyt (Small Alison) and wonderful and charming Hannah Starr (Medium Alison)... It's just a tremendous show full of tremendous performances. But be prepared. And take a bunch of Kleenex with you. Possibly enough to share with your neighbor. You'll use them before it's done.
Misha Davenport, BroadwayWord: Smith's performance is riveting; the minute adult Alison gets close to making a real emotion connection, she seems to purposely pull herself back into the role of an observer before the emotions can sweep her away. When she finally does insert herself as a protagonist in her own memory it's during the haunting 11 o'clock number "Telephone Wire," in which she recalls her last moment with her father -a late night car ride in which she again fixates on the details of her surroundings all the while trying to nudge herself to "Say something! Talk to him! Say something! Anything!"
Photo: Victorygardens.org