Photos: Opening Night of Porchlight's Revisited ON A CLEAR DAY YOU CAN SEE FOREVER
Porchlight Music Theatre and Artistic Director Michael Weber are proud to announce the final production in the fourth season of Chicago's hit "lost" musicals in staged concert series, Porchlight Revisits On a Clear Day You Can See Forever, music by Burton Lane, book and lyrics by Alan Jay Lerner and based on the book Berkeley Square by John L. Balderston with direction by Lili-Anne Brown, musical direction by Andra Velis Simon and starring Sharriese Hamilton and Karl Hamilton. Porchlight Revisits On a Clear Day You Can See Forever is presented for three-nights-only Tuesday, May 9 through Thursday, May 11 at 7:15 p.m. and is performed on the set of Porchlight's Marry Me a Little (previews begin Friday, April 14) at Stage 773, 1225 W. Belmont Ave. Tickets are $35. All tickets include access to the popular pre-performance event, Behind the Show Backstory, a multimedia presentation, created and hosted by Weber that discusses that evening's production including the show's creative history, backstage gossip and the state of the art on Broadway that season. Single tickets are available at PorchlightMusicTheatre.org or by calling the Stage 773 box office, 773.327.5252.
Originally opening on Broadway in 1965, On a Clear Day You Can See Forever was nominated for three Tony Awards and tells the story of a scatter-brained young woman named Daisy Gamble (Sharriese Hamilton) desperate to quit smoking so she visits a noted hypnotist, Mark Bruckner (Karl Hamilton). But it happens that Daisy, for all her goofiness, is unexpectedly gifted, she can find lost items, knows when the phone will ring and, once under hypnosis, transforms via reincarnation into Melinda, a woman who lived, loved and died more than a century before, and with whom Dr. Bruckner falls immediately in love. A 2011 revival featured Jessie Mueller in the lead role and was nominated for two Tony Awards including a nomination for Mueller. The production includes the title song as well as "Melinda," What Did I Have That I Don't Have?" and "Come Back to Me."
On a Clear Day You Can See Forever's cast includes Sharriese Hamilton, "Daisy Gamble/Melinda;" Karl Hamilton, "Mark Bruckner;" Curtis Bannister, "James Preston/Edward Moncrief;" Patrick Byrnes, "Conrad Bruckner/Mr. Welles;" Vasily Derris, "Themistocles Kriakos;" Khaki Pixley, "Muriel/Flora;"? Robert Quintanilla, "Millard/Bolagard;" Nancy Kolton, "Mrs. Hatch / Mrs. Welles;" and Greg Zawada, "Warren/Hubert Insdal."
The production team includes: Bill Walters, stage manager; Keegan Bradac, sound design/engineer and Shelby Brand, costume coordination.
Lili-Anne Brown is a native Chicagoan, she works as a director, actor and educator, and has performed in, directed and produced many award-winning shows, both locally and regionally. She is currently directing Kokandy Productions of The Wiz and received the Joseph Jefferson Award in 2014 for her direction of Ahrens & Flaherty's Dessa Rose and a Black Theatre Alliance Award in 2011 for her direction of Passing Strange. She is the former artistic director of Bailiwick Chicago, an artistic associate of Timber Lake Playhouse and a graduate of Northwestern University and St. Ignatius College Prep. She is a member of Actors' Equity, SAG-AFTRA, and an Associate of Stage Directors and Choreographers (SDC).
ANDRA VELIS SIMON, music director
Andra Velis Simon makes her Porchlight Music Theatre debut with this production. Other theatre credits include: Pirates of Penzance, The Mikado and H.M.S. Pinafore at American Repertory Theater; Pirates of Penzance at Berkeley Repertory Theatre; The Yeomen of the Guard at Oregon Shakespeare Festival; The Iceman Cometh (remounted at Brooklyn Academy Of Music) and Camino Real at Goodman Theatre; Mr. Burns: a post-electric play at Theater Wit; A Year with Frog and Toad, Goodnight Moon and The Hundred Dresses at Chicago Children's Theatre; Violet at Bailiwick at Mercury Theatre; Boojum! at Opera Vanguard. Velis Simon is the musical director and an adjunct faculty member for the Theatre Department at Columbia College Chicago.
Sharriese Hamilton returns to Porchlight Music Theatre where she previously was in How to Succeed in Business Without Really Trying, Ain't Misbehavin, Pal Joey and A Class Act. Chicago credits include Wonderful Town (Goodman Theatre), Thaddeus and Slocum (Lookingglass Theatre Company); Sister Act (Marriott Theatre); Pericles (Chicago Shakespeare Theater); The Wild Party, See What I What I Wanna See and Passing Strange (Bailiwick Chicago); All Shook Up (Theatre at the Center); Jesus Christ Superstar (Theo Ubique Cabaret Theatre); We Three Lizas (About Face Theatre) and various roles with the Chicago-based children's theater Greatworks Theatre. Regional credits include Hair (McLeod Summer Playhouse) and Spamalot, Working, The 25th Annual Putnum County Spelling Bee and Buddy: The Buddy Holly Story (Timber Lake Playhouse). Hamilton hails from Okemos, Michigan, and received a BA in theater from Michigan State University.
Karl Hamilton was last seen at Porchlight in Meet John Doe. Recent theatre credits include Mamma Mia! at Marriott Theatre, where he has also appeared in Aladdin

,

For the Boys, The Full Monty and Shenandoah, as well as in

the Off-Broadway production of

Ride the Cyclone

. Other Chicago credits include

Wonderful Town

and

Jungle Book (Goodman Theatre), The Christmas Schooner

and

The Addams Family

(Mercury Theatre), A

Christmas Carol, 7 Brides, Mame and Charlotte's Web

(Drury Lane Oakbrook). Regional credits include

All the Way

and

Living on Love

(Asolo Rep, Sarasota),

Children of a Lesser God, Ragtime, Big Fish

, and

Private Lives

(Timberlake Playhouse, Mt. Carroll) and

Mamma Mia!

(Tropicana Las Vegas).
ABOUT PORCHLIGHT REVISITS
Continuing to forge its role as "Chicago's Music Theatre," Porchlight launched the exciting new series Porchlight Revisits in 2013; especially created for the die-hard music theatre aficionado. Each season, Porchlight Music Theatre shares with audiences the rare opportunity to visit three musicals that opened on the Great White Way but have since gone "unsung." The finest music theatre artists in Chicago dust off these neglected treasures and, with script in hand and minimal staging, escort audiences to a world of Broadway long past. Previous Porchlight Revisits productions include: during the 2016/17 season: The Rink and Little Me; in the 2015/16 season: Babes in Arms, Applause and Chess; during the 2014/15 season: Bells Are Ringing, City of Angels and Mack & Mabel and in its inaugural 2013/14 season Anyone Can Whistle, Golden Boy and Fade Out-Fade In.
All Porchlight Revisits, performances include "Behind the Show Backstory," a multimedia presentation, hosted by Artistic Director Michael Weber, setting the stage on the creation of the featured Porchlight Revisits production, sharing all the juicy backstage stories and the state of the art on Broadway that season.
ABOUT Porchlight Music Theatre
Porchlight Music Theatre, now in its 22nd season, is nationally recognized for developing innovative new works, reimagining classic productions and showcasing musical theatre's noted veterans and rising stars. Porchlight elevates the genre in Chicago by providing intimate and powerful theatrical experiences for its growing and diverse audiences. With the vision of Artistic Director Michael Weber, Porchlight builds on its role as Chicago's only Equity not-for-profit company exclusively specializing in music theatre. Porchlight's rich history includes the staging of more than 60 productions with 15 Chicago premieres and five world premieres. Through Porchlight's "Off the Porch" new works program, the musicals of the next generation are developed and given a first audience. The School at Porchlight is Chicago's new center for music theatre training in the areas of performance, writing and appreciation. The company's many accolades include 17 Black Theatre Alliance nominations and three awards, as well as a total of 126 Joseph Jefferson Award nominations resulting in 39 Jeff Awards including four consecutive Best Production awards for Dreamgirls (2016), Sondheim on Sondheim (2015), Ain't Misbehavin' (2014) and A Class Act (2013).
Porchlight Music Theatre and Artistic Director Michael Weber are proud to announce the final production in the fourth season of Chicago's hit "lost" musicals in staged concert series, Porchlight Revisits On a Clear Day You Can See Forever, music by Burton Lane, book and lyrics by Alan Jay Lerner and based on the book Berkeley Square by John L. Balderston with direction by Lili-Anne Brown, musical direction by Aaron Benham and starring Sharriese Hamilton. Porchlight Revisits On a Clear Day You Can See Forever is presented for three-nights-only Tuesday, May 9 through Thursday, May 11 at 7:15 p.m. and is performed on the set of Porchlight's Marry Me a Little (previews begin Friday, April 14) at Stage 773, 1225 W. Belmont Ave. Tickets are $35. All tickets include access to the popular pre-performance event, Behind the Show Backstory, a multimedia presentation, created and hosted by Weber that discusses that evening's production including the show's creative history, backstage gossip and the state of the art on Broadway

(L to R) Actors
Vasily Deris
,
Greg Zawada
,
Curtis Bannister
,
Robert Quint
anilla,
Karl Hamilton
and
Patrick Byrnes
at the opening night of On A Clear Day You Can See Forever from
Porchlight Music Theatre
's Porchlight Revisits series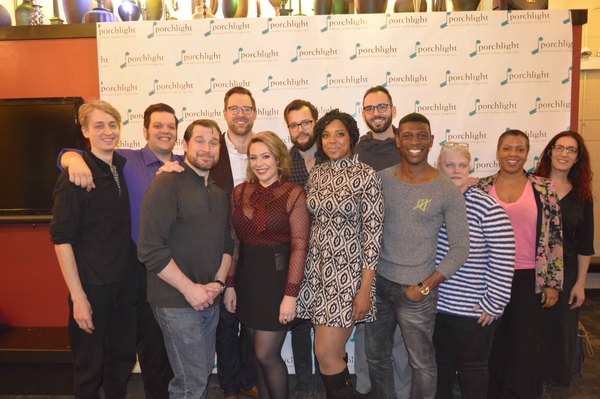 (L to R) Percussionist Tony Scandora, Actors
Vasily Deris
,
Karl Hamilton
,
Greg Zawada
,
Khaki Pixley
,
Robert Quint
anilla,
Sharriese Hamilton
,
Patrick Byrnes
,
Curtis Bannister
, and
Nancy Kolton
with Director Lili-
Anne Brown
and Music Director Andra Velis Simon at the opening night of On A Clear Day You Can See Forever from
Porchlight Music Theatre
's Porchlight Revisits series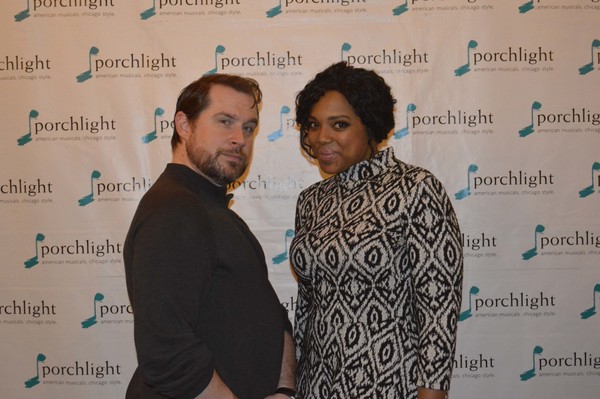 (L to R) Stars
Karl Hamilton
and
Sharriese Hamilton
at the opening night of On A Clear Day You Can See Forever from
Porchlight Music Theatre
's Porchlight Revisits series
(L to R) Director Lili-
Anne Brown
and Music Director Andra Velis Simon at the opening night of On A Clear Day You Can See Forever from
Porchlight Music Theatre
's Porchlight Revisits series
(L to R) Actresses
Khaki Pixley
and
Sharriese Hamilton
at the opening night of On A Clear Day You Can See Forever from
Porchlight Music Theatre
's Porchlight Revisits series