Photo Flash: Neighborhood 3: Requisition of Doom Opens At Aurora Theatre
Aurora Theatre welcomes patrons to the dark side of video gaming in the suburbs with Jennifer Haley's Neighborhood 3: Requisition of Doom, running February 12–March 4, 2012.
The play premiered at the Humana Festival of New American Plays at Actors Theatre of Louisville and received a 2009 Primus Citation from the American Theatre Critics Association.
About the show: In a contemporary suburban setting, the play is about the hottest video game, Neighborhood 3: Requisition of Doom which uses cutting edge technology and GPS coordinates to create a playing environment identical to the player's subdivision. To win, players must smash through an army of zombies and escape the neighborhood. The story uncovers deep dysfunction in the households of teenage gamers and things get intense as the line blurs between virtual and reality.
The Aurora Theatre production will be directed by one of Atlanta's most distinguished leading men, Daniel Thomas May (Aurora Theatre: Circumference of a Squirrel, Corpse!). The cast includes Bryan Brendle (Aurora Theatre: Gray Area), Greg Boswoth (Aurora Theatre: Academy) and, both making their Aurora Theatre debut, Rachel Garner (Actor's Express: Fair Use) and Jaclyn Hofmann (Shakespeare Tavern: A Midsummer Night's Dream). This play is produced as part of Aurora Theatre's Harvel Lab Series. Through the generous support of sponsor Georgia Gwinnett College, the Harvel Lab Series features contemporary works fueled by innovation, creativity, and inspiration.
About the Playwright
Jennifer Haley is a Los Angeles-based playwright whose work has appeared around the country. Most recently, at the Lark Play Development Center in New York and the O'Neill National Playwrights Conference, her play The Nether had a workshop production. Also this year she worked in development of her play Froggy at the Sundance Theatre Lab, The Banff Centre and American Conservatory Theater. Neighborhood 3: Requisition of Doom was produced at The Actors Theatre of Louisville Humana Festival of New American Plays in 2008 and has seen continuing productions at theaters nation-wide. Her play, Breadcrumbs saw its world premiere at the Contemporary American Theater Festival in July 2010 and was named a Highlight of 2011 in LA Theater by the LA Stage times. Jennifer was awarded a citation for the 2009 American Theatre Critic's Association (ATCA) Francesca Primus Prize. She earned an MFA in playwriting at Brown University, where she studied playwriting with Paula Vogel (How I Learned to Drive), screenwriting with Erin Cressida Wilson (Secretary), and won the Weston Award for Drama and the Joelson Prize in Creative Writing. In 2009 Jennifer founded The Playwrights Union, a network of theater artists in Los Angeles writing for stage, TV and film.
The Harvel Lab Series
Generously sponsored by Georgia Gwinnett College, The Harvel Lab Series 2011–2012 includes 3 shows: Underneath the Lintel, from the prestigious Humana Festival Neighborhood 3: Requisition of Doom, a thriller set in the world of video gamers and zombies, and El Insólito Caso de Miss Piña Colada/The Preposterous Case of Miss Piña Colada, produced as a part of Teatro Del Sol, Aurora Theatre's Spanish language theatre initiative.
Programming in Aurora Theatre's 2011–2012 Main Stage Season is possible through generous support from Metro Waterproofing and the Metropolitan Atlanta Arts Fund.
Producer Quote
Aurora Theatre Producing Artistic Director Anthony Rodriguez on the relationship of Neighborhood 3 and the audience, "This play highlights how technology has become a substitute for personal engagement. Aurora Theatre is the perfect place for this great new play to be produced. Our theatre is right in the middle of suburbia, and that coupled with education and technology partners like Cisco, Georgia Gwinnett College, Gwinnett Tech and Rocket IT gives us all the ingredients to really engage a new audience."
Cast & Crew
Father type Bryan Brendle
Mother type Rachel Garner
Son type Greg Bosworth
Daughter type Jaclyn Hofmann
Daniel May Director
Lizz Dorsey Set Design
Thalia Sheperd Costume Design
James Helms Lighting Design/ Technical Director
BrIan Smith Sound Design
Bradley Bergeron Video Design
Elizabeth Vitale Props Design
Britt Hultgren Ramroop Production Manager
Monty Schuth Wig Design
Sarah Thomson Scenic Artist
Hampton Whatley Stage Manager
Neighborhood 3: Requisition of Doom
By Jennifer Haley
February 16 – March 4, 2012
Performances are Thursday – Saturday at 8:00PM and Sunday at 2:30PM
Tickets $15
678.226.6222
www.auroratheatre.com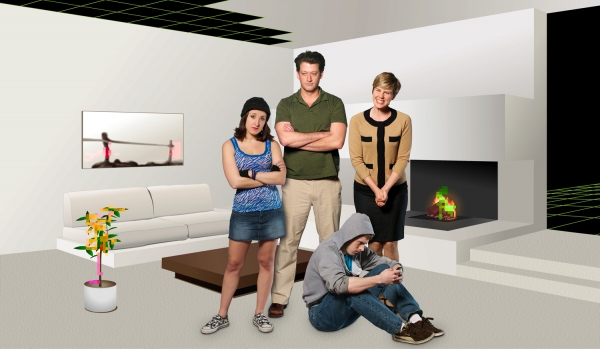 Jaclyn Hofmann, Bryan Brendle, Greg Bosworth & Rachel Garner