Click Here for More Articles on SHAKESPEARE SPOTLIGHT
Photo Flash: First Look at Midsommer Flight's Touring HAMLET
Midsommer Flight's summer 2017 production - Hamlet, Prince of Denmark - is performed in an abridged 100-minute version that captures the murderous intrigues of the royal family - complete enough for those familiar with the play and accessible for newcomers to it. BroadwayWorld has a first look at the cast in action below!
The play's most famous lines - including some of Shakespeare's most frequently quoted, such as "To be or not to be," "the play's the thing" and "To thine own self be true" - are delightfully present for those who know the lines are coming and for those who will be surprised to hear them in this context.
The play, which began performances on July 8, is being presented in a tour of four different Chicago city parks that will run through Sunday, August 27. It is performed on the ground, with natural lighting (curtain times are early enough to complete performances before sunset) and without amplification, just as in Shakespeare's day.
Hamlet is directed by Beth Wolf, the company's founder and producing artistic director, who has directed all the company's productions since its founding in 2012. Her cast includes Samual Cheeseman (Hamlet), Jared Dennis (Claudius), Stephen Fedo (Polonius), Morayo Orija (Gertrude), Bianca Phipps (Ophelia), Joe Sergio (Laertes), Ian Michael Minh (Horatio), Adam Habben (Marcellus/Osric/Lucianus/ Gravedigger 2), Jesse Montoya (Rosencrantz), Adam Rice (Guildenstern), Emily Renee Shimskey (Barnardo/Sailor/Ambassador/ Player Queen/Gravedigger1), Amber Hugee (musician), Martin Gutfeldt (musician/Player King) and Erick Rivera (musician/composer). Elizabeth Rentfro is Music Director and Vocal Coach.
The design team includes Chris Smith and Maureen Yasko (fight directors), Jeremiah Barr (scenic designer) and Jenna Meyers (props designer). Robin Waisanen is stage manager and Meredith Ernst is assistant director.
For more information, visit www.midsommerflight.com.
Photo Credit: Tom McGrath, TCMcG Photography (unless otherwise specified)


Samual Cheeseman, Amber Hugee, Erick Rivera, Martin Gutfeldt

Samual Cheeseman as Hamlet

Morayo Orija, Jared Dennis, Joe Sergio, Bianca Phipps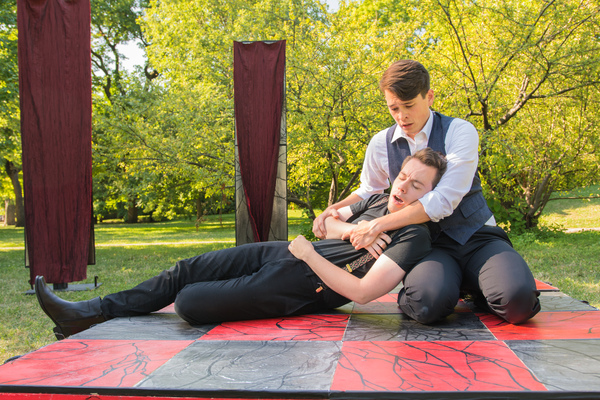 Horatio (Ian Michael Minh) holding Hamlet (Samual Cheeseman)

Joe Sergio as Laertes and Samual Cheeseman as Hamlet. Photo by Zack Whittington.

Samual Cheeseman as Hamlet, Bianca Phipps as Ophelia. Photo by Zack Whittington.
Related Articles
More Hot Stories For You