Photo Flash: Babes With Blades' All-Female 'MACBETH'
Babes With Blades closes its 2008-2009, 11th anniversary season with an all-female production ofWilliam Shakespeare's "Macbeth," directed by Next Theatre's Kevin Heckman. Enter a Scotland wracked by treachery and possessed by supernatural forces - a kingdom where loyalty is fatal, ambition is madness, and no motivation is pure. This production features mask work and broadsword-driven stage combat. The cast will be joined by youth actresses from The Viola Project, a Chicago organization offering Shakespeare performance workshops for girls 8-18 (violaproject.com).
The show runs about two hours with one intermission. Note: "With" is capitalized in Babes With Blades.
La Costa Theatre (note venue change from Dream Theatre)
3931 N. Elston Ave., 2nd Floor, Chicago, IL 60618
Street parking; CTA: Blue Line L Irving Park/Pulaski stop, #80 Irving Park bus
Opens on Monday, April 27, 2009, 8 p.m. (reception following) 
Closes on Saturday, May 30, 2009
Runs Thursdays, Fridays, and Saturdays at 8 p.m., and Sundays at 3 p.m.
Previews on April 19 and 26 at 3 p.m., and April 24 and 25 at 8 p.m.
Pay-What-You-Can Shows on Thursdays (except closing weekend May 28)
Is This a Kegger I See Before Me Shows on Fridays (except closing weekend May
29) - details forthcoming on BabesWithBlades.org
Post-show talkbacks on Sundays (except Memorial Day weekend May 24)
Collection for The Viola Project from May 14-17
Donation of proceeds from half the house on May 22 will benefit Dream Theatre; half the house on May 29 will go to actor Will Schutz, battling cancer without insurance TICKETS: 773-880-0016, Babes With Blades Box Office; HotTix
$20 for general admission
$13 for students and seniors with ID 
$7 for previews
Group rates available
Pay-What-You-Can Thursdays (except closing weekend May 28)
Play Money accepted (good at multiple theatres throughout Chicagoland - available
through the League of Chicago Theatres, chicagoplays.com)STAFF: Babes With Blades ensemble members 
Leigh Barrett
 (Assistant Director, Lighting
Design), Libby Beyreis (Fight Choreography), and Kjerstine McHugh (Stage
Manager). Guest artists include Kevin Heckman (Director), Julie Lutgen (Set
Design), Lori Mages (Props Design), Kimberly Morris (Costume Design), and
Ro
Bert Young
(Sound Design).CAST: Babes With Blades ensemble members Managing Director Amy E. Harmon
(Macduff), Gillian N. Humiston (Witch, Young Siward), Jennifer L. Mickelson
(Malcolm), Artistic Director Stephanie Repin (Banquo), and Kathrynne Wolf
(Macbeth). Guest artists include Nika Ericson (Lady Macbeth), Delia Ford
(Duncan), Kim Fukawa (Ross), Melanie Kibbler (Witch), and Rachel
Stubbs (Witch, Lady Macduff). Featuring Viola Project youth actresses (and sisters)
Ileana and Xena Becker.Babes With Blades' 2009-10 season opens with the fall 2009 world premiere of "The Last Daughter of Oedipus" by ensemble member Jennifer L. Mickelson. The season concludes with the spring 2010 world premiere of the winner of Babes With Blades' international playwriting competition, Joining Sword & Pen, sponsored by S.A.F.D. Fight Master David Woolley.
Babes With Blades, 630-362-7008
postal@BabesWithBlades.org, www.BabesWithBlades.org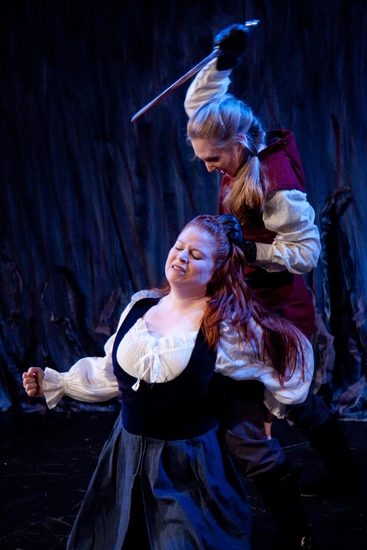 Lady Macduff (Rachel Stubbs) is murdered by Lenox (Gillian N. Humiston)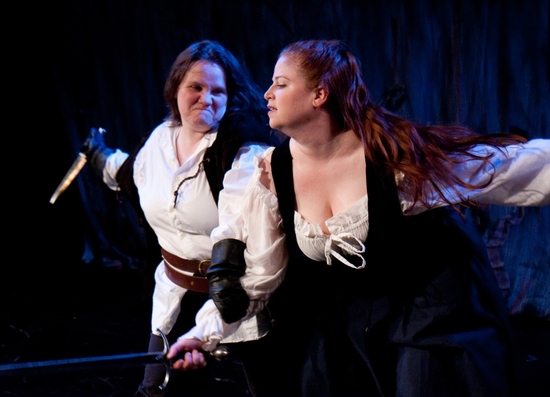 Murderer (Stephanie Repin) menaces Lady Macduff (Rachel Stubbs)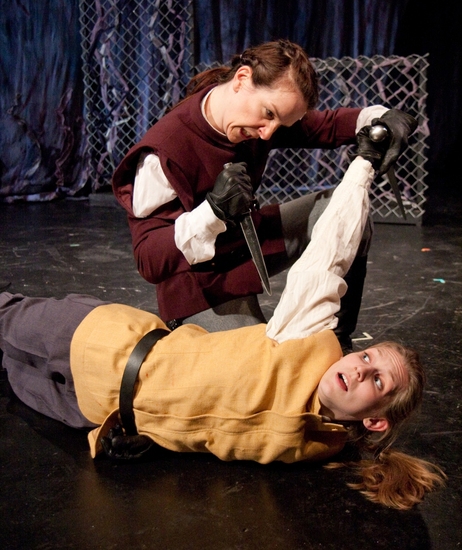 Macbeth (Kathrynne Wolf) defeats Young Seyward (Gillian N. Humiston)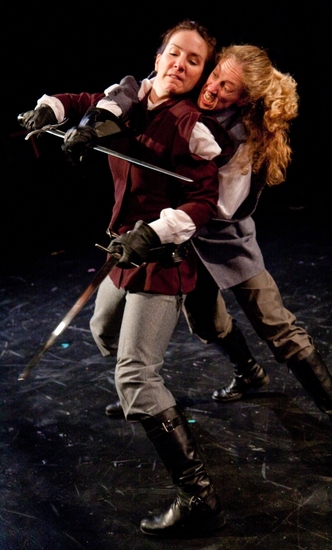 Macbeth (Kathrynne Wolf) defends herself from Macduff (Amy E. Harmon)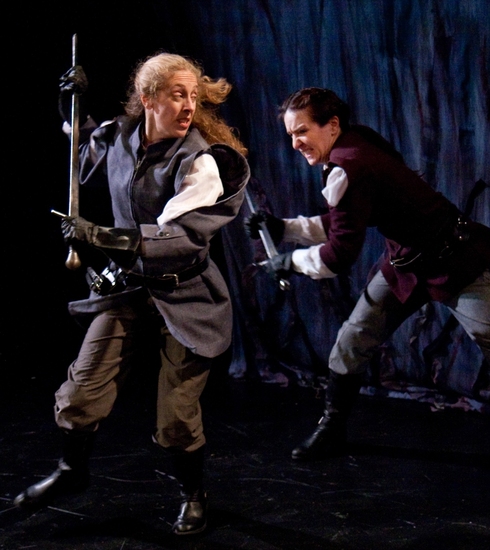 Macduff (Amy E. Harmon) defends herself from Macbeth (Kathrynne Wolf)