New Philharmonic Announces Free Concert and Live Broadcast at Lakeside Pavilion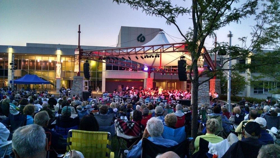 Maestro Kirk Muspratt, Illinois Council of Orchestras' 2018 Conductor of the Year, and New Philharmonic, the professional orchestra in residence at the McAninch Arts Center (MAC), perform a free concert of pops music, movie scores and more at the Lakeside Pavilion, 425 Fawell Blvd., on the campus of College of DuPage, Friday, July 20, at 7:30 p.m. Preceding the concert, at 7:15 p.m., there will be a vocal performance by Addison's Caryna Martinez Rios, Third Place winner of the March 2018 Apollo Live COD Student Talent Competition.
New Philharmonic's July 20 concert, featuring guest soprano Mikaela Schneider, and be broadcast LIVE on facebook.com/AtTheMAC, youtube.com/user/CollegeofDuPage and WDCB-TV/CAN TV42. It may also be viewed on Comcast (Glen Ellyn, Ill. Channel 18; West Chicago, Ill. Channel 18; Wheaton, Ill. Channel 99) and WOW (Glen Ellyn, Ill. Channel 24; Naperville, Ill. Channel 24).
The program will open with Johann Strauss II's "Thunder and Lightning Polka" Op. 324, followed by
Pyotr Ilyich Tchaikovsky's Polonaise from the opera "Eugene Onegin," Op. 24. Guest soprano Schneider, who made her 2017 solo debut at Carnegie Hall singing Adele in "Die Fledermaus" with New York Lyric Opera Theatre and will be reprising the role in New Philharmonic's January 2019 production, will be featured in "Adele's Laughing Aria" from that opera, Richard Rodgers and Lorenz Hart's "My Romance" and Marshall McDonald's arrangement of Franz Schubert's "Ave Maria." The program will also include "Bill" Holcombe's "TV Heroes Medley/Crime Fighters," Philip Rothman's arrangement of "America the Beautiful," the Luke and Leia Theme and the Imperial March from John Williams' "Star Wars" film scores, as well as the overture to Franz von Suppé's "Pique Dame" operetta, Richard Haymen's Pops Hoedown" and the film scores for "Mission Impossible," "Prince of Thieves," "How to Train Your Dragon," "Pirates of the Caribbean" and "E.T."
Following intermission, the audience will be treated to performances by two of the local youth musicians who auditioned in May at New Philharmonic fifth annual New Philharmonic Young People's Competition and won the opportunity to perform at a 2018-2019 New Philharmonic concert. Featured performers for July 20: Bartlett's Aanya Navsariwala (violin) performing Josephine Trott's "The Puppet Show" Op. 5, No. 1, and Kenilworth's Ellie Ponko (violin) performing "Partita No. 3 in E major, Gigue" by J.S. Bach.
New Philharmonic is pleased to announce that the JCS Fund of the DuPage Foundation has pledged a maximum of $30,000 in matching funds for every dollar New Philharmonic raises from July 2018-June 2019. Concert attendees to New Philharmonic's July 20 concert will have the opportunity to be some of the first make their contributions towards this effort. Director Diana Martinez stated, "We are so grateful to the JCS Fund of the DuPage Foundation for their generosity and enthusiasm to continue to support classical music. Ticket sales only cover 60% percent of the large cost to support a symphony. The vision and support of the JCS Fund, not only sustains the orchestra, but it also helps to bring the gift of live music to the entire community." Anyone wishing to contribute with a matching gift by the JCS Fund of the DuPage Foundation can call 630.942.2462 or visit https://foundation.cod.edu/supportthemac.
New Philharmonic's July 20 concert is part of the 2018 Lakeside Pavilion Free Outdoor Summer Series. Programming runs July 12-Aug.10 and includes a Thursday evening Family Movie Series, the Thursdayevening WDCB Live Jazz Concert Series and a Friday evening Pop Music Series. To help ensure everyone's safety in light of the growing popularity of the series, seating for films and evening concerts will begin at 6 p.m. No admittance will be allowed prior to 6 p.m. for sound check and security reasons. All concerts take place rain or shine. Concessions are available for purchase on site. For more information visit AtTheMAC.org. The MAC will be taking non-perishable food item donations at each Friday Night concert to benefit the Glen Ellyn Food Pantry.
New Philharmonic, the only professional orchestra based in DuPage County, has inspired classical music enthusiasts in Chicago and the suburbs for more than 40 years. It continues to thrive with the goal to give innovative treatment to both classic compositions and modern works while striving to make the music accessible to new audiences and youth through a variety of educational efforts. The orchestra was honored with the Illinois Council of Orchestras' 2017 ICO Award for Professional Orchestra of the Year. Today, under the direction of Kirk Muspratt, New Philharmonic consists of more than 60 professional musicians and performs more than a dozen music events a year, reaching more than 7,500 from the greater Chicago area annually.
New Philharmonic's 2018-2019 season includes "Show Boat and Show Tunes" (Sept. 29-30), a concert featuring CSO Cellist Richard Hirschl (Nov. 3-4), Von Heidecke Chicago Festival Ballet's "The Nutcracker" (Dec. 15-16), New Year's Eve Concert performances (Dec. 31), the opera, "Die Fledermaus" (Jan. 26-27), and the final season concert featuring guest pianist Winston Choi (April 13-14). Tickets for New Philharmonic's 2018-2019 Season are currently on sale by subscription only. Subscribers save up to 20% off of single ticket prices. To subscribe, call the MAC Box Office at 630.942.4000. Single event concert tickets go on sale to the public in person at the Box Office, Saturday Aug. 4, beginning at 10 a.m.; online at AtTheMAC.org, Sunday, Aug. 5 at noon and by phone at 630.942.4000, Tuesday, Aug. 7 at noon.
The McAninch Arts Center (MAC) at College of DuPage is located 25 miles west of Chicago near I-88 and I-355. It houses three indoor performance spaces (the 780-seat proscenium Belushi Performance Hall; the 236-seat soft-thrust Playhouse Theatre; and the versatile black box Studio Theatre), the outdoor Lakeside Pavilion, plus the Cleve Carney Art Gallery, classrooms for the college's academic programming. The MAC has presented theater, music, dance and visual art to more than 1.5 million people since its opening in 1986 and typically welcomes more than 75,000 patrons from the greater Chicago area to more than 230 performances each season.
The mission of the MAC is to foster enlightened educational and performance opportunities, which encourage artistic expression, establish a lasting relationship between people and art, and enrich the cultural vitality of the community. For more information visit AtTheMAC.org, facebook.com/AtTheMAC or twitter.com/AtTheMAC.