MYSTERY OF EDWIN DROOD Gives Saint Sebastian Players Audiences the Chance to Solve for Themselves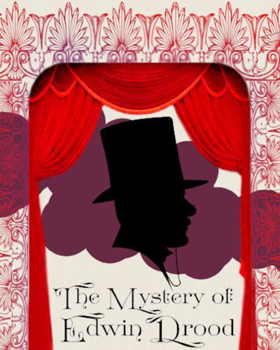 Welcoming the audience to get involved in the action, the Saint Sebastian Players (SSP) open the company's 38th season with the multiple Tony Award-winning musical The Mystery of Edwin Drood with book, music and lyrics by Rupert Holmes. Performances are October 26-November 18, 2018 at SSP's home in the lower level of St. Bonaventure, 1625 W. Diversey, Chicago. Starting this season, SSP Friday and Saturday evening performances begin at 7:30 p.m.; Sunday matinees remain at 2 p.m.

Based on Charles Dickens' final, unfinished novel, this hilarious whodunit invites the audience to solve its mystery by choosing the identity of the murderer, potentially changing the show's ending at each performance. The tale is presented as a show within a show, as the Music Hall Royale-a delightfully loony Victorian theatre company-presents Dickens' brooding mystery.

Serving as director and musical director of The Mystery of Edwin Drood is SSP company member Robert-Eric West, who directed the musical Oliver! for SSP and has directed numerous other musicals, includingRagtime and Les Miserables at Studio BE Chicago, The World Goes Round and La Cage aux Folles at Dunes Summer Theatre, and The Pirates of Penzance at Monroe County Civic Theatre. The cast features SSP members Russ Gager, Lauren Miller and Eric S. Prahl, along with Sean Michael Barrett, Shelley DeHosse, Sophie Duntley, Kelly Figley, Anna Gallucci, Maia Gersten, Anna Gould, Adam Hoak, Peter Kattner III, Allison Rose Macknick, Sarah Myers, Darryl Maximilian Robinson, Shayla Rogers, Becca Sheehan and Brendan Siddall. SSP members on the production team include Emil Zbella as set designer, Valerie King as assistant director, Steven Walanka as producer and John Austin as associate producer. Others on the team include choreographer Tamara Drew, costume designer Sandra Leander and lighting designer Blake Cordell.

SSP's 2018-19 season continues with the world premiere romantic drama Little Stones, SSP's third work by company member Leigh Johnson, running February 15-March 10, 2019 and the bittersweet comedyLove, Loss, and What I Wore by Delia Ephron and Nora Ephron, based on the bestseller by Ilene Beckerman, running April 26-May 19, 2019.

SSP began producing theatre in 1982 at its original home, the St. Sebastian parish, located at the corner of Halsted Street and Wellington Avenue on Chicago's North Side. When the parish closed, SSP relocated to its current home, St. Bonaventure, at 1625 W. Diversey. During its history, the company has produced original and previously produced dramas, comedies and musicals; original audience-participation mysteries for special events; and the Monologue Matchup Competition, as well as provided support for smaller Sebastian Studio Projects produced by company members. For a complete production history, visit saintsebastianplayers.org/Production-History

The Mystery of Edwin Drood by Rupert Holmes take place October 26-November 18, Fridays and Saturdays at 7:30 p.m.-new this season-and Sundays at 2 p.m. at St. Bonaventure, 1625 W. Diversey, at Marshfield just west of Ashland, in Chicago. Free parking is available in two lots. Full-priced tickets are $25, $15 for seniors, students with valid ID and children younger than 12. Subscription packages for the three-play season are $50, $30 for seniors. Group rates also are available. All programming is subject to change. For information, call 773-404-7922 or visit saintsebastianplayers.org.