Lyric Opera of Chicago Announces Artist Roster for the 2022/23 Ensemble
Artists include first-year sopranos Kathryn Henry and Lindsey Reynolds, tenors Ryan Capozzo and Alejandro Luévanos and more.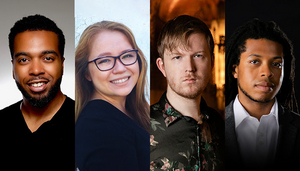 The Patrick G. and Shirley W. Ryan Opera Center, the professional artist-development program at Lyric Opera of Chicago, announced the complete roster of 16 artists who comprise its 2022/23 Ensemble. The Ensemble begins its rigorous program this month in Chicago. First-year sopranos Kathryn Henry and Lindsey Reynolds, tenors Ryan Capozzo and Alejandro Luévanos, baritones Laureano Quant and Ian Rucker, and basses Ron Dukes and William Clay Thompson join six returning members of the Ensemble: soprano Denis Vélez, mezzo-soprano Katherine DeYoung, tenors Martin Luther Clark and Lunga Eric Hallam, conductor/pianist Donald Lee III, and pianist Chris Reynolds.
In addition, the Ryan Opera Center is expanding its ranks in 2022/23 to include two new positions: Director and Stage Manager. Filling these roles for the first time in the program's history will be Ryan Opera Center Director Luther H. Lewis III and Stage Manager Tess Naval. Each will be offered a comprehensive array of training activities and performance experiences that will be tailored to the individual artists and provide them with the skills, expertise, and professional network needed to launch successful careers. For nearly five decades, the Ryan Opera Center has nurtured the talents of a diverse range of the most promising singers and pianists. Building on that legacy, the program launched an expansion of its Ensemble to include the finest emerging conductor/pianists (starting in 2021/22), directors, and stage managers (both starting in 2022/23). This important pipeline initiative further demonstrates the Ryan Opera Center's longstanding support of Lyric's principles of Inclusion, Diversity, Equity and Access (IDEA), by which the company aims to permanently reshape the operatic art form and industry to better reflect the vibrant diversity of our city and our country. The 2022/23 Ensemble is the most diverse in the history of the Ryan Opera Center, with 10 out of the 16 Ensemble members identifying as BIPOC. 2022/23 Ensemble of the Ryan Opera Center
SOPRANOS

Kathryn Henry (Sheboygan, Wisconsin)
Lindsey Reynolds (New Orleans, Louisiana)
Denis Vélez (Puebla, Pue, México)

MEZZO-SOPRANO

Katherine DeYoung (Traverse City, Michigan)

TENORS

Ryan Capozzo (Huntington, New York)
Martin Luther Clark (Marshall, Texas)
Lunga Eric Hallam (Khayelitsha, South Africa)
Alejandro Luévanos (Durango, México)

BARITONES

Laureano Quant (Barranquilla, Colombia)
Ian Rucker (Oshkosh, Wisconsin)

BASSES

Ron Dukes (Indianapolis, Indiana)
William Clay Thompson (Lexington, Kentucky)

CONDUCTOR/PIANIST

Donald Lee III (Hampton, Virginia)

PIANIST

Chris Reynolds (Ithaca, New York)

DIRECTOR

Luther H. Lewis III (Evansville, Indiana)

STAGE MANAGER

Tess Naval (Chicago, Illinois)
Left to right: Luther H. Lewis III (Ryan Opera Center Director), Tess Naval (Ryan Opera Center Stage Manager), Chris Reynolds (Ryan Opera Center Pianist), Donald Lee III (Ryan Opera Center Conductor/Pianist)
About Lyric

Lyric Opera of Chicago is committed to redefining what it means to experience great opera. The company is driven to deliver consistently excellent artistry through innovative, relevant, celebratory programming that engages and energizes new and traditional audiences.
Under the leadership of General Director, President & CEO
Anthony Freud
, Music Director Enrique Mazzola, and Special Projects Advisor Renée Fleming, Lyric is dedicated to reflecting, and drawing strength from, the diversity of Chicago. Lyric offers, through innovation, collaboration, and evolving learning opportunities, ever-more exciting, accessible, and thought-provoking audience and community experiences. We also stand committed to training the artists of the future, through The Patrick G. and Shirley W. Ryan Opera Center; and to becoming increasingly diverse across our audiences, staff, programming, and artists-magnifying the welcoming pull of our art form, our company, and our city. Through the timeless power of voice, the splendor of a great orchestra and chorus, theater, dance, design, and truly magnificent stagecraft, Lyric is devoted to immersing audiences in worlds both familiar and unexpected, creating shared experiences that resonate long after the curtain comes down. For more information, visit
lyricopera.org
. About Ryan Opera Center

The Patrick G. and Shirley W. Ryan Opera Center is Lyric's preeminent artist-development program that nurtures the talents of some of the most promising operatic artists of each generation. The program's Ensemble members earn their coveted spot by successfully auditioning among more than 400 artists worldwide. Its alumni are among the dominant names in opera today. Donor generosity ensures continued unparalleled training, performance experience, and professional readiness of Ensemble members. This highly competitive program, established in 1974, is honored to enjoy the support of acclaimed soprano Renée Fleming as Advisor, along with full time staff Director Dan Novak, Music Director Craig Terry, and Director of Vocal Studies Julia Faulkner.
For more information, visit
lyricopera.org/ryanoperacenter
.