Joffrey Presents the World Premiere of ANNA KARENINA in First-Ever Collaboration With Australian Ballet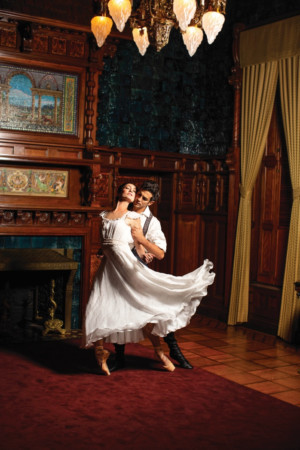 As the centerpiece of its 2018-19 season, The Joffrey Ballet proudly announces the world premiere of Yuri Possokhov's historic reimagining of Leo Tolstoy's classic novel, Anna Karenina, considered the greatest literature ever written. This majestic full-length work is presented in a first-time collaboration between The Joffrey Ballet and the renowned Australian Ballet to be performed in Chicago at the Auditorium Theatre of Roosevelt University, 50 E. Congress Parkway, in ten performances only, February 13-24, 2019.
Created by visionary choreographer Yuri Possokhov, this original production brings Leo Tolstoy's epic 19th-century story of passion and forbidden love to life on the stage. A ballet in two acts, Possokhov's Anna Karenina centers on the tragic tale of a married aristocrat and her ongoing love triangle in Imperial Russia, a story that explores the complex politics of family, religion, morality and gender.
"Anna Karenina is a deeply emotional story that speaks to our turbulent times and offers the ideal muse for Joffrey's tradition of powerful storytelling through dance," says Ashley Wheater, The Mary B. Galvin Artistic Director of The Joffrey Ballet. "Our collaboration with the Australian Ballet is momentous on so many levels, and Yuri Possokhov is a creative powerhouse at the height of his career. His fresh classical vocabulary will no doubt lead to a phenomenal retelling that honors the classic story while exploring the modern ballet idiom."
Possokhov is joined by an all-star creative team known for theatrical, opera and film excellence. Among them: award-winning Russian composer Ilya Demutsky (2016 Golden Mask Award recipient, Russia's most prestigious theater honor); Emmy Award-winning and Tony Award-nominated set and costume designer Tom Pye (Gloriana, Fiddler on the Roof) and renowned lighting designer David Finn (Martin Scorsese's The Age of Innocence).
Known for his visceral and expressive style, Possokhov has created groundbreaking new works around the globe. A frequent guest artist with The Joffrey Ballet, Possokhov has received much critical acclaim for transforming iconic literature into inventive, emotionally driven story ballets, including the world premiere of Don Quixote with the Joffrey in 2011. For The Joffrey Ballet, Possokhov has choreographed Bells, Adagio, Don Quixote and The Miraculous Mandarin.
The world premiere of Anna Karenina will be presented first in Chicago with The Joffrey Ballet, February 13-24, 2019, and then in Melbourne with The Australian Ballet in May 2020.
The Joffrey Ballet performs Yuri Possokhov's Anna Karenina in ten performances only February 13 -24, 2019. The full performance schedule is as follows: Wednesday, Feb. 13 at 7:30 pm; Friday, Feb. 15 at 7:30 pm; Saturday, Feb. 16 at 2 pm and 7:30 pm; Sunday, Feb. 17 at 2 pm; Thursday, Feb. 21 at 7:30 pm; Friday, Feb. 22 at 7:30 pm; Saturday, Feb. 23 at 2 pm and 7:30 pm; and Sunday, Feb. 24 at 2 pm.
Single tickets, priced from $35 to $199, are available for purchase at The Joffrey Ballet's official Box Office located in the lobby of Joffrey Tower, 10 E. Randolph Street, as well as the Auditorium Theatre of
Roosevelt University Box Office, by telephone at 312.386.8905, or online at joffrey.org.
About Yuri Possokhov
Russian-born Yuri Possokhov is among the most active and imaginative choreographers working in ballet today. After receiving his early training at the Moscow Ballet School, he danced with the Bolshoi Ballet for ten years, working primarily with ballet master Yuri Grigorovich. During that decade, he was promoted through the ranks to principal dancer. In 1992, he joined the Royal Danish Ballet as a principal dancer at the invitation of ballet master Frank Andersen. The following December, Possokhov was cast as Prince Desiré in Helgi Tomasson's The Sleeping Beauty and, after being invited to perform in San Francisco Ballet's opening night gala, he decided to move west. In 1994, Possokhov joined San Francisco Ballet (SFB) as a principal dancer and spent the next 12 years as a dancer with the Company. In 1999, he organized and performed in a Russian tour entitled "Ballet Beyond Borders," with 16 dancers from SFB performing on the tour, which traveled to five cities throughout Russia. Following his retirement as a principal dancer from SFB, Possokhov was named choreographer-in-residence in May 2006. As a choreographer, Possokhov's early credits include Songs of Spain, choreographed in 1997 for dancer Muriel Maffre; A Duet for Two, created the same year for Joanna Berman; and Impromptu Scriabin, for Felipe Diaz. In 2000, he completed a new work for a dancer at the Mariinsky Ballet, as well as 5 Mazurkas for the Marin Dance Theatre. Possokhov's Magrittomania was commissioned for SFB's Discovery Program in 2000, receiving an Isadora Duncan Dance Award for Outstanding Choreography for this work the following year. Works for the SFB include: Damned, Don Quixote, Study in Motion, Reflections, Ballet Mori, Firebird, Fusion, Diving into the Lilacs, Classical Symphony, RAkU, Francesca da Rimini, The Rite of Spring, and Swimmer. Possokhov is a frequent guest at the Bolshoi Ballet, where his most recent full-length, Hero of Our Time, premiered in 2015 to critical acclaim. In 2016, Possokhov was invited to collaborate with Queen Margrethe II of Denmark and singer-songwriter Nanna Øland on a new Cinderella for Tivoli Ballet Theatre. For more information, please visit
About The Joffrey Ballet­­
Classically trained to the highest standards, The Joffrey Ballet expresses a unique, inclusive perspective on dance, proudly reflecting the diversity of America with its Company, audiences, and repertoire, which includes major story ballets, reconstructions of masterpieces and contemporary works.
The Company's commitment to accessibility is met through an extensive touring schedule, an innovative and highly effective education program, including the much-lauded Academy of Dance, Official School of The Joffrey Ballet, Community Engagement programs and collaborations with myriad other visual and performing arts organizations.
Founded by visionary teacher Robert Joffrey in 1956, guided by celebrated choreographer Gerald Arpino from 1988 until 2007, The Joffrey Ballet continues to thrive under The Mary B. Galvin Artistic Director Ashley Wheater and President & CEO Greg Cameron.
Special thanks to the Anna Karenina Commissioning Sponsors: Producing Sponsors Margot and Josef Lakonishok and NIB Foundation; Major Sponsors Lorna Ferguson and Terry Clark, Nancy and Sanfred Koltun, Mr. and Mrs. Joel V. Williamson, Walter E. Heller Foundation, JHL Capital Group, Jane Ellen Murray Foundation, Diane and John Patience, The Poetry Foundation; and Sponsors Ethel and William Gofen, Bill and Orli Staley Foundation and Rudolf Nureyev Fund at The Joffrey Ballet. The Joffrey Ballet is grateful for the support of 2018-2019 Season Sponsors: Abbott Fund, Alphawood Foundation Chicago, NIB Foundation, and the Daniel and Pamella DeVos Foundation; Live Music Sponsors Sandy and Roger Deromedi and The Marina and Arnold Tatar Fund for Live Music; and 2018-2019 Season Partners: Clear Channel Airports, Chicago Athletic Clubs, Preferred Hotel JW Marriott, and Official Provider of Physical Therapy Athletico.
For more information on The Joffrey Ballet and its programs, visit joffrey.org. Connect with the Joffrey on Facebook, Twitter and Instagram.
More Hot Stories For You