Elaine Carlson to Lead Cast of Promethean's THE MADWOMAN OF CHAILLOT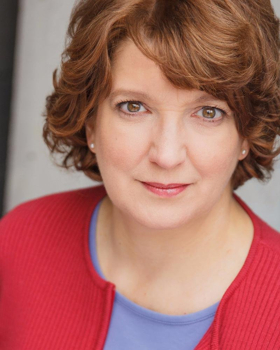 Promethean Theatre Ensemble will continue its twelfth season with Jean Giraudoux's THE MADWOMAN OF CHAILLOT. First produced in 1945, Giraudoux's satiric comedy reveals a plot by a group of corrupt business executives to dig up the streets of Paris, so they can pump oil that they believe lies beneath. Their plot is challenged by the titular "Madwoman," the eccentric Countess Aurelia, an idealist who resolves to fight back and rescue humanityfrom the scheming and corrupt developers with the help of her fellow outcasts and her fellow madwomen.
Appearing as the Countess Aurelia will be Jeff Award-winner Elaine Carlson, a 2017 Jeff nominee for Actress in a Principal Role in a Play for her performance as Eleanor of Aquitaine in Promethean's THE LION IN WINTER. Carlson has since completed a run in City Lit Theatre's all-female production of J.B. directed by Promethean's Artistic Director, Brian Pastor.
THE MADWOMAN OF CHAILLOT will be directed by Promethean artistic associate John Arthur Lewis, who also staged Promethean's productions of Anouilh's THE LARK and Giraudoux's TIGER AT THE GATES. Appearing as Aurelia's friends and fellow "madwomen" will be Laura Sturm, seen recently in the title role of Lauren Gunderson's EMILIE, LA MARQUISE DU CHATELET DEFENDS HER LIFE TONIGHT with Organic Theater as Constance; Joan McGrath, who appeared recently in MY FAIR LADY and GYPSY with Music Theater Works as Josephine; and Jennifer Vance (last seen in Teatro Vista's ROMEO AND JULIET and currently in Lifeline Theatre's KidSeries production of MONTAUCIEL TAKES FLIGHT) as Gabrielle. Jerry Bloom (of Promethean's TIGER AT THE GATES and Redtwist's INCIDENT AT VICHY) will play The Ragpicker and The President.
Promethean ensemble members in the cast include Meghann Tabor and
Brendan Hutt
(both in Promethean's THE LIAR and EURYDICE) as The Peddler and The Doctor;
Tom Murphy
(Prince John in Promethean's THE LION IN WINTER) as The Policeman and The Little Man; and
Brian Hurst
(seen in THE ACCIDENTAL DEATH OF AN ANARCHIST with Oracle Theatre) as The Prospector and The Sewerman. Also in the cast are
Brendan Connelly
and Brenda Wlazlo (Romeo and Benvolio in the spoken and ASL-signed R & J: THE VINEYARD with Oracle Theatre and Red Theatre) as The Messenger and Irma; and Xavier Lagunas (Sebastian in THE TEMPEST for The Cuckoo's Theatre Project) as Pierre.
The production team includes ensemble member Jeremiah Barr (scenic design) and Jeff award-winners Rachel Sypniewski (costume design), Sam Allyn (sound design). Ensemble member Alexa Berkowitz will be stage manager and Jessica Haworth will be assistant director.
Originally written to protest thoughtless urban renewal, THE MADWOMAN OF CHAILLOT has remained remarkably up-to-date. Today, the play speaks to environmental concerns, the destruction of the natural world, and the manipulation of world financial markets. Lewis says, "The play is surprisingly modern and accessible. In my head, it sounds like
Aaron Sorkin
at his funniest, Monty Python, or the craziest of M*A*S*H. But there's a lot of value in this play beyond the comedy. I think it can be something unique, powerful, and profound." First staged in Paris in 1945, THE MADWOMAN OF CHAILLOT was produced on Broadway in 1948 where it ran for 385 performances. The production also was taken on a 20-week national tour. THE MADWOMAN OF CHAILLOT enjoyed a renaissance of sorts in 1969, when a feature film version starring
Katharine Hepburn
was released and a musical comedy adaptation (DEAR WORLD, with songs by
Jerry Herman
and a Tony Award-winning performance by
Angela Lansbury
) opened on Broadway. Promethean's THE MADWOMAN OF CHAILLOT will be performed at the Athenaeum Theatre, Studio One, and will open on Saturday, February 17 at 7:30 pm, following previews from Friday, February 9 - Friday, February 16, 2018. More information is available at
www.prometheantheatre.org
. For box office inquiries, contact boxoffice@prometheantheatre.org BIOS John
Arthur Lewis
(director) earned his BFA in Theatre from TCU, and his MFA in acting from Binghamton University. Before finding his home in Chicago, he performed in and directed many plays in New York and across the country in regional theatres. Chicago credits include: Agamemnon in IPHIGENIA AT AULIS (The Rogue Theatre), Vronsky in ANNA KARENINA (Vitalist Theatre), He in COUNTING THE WAYS (Greasy Joan &Co.), Studdard in PUGILIST SPECIALIST (Red Tape Theatre),
Tom Wilson
in THE RIDE DOWN MT. MORGAN (Redtwist), Banquo in MACBETH (CityLit), Bengtsson in THE GHOST SONATA (Oracle), and Mars Streznick in DADDY LONG LEGS (Bruised Orange), and Wayne in KINGSVILLE (Stage Left), Ian in SHINING CITY (Redtwist), John in LIPS TOGETHER, TEETH APART (Remarcable), The Mayor in BRAND (Red Tape), and Claire in THE MAIDS at Oracle where he was a company member. An artistic associate of Promethean Theatre Ensemble, John appeared in two Promethean productions, THE LAST UNICORN, and HENRY V. He also directed PTE's Winter, 2012 Evening of Shakespeare.
Jean Giraudoux
(playwright) began his theatrical career in 1928 with SIEGFRIED, a dramatization of his own novel. He most commonly sought inspiration in classical or biblical tradition as in ÉLECTRE and CANTIQUE DES CANTIQUES. He adapted
Margaret Kennedy
's novel THE CONSTANT NYMPH in TESSA, LA NYMPHE AU COEUR FIDÈLE and La Motte-Fouqué's fairy tale of a water sprite who loves a mortal man as ONDINE. Among Giraudoux's other important works is LA GUERRE DE TROIE N'AURA PAS LIEU (THE TROJAN WAR WILL NOT TAKE PLACE) adapted in English by
Christopher Fry
as TIGER AT THE GATES (staged by Promethean in 2015).
Tickets: General $27.00, Seniors (65+) $22.00, Students/Children $17.00
Available at www.athenaeumtheatre.org or by phone at 773-935-6875.
More information at www.prometheantheatre.org