DANCE FOR LIFE Announces 2018 Companies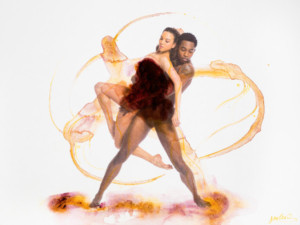 For its 27th annual event, Dance for Life Chicago presents a diverse group of companies and artists performing August 18 at the Auditorium Theatre of Roosevelt University, 50 E. Congress Parkway, Chicago. Dance for Life, which mobilizes Chicago's dance community by raising funds through dance, presents this annual benefit performance, which is preceded by a gala reception at the Hilton Chicago.
Joining the Partner Dance Companies that perform each year-
Giordano Dance Chicago
,
Hubbard Street Dance Chicago
and
The Joffrey Ballet
-are
Hanna Brictson and Dancers
,
Cerqua Rivera Dance Theatre
,
Chicago Dance Crash
and
Nomi Dance Company
. The concert also includes a work choreographed by
Randy Duncan
. This year, Dance for Life honors two pillars of Chicago dance: Hubbard Street Dance Chicago Founding Artistic Director Lou Conte and Giordano Dance Chicago Artistic Director
Nan Giordano
. Said Dance for Life Board President Kevin McGirr, "Lou founded Hubbard Street in 1977 and directed the company for 23 years. HSDC continues his legacy to enrich, engage, educate and change lives through the experience of dance. Nan continues the artistic vision of her father, Gus, who founded GDC 55 years ago. For the last 25 years, Nan has guided the development of GDC's large and diverse repertoire. We are so proud to honor both of these remarkable people at this year's Dance for Life." Co-chairs for the 27th annual Dance for Life are Tom Ferguson Gomez and
Mark Ferguson
Gomez. Dance for Life showcases the city's unique variety of dance traditions and styles by bringing together talented, world-renowned professional dancers from Chicago on the same stage. Dancers unite to support those facing critical health issues by generously donating their time, energy and artistry to the cause. Throughout its history, Dance for Life has presented 34 Chicago-based professional dance companies and numerous choreographers. To build excitement, Dance for Life presents the return of Dance Divas, a performance by professional dancers impersonating female celebrities, directed by choreographers Harrison McEldowney and Jeremy Plummer. Tony Savino serves as Emcee. Guests have the opportunity for a "diva makeover" during the show. Dance Divas takes place Sunday, June 24 at 6 p.m. and Monday, June 25 at 9 p.m. at The Baton Show Lounge,
436 N. Clark Street, Chicago
.
Giordano Dance Chicago performs Tossed Around (2017), choreographed by Ray Mercer to music by Sbongiseni "Bongi" Duma. "I wanted to capture a feeling that exploits chaos," said Mercer. "As human beings, I think we experience instances where we are emotionally, physically and spiritually tossed around. I wanted that experience to be reflected in the movement. Working closely with the composer [Duma], who is very familiar with my aesthetic, we came up with a work that complemented Giordano Dance Chicago's movement style."
Hubbard Street Dance Chicago performs the company's longtime signature work The 40s, choreographed by Founding Artistic Director Lou Conte to bandleader Ralph Burns's rousing take on Sy Oliver's "Opus One" and Burns's own "V.J. Stomp." Said Conte, "I was born in 1942 during the war, and remembering how happy everyone was when it ended, shooting guns in the air and beating on washtubs, was one of my first memories as a child. It was a very celebratory feeling, and that's what I've told the dancers about The 40s."
The Joffrey Ballet performs Body of Your Dreams, choreographed by Myles Thatcher. The ballet is a witty, inventive play on fitness crazes, but beneath the surface is a cautionary message that may be relevant to many of us living in today's society. Jacob Ter Veldhuis's music is interlaced with sound bytes from too-good-to-be-true fitness ads and infomercials promising that the next fitness phenomenon is "so easy!".
Hanna Brictson and Dancers, comprising dancers who have been associated with Visceral Dance Chicago, perform My Darling, which, according to Brictson, was "created and inspired by all my fond memories of music and dance growing up as a young artist. I wanted to create a dance that leaves you inspired to find the simple pleasures in life. Emotion-filled, step-filled and a stage full of giving dancers was my vision...the power of the Chicago dance community coming together to feel the joy of dance, simply and purely, will be epic."
Cerqua Rivera Dance Theatre performs excerpts from Between Us by Chicago choreographer Sherry Zunker, who collaborated with CRDT co-founder and composer Joe Cerqua on a diverse suite of dances that explore issues of intimacy and the layers of connection between the CRDT dancers and musicians.
Chicago Dance Crash returns to Dance for Life to showcase its span of breakdance, acrobatics, hip hop and concert dance techniques with a celebration of movement in the most raw, pure form: a freestyle. An athletic, diverse collection of artists improvise, battle and build off each other to create a living piece right in the moment, conceived and structured by Artistic Director Jessica Deahr.
Nomi Dance Company performs excerpts from Kim, choreographed by Giordano Dance Chicago's Joshua Blake Carter, director of Giordano II. This piece for 11 dancers centers on the experience of women. The two sections on the program, "A Losing Game" and "Begin Again," exhibit challenges and, consequently, the overcoming of obstacles and strength that all women face and find in their lives.
Randy Duncan is reviving his
2007 Dance for Life finale,
this year as the program opener. ADROIT, with music by Doug Brush, gives the dancers an opportunity to express synchronicity and precision through contemporary ballet and African movement vocabulary.
Dance for Life Chicago, which takes place Saturday, August 18,
begins at 5 p.m. with a gala reception and buffet dinner at
the Hilton Chicago Grand Ballroom, 720 S. Michigan Ave., and continues with
the performance at 7:30 p.m. at the Auditorium Theatre, 50 E. Congress Pkwy.
Tickets-$300-650 for both the gala reception and performance
and $15-75 for the performance only-go on sale May 18
by phone at 312.341.2300, online at chicagodancersunited.org
or in person at the Auditorium Theatre Box Office.
Group tickets (10 or more) are available by calling 312.341.2300.
Tickets for Dance Divas, which takes place Sunday, June 24 at 6 p.m.
and Monday, June 25 at 9 p.m. at The Baton Show Lounge,
436 N. Clark St
.,
are $50, which includes one drink, and are available at
chicagodancersunited.org
.
Dance for Life supports organizations and dance professionals facing critical health issues. Proceeds from Dance for Life benefit The Dancers' Fund, which was established in response to the impact of the HIV/AIDS epidemic on the dance community, and the AIDS Foundation of Chicago. The Dancers' Fund now offers assistance in, but is not limited to, health matters, housing, utilities, insurance, medication and travel. As a unifier of Chicago's dance community, Dance for Life supports a thriving dance community by focusing on its health and well-being through The Dancers' Fund.
For more information about Dance for Life, visit chicagodancersunited.org.
Find up-to-date details on #DanceforLifeChicago by following us
on Facebook, Instagram and Twitter. The companies
Giordano Dance Chicago (GDC) is America's original jazz dance company, captivating audiences worldwide with dynamic performances and the diversity and wide appeal of its repertoire. GDC's mission is to create and present new and innovative jazz dance choreography, often redefining and expanding the very definition of jazz dance. GDC is dedicated, also, to the preservation and promotion of the Giordano Technique. Known for its high-impact artistry, GDC continually receives critical and audience acclaim worldwide.
Hubbard Street Dance Chicago's core purpose is to bring artists, art and audiences together to enrich, engage, educate, transform and change lives through the experience of dance. Celebrating Season 40 in 2017-18, under the artistic leadership of
Glenn Edgerton
, Hubbard Street continues to innovate, supporting ascendant creative talent while presenting repertory by internationally recognized living artists. Hubbard Street has grown through the establishment of multiple platforms alongside the Lou Conte Dance Studio-now in its fifth decade of providing a wide range of public classes and pre-professional training-while extensive Youth, Education, Community, Adaptive Dance and Family Programs keep the organization deeply connected to its hometown. Classically trained to the highest standards, The Joffrey Ballet expresses a unique, inclusive perspective on dance, proudly reflecting the diversity of America with its company, audiences and repertoire, which includes major story ballets, reconstructions of masterpieces and contemporary works. The Company meets its commitment to accessibility through an innovative and highly effective education program including the much lauded Academy of Dance, Official School of The Joffrey Ballet, Community Engagement programs and collaborations with myriad other visual and performing arts organizations. Founded by visionary teacher
Robert Joffrey
in 1956 and guided by celebrated choreographer
Gerald Arpino
from 1988 until 2007, The Joffrey Ballet continues to thrive under internationally renowned Artistic Director
Ashley Wheater
and Executive Director
Greg Cameron
. Hanna Brictson grew up dancing and training in Elgin and Chicago. She joined River North Dance Chicago in 2004, and for the next 12 years, she choreographed on the company, served as rehearsal assistant, co-choreographed with director Frank Chaves and performed all over the world. She worked with ODC in San Francisco and Northwest Dance Project in Portland. She is in her second year as a company dancer and assistant rehearsal director with Visceral Dance Chicago. She also explores teaching and choreography, and she has taught in Israel, Russia, Germany, and all over the U.S. Cerqua Rivera Dance Theatre uses dance and music to nourish the mind and the soul. The company unites artists and audiences to explore themes that shape the community. Its work is rooted in the vision of its founders, Joe Cerqua and Wilfredo Rivera, of what art can do: gather people to contemplate factors that knit our community together and differences that add complexity to our society. During the years, programming grew from collaborations among the founders to include a diverse collective of artists. Today, Cerqua Rivera creates new multidisciplinary art works and shares them in interactive events and concerts with thousands of people across Chicago every year. Chicago Dance Crash, established in 2002 and lead by artistic director
Jessica Deahr
, is one of the premier hip hop/contemporary dance companies in the United States with a reputation for fusing urban dance forms with a concert dance sensibility. Boasting an 11-month season of Chicago debuts and national/international tours, Crash blurs the line between art and entertainment with original productions, repertory and freestyles. Nomi Dance Company believes in pushing the boundaries of dance through innate, vibrant and explosive movement, while keeping the work accessible to all audiences. Nomi presents two self-produced full-length concerts per season along with various festival, benefit and collaborative appearances. Nomi has enjoyed performing in unique spaces that contribute to the ongoing and growing diversity of Chicago's dance scene. The company commissions like-minded artists with unique and exceptional vision to choreograph premier works on the company each season, adding to its already eclectic mix of challenging repertoire. Nomi incorporates a mix of genres creating surprising, exciting and entertaining performances.
Randy Duncan
is a three-time recipient of Chicago's prestigious
Ruth Page
Award for Outstanding Choreographer of the Year. His career began at age 15 with the Joseph Holmes Dance Theatre, rising from dancer to resident choreographer and, upon the death of Mr. Holmes, artistic director. Using elements of ballet, jazz, African and modern dance, he has created works for the Joffrey Ballet, River North Chicago Dance Company, Giordano Jazz Dance Chicago, Spectrum Dance Company (Seattle, Washington), Bat Dor Dance Company of Israel and the Tennessee Children's Dance Ensemble. His first major motion picture (by
Paramount Pictures
), Save the Last Dance starring
Julia Stiles
, earned him a nomination for the American Choreography Award for dance on film.
Related Articles View More Chicago

Stories

Shows
More Hot Stories For You