Christopher Cross, Kaki King and More Coming Up at City Winery Chicago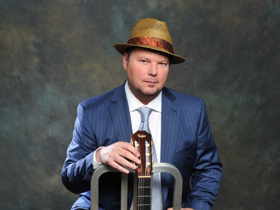 City Winery Chicago, 1200 W. Randolph Street, announces singer/songwriter Christopher Cross ("Sailing" and "Arthur's Theme"), visionary musician/artist Kaki King and more.
The following shows go on sale to the public on Thursday, December 14 at noon at citywinery.com/chicago.
---
"Happy Birthday, Langston Hughes: A Celebration In Poetry, Prose And Song"
Thursday, February 1
$35/$38/$42/$45
Start Black History Month by celebrating the 115th birthday of legendary American author, activist and thinker Langston Hughes. The evening will include readings of Hughes' poetry and music that he wrote, inspired and/or enjoyed. Special guests include Regina Taylor, Terisa Griffin, Malik Yusef and many more TBA.
Sunday, February 18; 7:00 p.m.
$35/$40/$45/$55
Neapolitan crooning sensation and PBS network favorite Patrizio Buanne, known for his engaging and spectacular performances, returns to City Winery Chicago for an intimate performance.
Las Guitarras de España presents: "The Chicago-Andalusian Music Project"
Monday, February 19; 7:30 p.m.
$18/$20/$22/$25
Chicago traditionally has been known as a home of jazz, blues, R&B and soul music. In recent years, the city has become an international destination and meeting place for global artists of many styles. Like Chicago, the music of Andalusia, Spain includes elements from many traditions (Middle Eastern, Indian, African) which blend together with existing music and dance traditions, giving birth to "flamenco." Chicago based ensemble Las Guitarras de España creates original works of music and dance by putting together Spanish guitar sounds with elements of jazz, blues, rock and soul sounds. In this performance, guitarists Carlo Basile and Diego Alonso will lead a cast of accomplished artists and composers performing all original works of Spanish guitar, Latin, & Jazz influenced music and dance. Joining the Spanish guitar duo will be Patricia Ortega (vocals) Chiara Mangiameli (flamenco dance/vocals), Colin Bunn (tres/electric guitar), Greg Nergaard (bass), Kassandra Kocoshis (percussion), Javier Saume (drum kit), Greg Duncan (trumpet) and Ronnie Malley (oud, vocals).
Thursday, February 22
$18/$20/$22/$25
Raul Midón is a singer, songwriter and guitarist currently nominated for a 2018 Grammy for Best Jazz Vocal Album) for Bad Ass and Blind. Midón combines his distinct voice, strumming, beats, and acapella instruments to create a one-man performance. His unique style shows influence of virtually every musical genre which came before him, including jazz, blues, R&B, and folk.
Tuesday, March 13
$22/$25/$28/$32
Kaki King is a true iconoclast, an artist whose singular work rightly stands out amongst the easily formatted. Over her decade-long career thus far, the Brooklyn-based guitarist/composer has recorded five extraordinarily diverse and distinctive LPs, performed with such icons as Foo Fighters, Timbaland, and The Mountain Goats, contributed to a variety of film and TV soundtracks (spanning from Golden Globe-nominated work on Sean Penn's Into The Wild to scoring - and appearing in as guitar-playing hand double - the acclaimed 2007 drama, August Rush), and played to ever-growing audiences on innumerable world tours. Beginning with 2002's Everybody Loves You - to date, her only fully acoustic guitar recording - King has expanded and reconceived the role of the solo instrumental artist, constantly kicking at the boundaries of what's expected.
Saturday, March 31
$68/$72/$75/$78
Christopher Cross made history with his 1980 self-titled debut album, winning five Grammy Awards, including-for the first time ever-the four most prestigious awards: Record of the Year (for the single "Sailing"), Album of the Year, Song of the Year (also for "Sailing"), and Best New Artist. His classic hits also include "Ride Like the Wind" and the Oscar-winning "Arthur's Theme (Best That You Can Do)" from the film starring Liza Minelli and Dudley Moore - which remain staples on radio to this day. Cross continues his recording and performing career with his newest album, Secret Ladder, which evokes the artistry of such great singer-songwriters as Joni Mitchell and Randy Newman and continues the exploration of adult subject matter broached in his preceding album Doctor Faith (2011).
Saturday, April 14
$22/$25/$28/$30
Willie Nile has toured across the U.S. with The Who and has sung with Bruce Springsteen and The E Street Band. Bono, Lou Reed, Lucinda Williams, Jim Jarmusch and Little Steven are among those who have sung his praises. His album, American Ride, won "Best Rock Album of the Year" at the Independent Music Awards and appeared on over one hundred year-end Top Ten lists for 2013. In 2014 he released an album of piano-based songs, If I Was A River, to universal critical acclaim, followed by World War Willie which appeared on numerous year-end Top Ten lists. In the summer of 2017, Willie Nile released his 11th studio album Positively Bob - Willie Nile Sings Bob Dylan. He is currently on tour, bringing his electrifying live show to audiences worldwide.
City Winery also announces DJ Warp opens for Bebel Gilberto on Dec. 19-20 and Kelsey Waldon opens for Lee Ann Womack on Jan. 20-21.
---
All City Winery events are open to all ages and start at 8 p.m., unless noted. Tickets go on sale to the general public on December 14 at noon. Only members of City Winery Chicago's signature VinoFile program have access to ticket sales today in addition to receiving: a waiver of ticket service fees; free valet parking; Restaurant Loyalty Rewards, such as a free pair of VIP concert tickets for every $500 spent on food & beverage in the restaurant; exclusive membership-only events; and access to the proprietary City Winery Virtual Sommelier, which helps make suggestions for wines one might enjoy based on past consumption at the venue.
Patrizio Buanne, Las Guitarras de España, Raul Midon, DJ Warp, Kaki King, Christopher Cross and Kelsey Waldon join a diverse mix of the most respected names in pop, rock, jazz, blues, world music, theater, dance, spoken word and comedy presented at City Winery Chicago, including previously announced headliners and supporting acts: Los Lobos with Future Stuff (Dec. 12-13); Dwele (Dec. 14, 7 & 9pm); Tab Benoit with Eric Johanson (Dec. 16); The Empty Pockets with Nate Jones (Dec. 17, 7pm); Kris Allen with Marie Miller (Dec. 18); Bebel Gilberto (Dec. 19-20); Avery*Sunshine (Dec. 21, 7 & 9:30pm); Michael McDermott with Heather Horton (Dec. 22); Michael McDermott (Dec. 23, 5 & 8pm); Christmas for the Jews (Dec. 25); Poi Dog Pondering (Dec. 26-30); BoDeans (Dec. 31, 7:30 & 11pm; Jan. 1, 5 & 8pm); Steve Forbert (Jan. 3); Bilal (Jan 4-5); Talib Kweli with K'Valentine (Jan. 6, 7 & 10pm); Amy Black presents The Music of Memphis & Muscle Shoals (Jan. 7, 7pm); Steve Earle (Jan. 8-9 & Feb. 12-13); Tom Cochrane (Jan. 10); Flobots (Jan. 11); Freddy Jones Band with The Nadas (Jan. 12-13); Funkadesi (Jan. 15, 7:30pm); Tracy Nelson & The Bel Airs (Jan. 16); Davina & the Vagabonds (Jan. 17); Sandra Antongiorgi with ¡ESSO! Afrojam Funkbeat, Pecados de Maria, DJ Cqqchifruit (Jan. 18, 6:30pm); Eric Benét (Jan. 19, 7 & 10pm); Lee Ann Womack (Jan. 20-21); Alejandro Escovedo with Chris Stamey (Jan. 25-27); The Four C Notes (Jan. 28, 3pm); Chicago Jazz Orchestra featuring Sarah Marie Young (Jan. 30, 7:30pm); The Posies (Jan. 31); Justin Townes Earle (Feb. 2-3); Judy Collins (Feb. 4, 5 & 8pm); Melanie Fiona (Feb. 7, 7pm); Tortured Soul (Feb. 8); 10,000 Maniacs (Feb. 9, 7:30 & 10pm; Feb. 10, 5 & 8pm); JD Souther (Feb. 11); Brandy Clark (Feb. 14, 6:30 & 9pm); Cyrille Aimee (Feb. 15); Kindred the Family Soul (Feb. 16, 7 & 10pm); Keren Ann (Feb. 20); The Birdland All-Stars featuring Tommy Igoe (Feb. 21); Syleena Johnson (Feb. 23, 7 & 10pm); Sergio Mendes (Feb. 25, 5 & 8pm); Sierra Hull with Scott Mulvahill (Feb. 28); Doyle Bramhall ll (Mar. 1); Alan Doyle (Mar. 2); Brad Williams (Mar. 4); Joanne Shaw Taylor (Mar. 6); Howard Jones (Mar. 8); Tom Papa (Mar. 9, 7 & 10pm); We Banjo 3 (Mar. 14); Stephen Kellogg (Mar. 15); Jonatha Brooke (Mar. 16), Los Lonely Boys with Lisa Morales (Mar. 17-18); The Zombies (Mar. 19-20); Joshua Radin with William Fitzsimmons (Mar. 27-28); Tom Green (Mar. 30, 7:30 & 10pm); Candlebox Acoustic Duo with Lullwater (Apr. 15-16); Kevin Nealon (Apr. 20-21); and John Waite (May 24-25).
Opened in 2012, City Winery Chicago is a fully operational winery, restaurant with outdoor patio, concert hall and private event space located in the heart of the West Loop at 1200 W. Randolph, in the historic urban Fulton Market district. Once a refrigerated food distribution warehouse, the 1911 building has been transformed into a contemporary 33,000 square foot haven for those passionate about wine, music and culinary arts. The décor evokes the romance of being in wine country, from the exposed stainless steel fermenting tanks and French oak barrels, to the aroma of fermenting grapes. Chicago's only fully operation winery has produced dozens of in-house wines sourced from vineyards in California, Oregon, Washington, Argentina and Chile, including a Wine Enthusiast 92-point 2015 Verna's Vineyard Reserve Pinot Noir. With more than 400 unique producers from around the world City Winery is recognized with 2014 and 2015 Best of Awards of Excellence "for having one of the most outstanding restaurant wine lists in the world" by Wine Spectator. The globally inspired, locally sourced, wine-focused food menu is conceived for pairing and sharing. The concert hall accommodates up to 300 guests, all seated at tables with complete beverage and dining service, ensuring a comfortable "listening room" experience enhanced by a state-of-the-art Meyer Sound system. Riedel is the official and exclusive provider of glassware, showing City Winery's commitment to enjoying quality wine in a quality vessel. American Airlines is the Official Airline and Virgin Hotels Chicago is the Official Hotel of City Winery. For more information, visit www.citywinery.com.