BWW Review: TAFE's CINDERELLA, A MUSICAL Dances Its Way Across the Stage
Cinderella is one of the oldest fairy tales on the storybooks. Although it's had versions of its plot traced back to Egypt, the best known version that's usually adopted, or adapted, is that of French author Charles Perrault, with a nod to The Brothers Grimm for their version as well. Disney's CINDERELLA and Rodgers and Hammerstein's CINDERELLA both run to the Perrault version, while Sondheim's INTO THE WOODS borrows from The Brothers Grimm with its stepsisters trying to shave down their feet in order to fit into the glass slipper.
TAFE has created its own CINDERELLA, A MUSICAL, by director Diane Crews and Musical Director Jacquie Sutton, and it's not your mother's Disney CINDERELLA. There's no fairy godmother to say Bibb-Di Bobbi-Di-Boo, and no bluebirds with ribbons and needles creating ballgowns. There's no Rodgers and Hammerstein revised-version political implications. And Drusilla isn't a stepsister but Cinderella's devoted personal maid. There are plot elements your father won't remember, such as a switch in the prince's identity at the ball. Underneath some plot variations that have been used in some of the non-Perrault versions of the tale and a few twists of Crews' own, there's still a recognizable core of Cinderella, Wicked Stepmother, also known here as Wickedara, and a handsome prince, here called Prince Francois.
While the cast is enormous and it's hard to single out many of the performers, especially the younger ones, the performers are enthusiastic and full of energy; Grace Gladfelter, who performs as Cinderella, has a particularly noteworthy voice. Chris Brown, as Prince Francois, is also excellent, and their second act duet of "Whoever You Are" is a highlight of the show.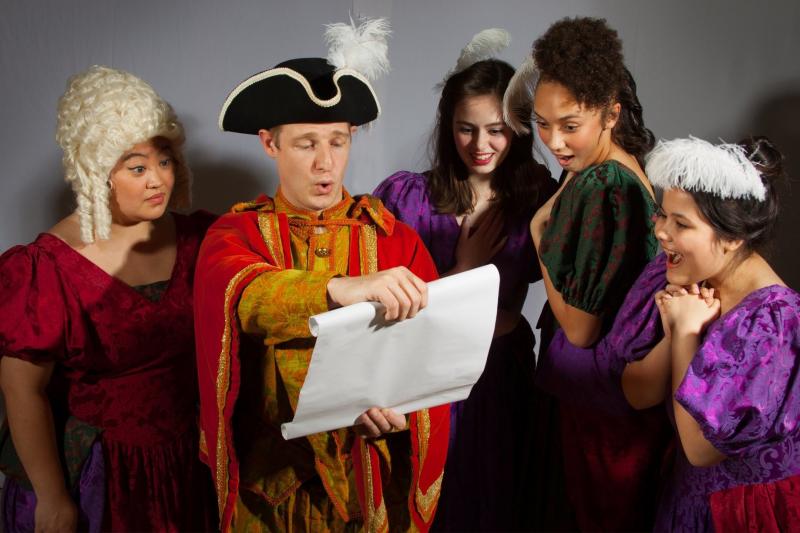 There's also a hilarious "Moving to the Castle" performed in the first act by Wickedara and the Wicked Stepsisters (a possible evil girl-group name), with Heather Brown as the delightfully evil Stepmother and Madison Ehrhart, Brynn Walker, and Ashley Diaz as the stepsisters.
Additionally, there's some clever use of dancers in the background, with McKenna Sylvester and Evan Costlow playing Cinderella and Prince Francois as the two leads sing to each other. Although Crews and Sutton's songs are very simple, suiting the youth and capabilities of some of the performers, this sort of additional technique strengthens the overall effect considerably.
The sets were extremely nice for a community production of this variety - a drawing room at Cinderella's home and the manse's kitchen, and a large area at the palace that, depending on configuration in different scenes, is either the ballroom or a busy palace corridor. Kudos to all the set designers and painters and to the props crew for jobs well done.
There is a shortage of truly multi-generational theatre or ability for the variously abled to participate in theatre in this area, and TAFE helps to fill this gap. It will be interesting to see how TAFE encompasses its mission in its upcoming production of OUR TOWN.
For information about TAFE's programs and schedule, visit their webpage at tafepa.org.
Related Articles View More Central Pennsylvania

Stories

Shows