BWW Reviews: Extra! Extra! NEWSIES at The Cortland Repertory Theatre is Breathtaking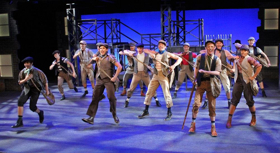 Nestled in the gorgeous countryside of Cortland County at Cortland Repertory Theatre's (CRT) summer theatre at picturesque Little York Lake is the breathtaking production of Disney's Newsies under the brilliant direction of Mark Reynolds. The production is exciting, powerful, and just pure magic on stage.
The Broadway musical Newsies is, of course, based on the 1992 cult classic Disney film of the same name by Bob Tzudiker and Noni Whitem inspired by the real-life 1899 Newsboys Strike in New York City. The musical features music by the incomparable Alan Menken, lyrics by Jack Feldman, and a book by Harvey Fierstein; so, it is no wonder that the original Broadway production was recorded, played repeatedly on Netflix, and viewed in movie theatres throughout the country.
The show centers on Jack Kelly (Zack Zaromatidis), a legendary Newsie, standing up to publisher Joseph Pulitzer (Woody Minshew) after he increases what the Newsies have to pay for the papers so that he can outsell the competitors. Kelly becomes angry and he organizes a protest/strike with his fellow Newsies so the world will know that they will not be bullied by someone like Pulitzer. A young and ambitious reporter named Katherine Plumber (Katie Luke) sees the strike as the perfect opportunity to prove herself as a serious journalist and becomes the only reporter to cover the protest. Jack, is not the most eloquent, so he enlists his new friend and fellow Newsie Davey (Braden Phillips) to help inspire Newsies in every borough to strike against Pulitzer's newspaper. With the help of Katherine's writing and Davey's words, Jack leads the Newsies in a "David vs. Goliath" fight to get their voices heard.
With some help from scenic designer Shelley Barish's minimalist set that allows for fast and easy scene changes, Eric Behnke's intricate lighting, Jimmy Johansmeyer's time period-appropriate costumes, and Matthew Couvillon's impressive and energetic choreography, Newsies comes to life perfectly at CRT.
Joel Gelpe's live orchestra plays those familiar musical numbers with a lot of energy. As the first few notes of favorites such as "Seize the Day," "King of New York," "The World Will Know," and many more are played, the performers explode with the same amount of energy and power.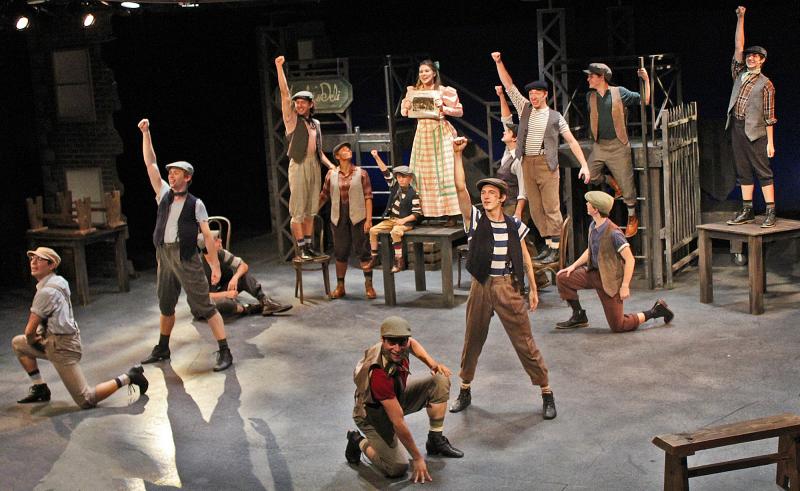 The production showcases the talents of many recent college graduates, some current college students, members of Cortland Repertory Theatre's performing intern company, and members of Cortland Repertory Theatre's local youth company. From the most experienced actor on stage to the youngest newbie, there isn't a single weak link.
As the legendary and tough Newsie Jack Kelly, Zack Zaromatidis ends the first act on a high note with "Santa Fe." It took a few numbers for his vocals to shine the brightest on the night I attended (it seemed as if he could use a bit more warm up time), but once he was fully warmed up, his acting and vocals had a non-stop wow factor. His attitude, chemistry with fellow actors, charm, and confidence is everything that is needed for Jack Kelly.
Katie Luke is a delight as Katherine Plumber. Her vocal chops are perfection and she stuns in the number "Watch What Happens" thanks to her Broadway belt and expressive singing style. Luke also showcases some impressive dance skills throughout the show; she is the definition of a triple threat. She proves that in the number "King of New York."
Woody Minshew effortless and smooth voice soars in the role of Joseph Pulitzer. His vocals are show -stealing, especially on the "The Bottom Line."
Kennedy Salters is fun, confident, and full of attitude as Medda Larkin. She flaunts it all in her number, "That's Rich."
Now we need to get to all those familiar Newsies. Camden Garcia (a member of the CRT Performing Intern Company is sweet, likeable, and memorable as Crutchie. He consistently shows off his comedic timing, impeccable line delivery, and vocals. Braden Phillips is a pure joy to watch as Davey and he did not disappoint in the show stealing number "Seize the Day" along with the rest of the ensemble executing the high-flying choreography. Jack Duranceau, a CRT local youth company member, is just adorable in the role of Les, the youngest of the Newsies.
All of the Newsies provide scene stealing performances though, thanks to their energetic dancing, powerful singing, and passion. There were a few Newsies that often stood out the night I attended: Ian Dominguez Ball as Albert, Jon Yepez as Specs, and John Caveseno as Spot, just to name a few. Ball, a CRT Performing Intern Company member, has particularly hilarious expressions.
Other memorable actors include Sean Amato and Jordan Shroeder as the Delancy brothers, Victoria Madden as Secretary Hannah, Kyle Kniseley as Warden Snyder, Michael Antico as Wiesel/Stage Manager/Mayor, and Jahmar R. Ortiz as Bookkeeper Bunsen.
Newsies at the Cortland Repertory Theatre is THE show to see this summer. The theatre, cast, production team, and community has me hooked. The show itself will put a smile on your face. You will tap along and want more and more from this breathtaking cast. To quote Medda Larkin "what better place to escape trouble than a theatre;" this show will surely help you cast any troubles you have aside. The production is a beautiful and inspiring escape from reality.
Running time: Approximately two and half hours with one fifteen-minute intermission.
Newsies runs through July 28, 2018 at the Cortland Repertory Theatre located at 6799 Little York Lake Rd., Preble, New York 13141. For tickets and information on this production and everything about Cortland Repertory Theatre, click here.
Related Articles View More Central New York

Stories

Shows