BWW Review: THE BEST LITTLE WHOREHOUSE IN TEXAS Entertains at The Merry-Go-Round Playhouse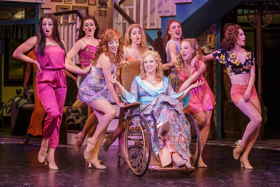 The current production of The Best Little Whorehouse in Texas now performing at The Merry - Go - Round Playhouse in Auburn, New York brings comedy, dancing, a lot of attitude, and very little clothing. Director and choreographer Parker Esse brings a rowdy, toe-tapping, and carefree good time with his high energy cast.
The musical comedy by Carol Hall, Larry King, and Peter Masterson is raunchy and carefree. The story centers on a whorehouse in Texas known as "The Chicken Ranch," run by Miss Mona Stangley (Sally Wilfert). Here the working women don't appear cheap, therefore, they must follow certain rules and dress a certain way. The goal of The Chicken Ranch is to seem like a good time country place where nothing inappropriate or dirty goes on behind the closed doors. Chad Healy's set design captures the Chicken Ranch perfectly with tasteful decorations, numerous rooms, and inviting atmosphere. This is enhanced by Jose Santiago's bright lighting.
For many years the Chicken Ranch offered a lot of business without anybody saying a word thanks to the help of Sheriff Ed Earl Dodd (Ryan Andes). However, now things are about to change because of television and a local TV man, Melvin P. Thorpe (Jamison Stern), looking to shut down the place. Thorpe broadcasts that "Texas Has a Whorehouse in It." While Thorpe is looking to shut down The Chicken Ranch, Miss Mona takes on two new girls and continues to Mother and care for all the girls in the house.
Sally Wilfert as Miss Mona Stangley is charming, sassy, and shows off her confident vocals in many of the musical numbers. Wilfert charms in, "A Lil Ole Bitty Pissant Country Place," is caring in "Girl You're a Woman," and beautifully sings "The Bus From Amarillo." Wilfert has some very strong vocals. During the performance I attended she seemed to at times hesitate on some of her lines but, being a professional, she covered very well.
Ryan Andes as the Sheriff Ed Earl Dodd gave a memorable rendition of "Good Old Girl." Although the chemistry between Wilfert and Andes seemed to be lacking they both sang their musical numbers with a lot of emotion.
Other standout performances include Crystal Sha'nae as Jewel belting out her comedic and spunky number "Twenty-Four Hours of Lovin'." Emily Drennan as Doatsey Mae gave the most memorable performance of the evening as she sang "Doatsey Mae." Character actor Jamison Stern entertained in his musical number s as the over-the-top TV personality Melvin P. Thorpe accompanied by the Thorpe Singers (Annelise Baker, Emily Drennan, Alicia Newcom, Elle May Paterson, Anna Terese Stone) and the Dogettes (Eric Geibel, Crawford Horton, Caleb Marshall, Eddie Olmo II, Thomas Sutter) in "Texas has a Whorehouse in It." Neal Mayer is entertaining as the Governor in the musical number "The Sidestep." Siri Howard as Angel stands out from the first time to the last time she is on stage and gives a memorable performance of "Hard Candy Christmas."
The show is definitely a dance show and shows off many ensemble dance numbers featuring the Girls at The Chicken Ranch (Annelise Baker, Rachelle Rose Clark, Aimee Lane, Megan McLaughlin, Alicia Newcom, Elle May Patterson, Lizz Picini, Anna Terese Stone, Siri Howard) and The Aggies (Aaron Burr, Eric Geibel, Crawford Horton, Adam Mandala, Caleb Marshall, Eddie Olmo II, Thomas Sutter). The live orchestra under the direction of Corinne Aquilina gives off high energy, enhancing the choreography. The entire ensemble is strong, confident, and shows off some serious moves all while wearing little clothing as designed by Tiffany Howard. The wigs by Al Annotto allow for each girl to standout and have their own identity in the ensemble.
The Best Little Whorehouse in Texas is just pure entertainment thanks to the big dance numbers and spunky comedic banter. It is a show that brings some raunchy comedy in a big bold way at The Merry - Go - Round Playhouse.
Running Time: Approximately two hours and fifteen minutes with one fifteen minute intermission.
Guidance: Sexual comedy; not family friendly due to provocative scenes, very little clothing, adult topics, and language.
The Best Little Whorehouse in Texas runs from August 2, 2017 through August 23, 2017 in Auburn, NY at the Merry - Go - Round Playhouse as part of the 2017 season of The Finger Lakes Musical Theatre Festival. For tickets and information on this production and upcoming productions click here.
Related Articles View More Central New York

Stories

Shows