Review: Syracuse University's Department of Drama Modernizes INTO THE WOODS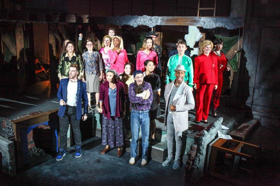 Over the weekend I had the absolute pleasure of seeing Stephen Sondheim's Into the Woods reimagined at the Storch Theatre in the Syracuse Stage Complex. Director David Lowenstein brilliantly brings those fairy tale stories and characters to life as if they were written and created for present times. Lowenstein and his cast of Syracuse University Drama students offer up a refreshing and captivating production that relates back to modern day sociopolitical issues, the celebrities in the news etc. The numerous pop culture references add to the experience, not detract from it.
However, ticket holders should be aware that the "look" of the production may not be what you expect. Cast your thoughts on what is traditional casting, costumes, etc. aside and put the film starring Meryl Streep and the Broadway production starring Bernadette Peters out of your mind. What's found onstage here is a completely unique approach to the musical.
The musical itself is inspired by the "Grimm's Fairytales." Composer and lyricist Stephen Sondheim and book writer James Lapine have familiar characters such as Cinderella, Little Red Riding Hood, Prince Charming, and many more cross paths in the woods. The characters embark on a journey of self-discovery to find happiness. The dreams of those characters may come true but, the outcome is not exactly the perfect happily ever after they had hoped for.
It's always a risk to reimagine an already intriguing musical with a contemporary lens, but what I saw here was one of the most real and raw productions that I have had the pleasure of seeing. In the Director's note Lowenstein asks, "Why do we tell stories...the answer came in a line from The Baker's Wife, "Just calm the child.'" Lowenstein's production provides a different answer to the where and the why of Into the Woods. It's set in a bombed out building in the midst of a military conflict.
Jessica Ford's detailed scenic and costume designs are key to the reimagining effort. The bombed-out building where the story is set in is dark, intricate, and allows for effortless scene transitions. The costumes are perfectly modern. Some examples include a green track jacket, headphones, and cargo shorts for Jack (Joshua Kring). Little Red's (Michaela Vivona) cape is now a red hoodie, Cinderella's stepmother (Emma Vielbig) and stepsisters (Emily Britt and Shanel Bailey) look as if they are inspired by the Kardashian family. Rapunzel (Brooke Solan) wears a pink Hello Kitty nightgown. What modern day celebrity or celebrities inspired The Witch's (Stephanie Craven) look? You will have to see for yourself. It is shocking and takes some getting used to, but the outcome is perfection. Ford's attention to detail and creativity is a large part of what makes this production so highly impressive.
Likewise, Aria Sivick's lighting design adds to the dark story and emotions being conveyed. Sound designer Sasha Falsberg's work is on point as well. The artistic elements of a show can make or break a production. In this case, they contributed to its success.
The opportunity to work on such a creative production with professional and passionate directors as David Lowenstein and musical director Brian Cimmet is one of the reasons why Syracuse University is known for being such a top theater school. The cast members' talent and chemistry with one another is truly astounding. They provide exquisite vocals and give truly professional performances. Backed by Cimmet's powerful orchestra (visible behind the set), Sondheim's gorgeous music rings out as the talented drama students tell the story on stage.
The production features three narrators: Victoria Madden, Kristen Brown, and Grace Gentile. The girls portray other characters such as Cinderella's birds, Little Red's Granny, and the Giant, throughout the show. Each narrator clearly delivers the lines effortlessly and smoothly and their expressions and energy make their performances memorable.
Sondrine Bontemps is refreshing in the role of Cinderella. She demonstrates comedic timing, perfect chemistry, and maturity beyond her years in the role. Her beautiful soprano soars effortlessly in numbers such as "On the Steps of the Palace" and "No One is Alone."
Joshua Kring, as Jack, delivers a powerful rendition of "Giants in the Sky" that certainly does not disappoint. He is instantly likeable in the role. As Jack's Mother, Michelle Arotsky certainly knows how to land a line. She has impeccable comedic timing, and certainly knows how to work the "cat lady" outfit designed by Jessica Ford. Arotsky's confidence, spunk, and vocals make her an instant scene stealer. Noah Lentini may not really have had lines as the cow Milky White, but his facial expressions are absolutely entertaining especially in the number "It Takes Two." Lentini is also memorable as the Steward.
Michaela Vivona is adorable as Little Red Riding Hood in the role. She shows off some amusing choreography by David Lowenstein, particularly hip hop moves that are often seen in pop culture among some teenage celebrities. Vivona's vocals are perfect for the role, however, she was a bit softer spoken then the other cast members and a few of her lines got lost.
Markcus Blair dazzles every moment on stage as Cinderella's Prince and the Wolf 1. Blair is powerful, confident, and offers up a scene-stealing rendition of "Hello, Little Girl." Blair also has perfect chemistry with Caleb James Grochalski (Rapunzel's Prince/Wolf 2). Blair and Grochalski bring a comedic twist to the musical number "Agony" as they dramatically pull microphones from their suit jackets throughout the number - taking the spotlight and loving every minute.
As the Baker, Tucker Breder once again proves his vocal talent and charm. He showcases some amazing character growth and development throughout each scene. His chemistry with Madi Beumee as the Baker's Wife is perfection in numbers such as "It Takes Two" and "Maybe They're Magic." Beumee's stage presence and vocals are truly enchanting.
Stephanie Craven is creative and captivating in the role of the Witch. The look for this character is, in my opinion, the most shocking and drastic. I was shocked at first, and I'll admit it took some getting used to, but it had a great impact. Her comedic timing is first-rate and her vocals are chilling. "Last Midnight" is, of course, the Witch's big ending number and usually results in a wow moment, but Craven's interpretation is truly breathtaking. Craven is a standout performer.
The rest of the ensemble also has standout moments. There are no weak links in this production. As Rapunzel, Brooke Solan's vocals beautifully soars from her tower and she amusingly lets her hair down in a very creative way. John Aric Cleland delivers a memorable and emotional performance in "No More." as the Mysterious Man.
Portraying Cinderella's Stepmother, Emma Vielbig's facial expressions steal the spotlight when she dramatically reacts to the Giant or other characters, while taking selfies. Emily Britt and Shanel Bailey are hilarious in the roles of Cinderella's stepsisters Florinda and Lucinda, respectively. They are donned in over-the-top clothing and have a constant need to pose, post, or take selfies. Cormac Bohan, as Cinderella's Parent (her Father), seems to have a look inspired by Bruce Jenner since the stepmother and stepsisters scream Kardashian inspiration. Even though he does not have many lines, Bohan adds quite a bit of depth to the character as he perfectly reacts to the others around him.
This is a truly unique and risky production of Into the Woods but, the results are phenomenal and inspiring. It is a dark production. It is edgy, real. It is a must-see for those that appreciate creativity and true professionalism.
Running time: Two hours and fifty-five minutes with one 15-minute intermission.
Syracuse University's Department of Drama's production of Into the Woods runs through October 21, 2018 at the Storch Theatre at the Syracuse Stage/SU Drama Complex, 820 E. Genessee Street, Syracuse, New York.
For tickets, click here.
| | |
| --- | --- |
| Vote Now for the 2022 BroadwayWorld Central New York Awards | |
| voting ends in | |
Natasha Ashley has been a reviewer for Broadway World for quite a few years covering numerous productions throughout Central New York. She was born and raised in the suburbs of Syracuse, New York. ... (read more about this author)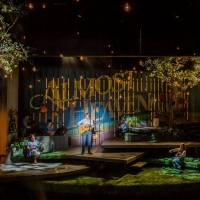 BWW Review: The REV Theatre Company Presents ALMOST HEAVEN, THE SONGS OF JOHN DENVER

September 13, 2021

The REV Theatre Company in Auburn, New York ends their 2021 summer season with Almost Heaven, The Songs of John Denver under the direction and choreography of Brett Smock. The title says it all, it is in fact over twenty songs by John Denver and others along with orchestrations and vocal arrangements by Jeff Waxman and original concept by Harold Thau.
---
BWW Review: The Rev Theatre Company Presents 42ND STREET

July 6, 2021

42nd Street is without a doubt a must see at The Rev Theatre Company in Auburn, New York. The treat to see a live performance, or to perform in one, is something that I think we will not take for granted again. Theater is essential and this production proves that. The heart, songs, dancing, and the powerful performances that the entire cast and production team bring to The Rev's production of 42nd Street is something that those who love live theater have missed so much. We welcome you back with open arms. 
---
BWW Review: Syracuse Stage Presents a Virtual Streaming Production of TWILIGHT: LOS ANGELES, 1992

February 6, 2021

Syracuse Stage never ceases to amaze me with their eye for productions, casting, and unique presentations. I have to say I was concerned when I saw that this streaming production was three hours long. However, it was three hours very well spent. Syracuse Stage's production of the stunning documentary drama Twilight: Los Angeles, 1992 by Tony Award and Pulitzer Prize nominated playwright Anna Deavere Smith is beautifully and creatively directed by Steve H. Broadnax III.
---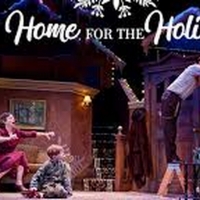 BWW Feature: Syracuse Stage Presents a Heartwarming Digital Production of HOME FOR THE HOLIDAYS

December 17, 2020

Shows CANCELLED! That seems to be the trend for theatrical productions in 2020. The holidays and shows are two things that go perfectly together. People love memories, traditions, treats, and entertainment for the Holidays and for many, that means a special trip with family and friends to the theater. For the performers performing during the Holidays, it is a time to bring joy to the audience and to celebrate with their theater family.
---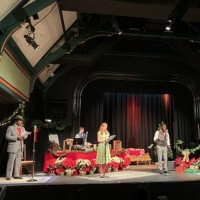 BWW Review: Redhouse Presents IT'S A WONDERFUL LIFE: A LIVE RADIO PLAY

December 13, 2020

Syracuse's beloved Redhouse Arts Center once again let their creativity shine through as they found a way to still bring a production of the classic Holiday story, It's a Wonderful Life: A Live Radio Play to virtual viewers.
---