BWW Review: Syracuse Stage and Syracuse University Department of Drama Bring Holiday Cheer with ELF THE MUSICAL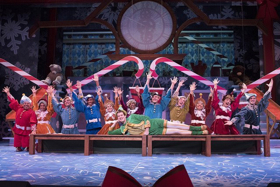 The Syracuse Stage and Syracuse University (SU) Department of Drama Holiday production is an annual tradition for many Central New Yorkers. This year, the family friendly holiday show Elf the Musical is the perfect start to the Holiday season. The production features fabulous SU drama students, local child performers, and accomplished equity actors. Director Donna Drake, last season's director of The Wizard of Oz, brings the comedy, the heart, and the holiday cheer to life with her fun and festive direction.
The musical is based on the popular 2003 film of the same name starring Will Ferrell. Featuring a book by Thomas Meehan and Bob Martin, music by Matthew Sklar, and lyrics by Chad Beguelin, the musical, of course, tells the tale of Buddy (Chris Stevens) the Elf. However, Buddy comes to find out that he is not actually an elf. Buddy learns that he came to live at the North Pole when he was a baby when he snuck into Santa's (Jayson Elliott) bag. Santa's elves then raised the human child. Buddy, now an adult, journeys to New York City to find and connect with his family. Reuniting with his father, Walter Hobbs (Aloysius Gigl) a successful business man proves to be difficult since his father is a very cynical man that just so happens to be on Santa's naughty list.
The musical does take a slightly different approach to telling the story of Buddy the Elf from the movie by cutting some characters, adding new characters and jokes, and changing some of the characters' personalities. No worries though, Buddy is still the same fun, festive, maple syrup-spaghetti-dinner loving-elf we all know and love.
The artistic elements at Syracuse Stage are always striking, creative, and memorable, and this show is no exception.
The production is full of non-stop toe-tapping catchy tunes and the live orchestra under the musical direction of Brian Cimmet brings the cheerful music to life in a great way. Brian J. Marcum's choreography shows off the energetic and light-hearted personality of Buddy throughout the show. Marcum was the associate choreographer for the original Broadway production. Marcum's job was to shape the look of the dance numbers in the original production but, this production is Donna Drake's version of the musical. The dance numbers honor the original choreography, but do not replicate it. The fresh chorography - including for a big tap number - shows off the performers' skills. Many of them steal the spotlight especially David Lowenstein as Mr. Greenway.
Czerton Lim once again shows off his creativity with impressive scenic designs that effortlessly transitions from scene to scene and complement Katherine Freer's projection designs. Martin E. Vreeland's lighting design captures the warmth and cheer of the story. Jessica Ford once again pays great attention to detail. Her colorful and creative costumes capture every character beautifully and once again are a highlight of the production.
Director Donna Drake brings together a top-notch group of performers. Jayson Elliott as Santa opens the show with perfect comedic timing, charm, and spirit. Elliott serves as the perfect narrator to "read" the story of "Buddy the Elf." He also delivers a heartwarming number of "Nobody Cares about Santa (reprise)."
"Christmastown" begins with a lively, charming, and busy ensemble of elves working in Santa's workshop. The choreography, the costumes, the talent - this number is a show stopper, especially when our protagonist makes his entrance.
Chris Stevens is everything you would expect to see in the role of Buddy. His smile, squinty eyes, height, and comedic chops make him ideal for the role. As Buddy, Stevens brings you back to your childhood where everything about the holiday season is perfect and full of cheer. Stevens vocals are lively and animated. His performance just leaves you smiling and provides a care-free escape from reality.
Celia Madeoy is confident, festive, and comedic as Deb, Walter's secretary. Madeoy steals the spotlight with her over-the-top facial expressions, expressive vocals, and charming personality. Her number "Just Like Him," along with Chris Stevens, is a highlight.
Aloysius Gigl is appropriately cynical and cranky as Walter Hobbs. He showcases perfect chemistry with Chris Stevens. Allison Mickelson is dazzling in the role of Emily Hobbs. Her duet with Seth Pagliaroli as Michael on "I'll Believe in You" is sentimental and reflective - a standout number for sure. Mickelson and Pagliaroli deliver a rather adorable and charming rendition of "There is a Santa Claus." Seth Pagliaroli's vocals also shine in his numbers. Mickelson's and Pagliaroli's scenes are a highlight of the production.
Rachel Mracna, as Jovie (Buddy's love interest), is sarcastic and charming. She steals the show on "Never Fall in Love" despite some minor sound issues that occurred on opening night. Mracna is only a sophomore musical theater major at Syracuse University, but she has acting chops, vocal ability, and stage presence that are beyond her years. Mracna delivers a truly memorable performance.
Chaz Rose is hilarious as the Macy's Manager in the all-around fun number "Sparklejollytwinklejingley." David Lowenstein as Mr. Greenway once again shows off his top-notch character acting skills and show- stopping tap dancing. As always, his performance is a highlight.
The entire ensemble delivers entertaining performances as elves, office employees, fake Santas, and store elves. Some standout musical ensemble numbers include "Just Like Him," "Nobody Cares About Santa" (featuring some scene stealing choreography), the show stopping number "The Story of Buddy the Elf," "A Christmas Song (reprise)", and the "Finale."
Elf the Musical is just an all-around fun show. What is there not to like? It has tap dancing, holiday cheer, maple syrup, and the iconic Buddy the Elf. Donna Drake once again has brought a family friendly show to Syracuse Stage for the Holiday season. Attending a show is a definite must for the Holiday season. Since I was young attending the Holiday show at Syracuse Stage was a tradition I always looked forward to just like many others in the area. The tradition of live theater, especially at Syracuse Stage is a definite must-do for the Holiday season!
Running time: Two hours and twenty-five minutes with one twenty-minute intermission.
Elf the Musical runs through January 6, 2019 at Syracuse Stage. It is a collaborative production between Syracuse Stage and the Syracuse University Department of Drama. For tickets and information at Syracuse Stage call 315-443-3275 or click here. For information on the Syracuse University Department of Drama, click here.