BWW Review: NATIVE GARDENS is a Comedic Delight at Syracuse Stage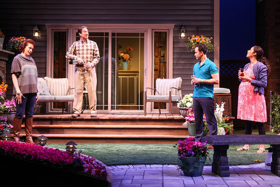 Syracuse Stage is now delighting audiences with a contemporary play Native Gardens by Karen Zacarías. The witty comedy, wonderfully directed by Melissa Crespo, features a fun and entertaining story that delves into important social issues. It also features some top-notch actors.
A young, expecting, and very accomplished Latinx couple in their early 30s move into a historic, wealthy, and mostly white neighborhood in Washington, DC. Tania (Monica Rae Summers Gonzalez) was born and raised in New Mexico. She is a PhD candidate who is looking forward to helping the environment with her "native garden" in her new home. Her husband Pablo (Erick González) is an attorney determined to make partner at a very important DC law firm. Their old-school white neighbors are in their 50s or 60s. Virginia Butley (Anne-Marie Cusson) is a senior engineer for Lockheed Martin and her husband Frank Butley (Paul DeBoy) is a retired federal government worker. Frank is now a serious gardener determined to win the upcoming gardening contest.
In hopes of impressing Pablo's colleagues, the young couple plan on hosting a backyard barbeque. However, they must remove an eye-sore chain link fence so that their backyard will be in tip-top shape. The Butley's always disliked the atrocious fence so they are thrilled when they learn that a nice wooden fence will be constructed in its place. However, when the young Latinx couple find out that they own more land then they realized, it leads to border dispute between the neighbors, which highlights a myriad of some contemporary issues (what it means to be privileged, immigration, and border walls). Even gardening philosophies are debated. Names are called, threats are made, and plants are thrown in what turns into a lively battle between neighbors. So, who wins the battle? That you will have to see for yourself.
Now to get to the visual appeal of the production. As per usual, this production features breathtaking set - there are beautiful English style gardens in the Butley's backyard and a majestic and very realistic oak tree in Tania and Pablo's backyard. Scenic designer Shoko Kambara has really outdone herself with this spectacular set; you really feel like you are in a historic neighborhood in DC. Dawn Chiang's lighting design is perfection. Lux Haac's costumes beautifully capture these very different couples and Elisheba Ittoop's sound design and original music is spot on. Syracuse Stage's artistic designs never seem to disappoint - if anything they steal the spotlight and are incredibly memorable.
The entire cast gives stellar and mesmerizing performances, including those playing the gardeners. The cast's chemistry and professionalism make this production a comedic delight.
Anne-Marie Cusson is perfection as Virgina Butley, the very accomplished engineer. She perfectly delivers some very amusing lines and her presence is a standout. Paul DeBoy is consistent, meticulous, and a pure delight to watch on stage as Frank Butley. All the little details, movement, and expressions steal your attention every moment he is on stage.
Monica Rae Summers Gonzalez is highly hilarious in the role of the very pregnant Tania. Her energy, passion, and spunk make her performance stellar and she easily delivers some very hilarious lines. Erick González is appropriately confident and brilliant in the role of Pablo. He effortlessly showcases his comedic timing and plays off his fellow cast members perfectly.
This entertaining and educational production of Native Gardens directed by Melissa Crespo is a must-see at Syracuse Stage. I know I want to see the lively comedy again and again.
Running time: Approximately one hour and forty-five minutes with one fifteen-minute intermission.
Native Gardens runs through March 3, 2019 at Syracuse Stage at 820 E. Genesee Street in Syracuse, New York. For tickets and information on this production and upcoming productions, click here.

Related Articles View More Central New York

Stories

Shows
Natasha Ashley is a reviewer for productions throughout Central New York. She was born and raised in the suburbs of Syracuse, New York. Natasha has (read more...)