Review: FIDDLER ON THE ROOF National Tour Previews at The Landmark Theatre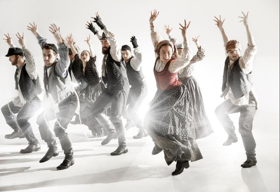 The US national tour of the classic musical Fiddler on the Roof has begun its short preview run at the Landmark Theatre in Syracuse, New York, kicking off the Famous Artists Broadway Theater Series: Broadway in Syracuse. The opening night performance of this familiar favorite was beautifully performed, highly emotional, and showcased some incredible talent.
Fiddler on the Roof returned to Broadway in 2015, for its 51th anniversary, under the direction of Tony Award-winner Bartlett Sher. That revival serves as the basis for the current US national tour starring Israeli film and TV star Yehezkel Lazarov as Tevye. Featuring brilliant musical supervision by Ted Sperling the powerful music by Jerry Bock and familiar lyrics by Sheldon Harnick come to life with immense power. Musical director Michael Uselman leads the live orchestra, which enthralls the audience with all those favorite musical numbers. The music is given a new life in a refreshing way.
The story, of course centers on Tevye, a poor Jewish milkman with five daughters. His goal is to try to keep Jewish religious and cultural traditions alive within his family, but his determined daughters would prefer to change some of the old traditions. The three older girls wish to marry for love, something that is completely unheard of in his family and the village where they reside. There are many changes that creep into the small village of Anatevka that affect Tevye, his family and the world around them.
Michael Yeargan's simple set provides a beautiful backdrop that allows the story to take center stage and ensures easy transitions and flow between scenes. Donald Holder's lighting design highlights the emotions of the story. There were a few sound glitches on its opening night, but just simple problems where a microphone wasn't tuned on at the right moments. This mostly happened during spoken line delivery, not so much in the musical numbers. Scott Lehrer and Alexander Neumann are the sound designers and those simple issues will most likely be addressed.
The touring features a vibrant and passionate cast. The cast's energy and excitement make the production even more enjoyable. Seeing a tour very early in its run is truly special because the hard work, energy, and passion of each performer just leaps off the stage. The cast dazzles in the big dance numbers "Tradition," "To Life," and "Anatevka," just to name a few. The choreography is energizing and everything one would hope to see in a production of Fiddler on the Roof.
Yehezkel Lazarov completely embodies the role of the dairyman Tevye. He delivers a spot-on performance of the classic role while adding his own personality to it in a refreshing way. His passion and energy are infectious in "If I Were a Rich Man." His vocals, mannerisms, and spirit make him ideal for the role. His comedic timing and chemistry with the entire cast is perfection at every moment.
Maite Uzal is confident, strong, and comedic in the role of Golde. Talk about the ability to land lines perfectly, Uzal is the perfect example. Uzal delivers a flawless performance that makes the audience love Golde's strong personality even more. Her musical numbers are incredibly memorable. "Sabbath Prayer" and "Sunrise, Sunset" are performed with great emotion. "Tevye's Dream" and "Do You Love Me" showcase her comedic timing and the perfect chemistry that exists between Uzal and Lazarov.
The three actresses playing the older daughters are all captivating in the roles. They charm in "Matchmaker, Matchmaker." Portraying the oldest daughter Tzeitel, Mel Weyn's gorgeous vocals stand out as well as her ability to land every line and dazzle us with her impeccable comedic timing. Ruthy Froch plays Hodel and she is full of energy and spunk. One of her most powerful moments is on "Far from the Home I Love." Here, she delivers a heart-wrenching goodbye to Tevye as she leaves Anatevka to go to her love Perchik (Ryne Nardecchia). Natalie Powers delivers a graceful and emotional performance as the younger daughter Chava, especially with "Chavaleh."
There is believable chemistry between the daughters and their love interests - and the actors portraying those love interests are also pretty great. Jesse Weil, as Motel the tailor, shows off his stellar vocals in "Miracle of Miracles," which is one of the most memorable numbers in the show. Ryne Nardecchia, as Perchik, delivers a memorable performance of "Now I Have Everything." Joshua Logan Alexander charms in the role of Fyedka.
Other standout performers include Jonathan Von Mering as Lazar Wolf. He provides a memorable rendition of "To Life" along with Lazarov. Carolyn Keller shows off her comedic chops when she perfectly lurks on to the stage as Grandma Tzeitel showcasing one of Catherine Zuber's many detailed costumes. Olivia Gjurich makes quite the entrance as Fruma-Sarah and captivated me with her killer vocal chops; she is a true showstopper. Jeff Brooks delivers an intense and memorable performance as the Constable as well. Playing the role of the Fiddler, Paul Morland moves effortlessly and mysteriously every moment he is on stage.
Unfortunately, Carol Beaugard is disappointing in the role of Yente, the matchmaker. At least on opening night, her line delivery was robotic and lacked the emotion and certainty that is expected for Yente. Yente is best performed by a character actress with impeccable comedic timing and confidence. Beaugard appears to be lacking in those areas, but hopefully with more practice she comes into the role.
The production ends with the number "Anatevka" and it was one of the most breathtaking and emotional numbers that I have seen in a long time. The staging, lighting, choreography, and emotion is captivating. It's simply chilling.
The newly launched US national tour Fiddler on the Roof is a must-see if it comes to a city near you. The show features a meaningful story, dazzling dance numbers, and a fresh new cast with a lot of heart. It is a truly chilling and stunning production.
Running time: Two hours and fifty-five minutes with one fifteen-minute intermission.
Fiddler on the Roof runs through October 19, 2018 at The Landmark Theatre in Syracuse, New York. It is part of the 2018-2019 Famous Artists Broadway Theater Series: Broadway in Syracuse. For tickets and information on the touring production of Fiddler on the Roof, click here. For information on this production and upcoming shows part of the Famous Broadway Theater Series: Broadway in Syracuse, click here.