BWW Review: CHESS Has All the Right Moves at Central New York Playhouse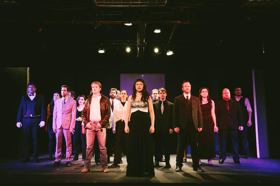 The Central New York Playhouse has one again stepped up, taken a risk, and created something magical with its current musical, Chess. Under Robert G. Searle's clever direction, the entire talented cast Chess cast works together beautifully to deliver a very intriguing and powerful performance of the musical that has a little bit of rock 'n roll, romance, sex appeal, betrayal, and history.
The 1980s rock opera, Chess, features music by Benny Anderson and Björn Ulvaeus (Mamma Mia!) and lyrics by the legendary Tim Rice (Jesus Christ Superstar, The Lion King, and Evita). The musical reflects the Cold War tensions present in the 1980s.
The title obviously sums up a main focus of the musical and that is chess. In this case it is a politically-driven chess tournament featuring two grandmaster chess players - the American Freddie Trumper (Paul Thompson) and the Soviet Anatoly Sergievsky (Benjamin J.Sills). Throw in a love triangle between the two men and Trumper's second, Florence Vassy (Ceara R. Windhausen), a Hungarian refugee. Florence falls in love with Trumper's opponent Sergievsky; so now the two men are not only competing in the chess tournament, but also for the affections of the seductive, strong, and brilliant Florence. Who wins at the chess game and who wins at the game of love?
Director Robert G. Searle minimalist set makes wonderful use of the small and intimate stage. The chess tournament takes place on a raised platform at the back of the stage. An American flag is placed on one end of the stage and the Soviet flag is placed on the other end. The set is, most fittingly, all black with a white checkered design on the front platform. Sarah Anson's lighting design, including strobe lights, add to the ambience. Jane Garlow's costumes also fit the black and white motif. This color scheme, allows Svetlana Sergievsky's (Kate Crawford) red jewelry to stand out in the number "Someone Else's Story," a breathtaking and memorable moment when the audience first meets Sergievsky's wife in Act II. The set and costumes come together perfectly and is very pleasing to the eye allowing the true stars, the actors, to dazzle with their powerful vocals.
Unfortunately, on the night I attended, the dazzling vocals once again got lost, at times, due to distracting and irritating sound issues, which made it harder to understand the lyrics. Likewise, although Abel Searor's orchestra, played the music with great power and passion, it had a tendency to overpower the vocal soloists. Despite these missteps, each cast member still gave his or her all. There was no doubt in my mind that the entire cast has the vocal talents to perform the demanding vocal numbers.
Speaking of the cast...
Benjamin J. Sills is captivating, intense, and memorable as Soviet grandmaster Anatoly Sergievsky. I have seen him in numerous productions throughout Central New York and this is my favorite yet. He is one of those actors that always seems to deliver an effortless performance. He is hypnotizing in every role and this one is no exception. His vocals are smooth and intoxicating throughout, but his first solo, "Where I Want to Be" is a definite standout for Sills and one of the most memorable numbers in the show. The community theatre scene in Central New York is lucky to have his talent; however, he has the potential to go further.
Paul Thompson portrays the cool, self-assured and arrogant chess player Freddie Trumper with the right amount of attitude. His rock tenor vocals shine in every musical numbers, but "Pity the Child #2" is definitely his standout moment. He belts his heart out in the notable number.
Ceara R. Windhausen is the perfect mix of confident, sharp, volatile, and vulnerable in the role of Florence Vassy. She has that Broadway belt that steals the spotlight, but she's not just a girl with a pretty, powerful voice. The emotion and passion in each of her vocal performances is striking. It is hard to narrow down which number was her most memorable because she is captivating throughout. However, her rendition of "Heaven Help My Heart" is breathtaking and a favorite of mine. Her chemistry with Sills is evident in such numbers as "Mountain Duet," "You & I," "You & I Reprise."
Kate Crawford, as Anatoly's wife Svetlana Sergievsky, does not appear until the second act, but she enters the stage with such beauty and grace. She is simply enchanting in the role. Her ballad "Someone Else's Story" highlights the myriad of raw emotions her character is feeling - hurt, betrayal, loss, love -and it is breathtaking. Her duet with Ceara R. Windhausen "I Know Him So Well" is also stunning. This number showcases the two ladies gorgeous and passionate vocals in the best way.
Garrett Robinson plays Alaxander Molokov (Anatoly's chess "second") with intelligence and strength - all with an impressive Russian accent. Christopher James, as Walter de Courcey, proves to be brilliant once again with his line delivery.
The ensemble cast members are also quite remarkable. They execute Shannon Tompkins' intricate and detailed choreography with ease and have great chemistry with one another. Standout numbers include "The Story of Chess," "Difficult & Dangerous Times," "The Arbiter," "The Merchandisers," "Embassy Lament," "One Night in Bangkok," and "Anthem," just to name a few.
Chess is definite must-see thanks to the powerful cast, impressive artistic elements, and meticulous direction. The show does not disappoint, I applaud the Central New York Playhouse for taking on this show and doing it well, especially for a community theater. It is a "grandmaster" production.
Running Time: Approximately two hours fifty minutes with one twenty-five-minute intermission.
Chess runs through April 28, 2018 at the Central New York Playhouse located in Shoppingtown Mall at 3649 Erie Boulevard E., Dewitt, New York 13214. For tickets and information on this production and upcoming ones, click here.