Philip Casnoff Returns to ROCKABYE HAMLET at Feinstein's/54 Below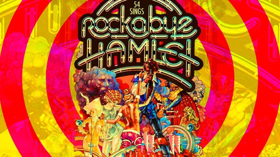 Golden Globe nominee Philip Casnoff (Chess, Chicago, CBS' Sinatra), will take on the title role in 54 SINGS ROCKABYE HAMLET, a one night only concert at Feinstein's/54 Below on Sunday, April 1st, 2018, at 7:00pm.
Joining Philip Casnoff will be Bradley Dean (The Last Ship, A Little Night Music) as Claudius, Dan Rosales (Spamilton) as Horatio, Gilbert Bailey II (A Bronx Tale, The Book of Mormon) as Laertes, William Parry (Rockabye Hamlet, Sunday in the Park With George) as Hamlet's Father, Jason "SweetTooth" Williams (Freaky Friday) as Rosencrantz, and Jason Veasey (Beautiful, The Lion King) as Guildenstern.
Mr. Casnoff understudied the role in the original 1976 Broadway production.
Additional casting will be announced at a later date.
ROCKABYE HAMLET is one of many scores written by Canadian composer Cliff Jones (Hey, Marilyn! and Babies) and features such songs as "He Got It In The Ear," "Something's Rotten in Denmark," "Tis Pity, Tis True," "Rosencrantz and Guildenstern Boogie," and many more.
Rockabye Hamlet was originally directed by Gower Champion and starred Larry Marshall, Beverly D'Angelo, and Meat Loaf.
54 SINGS ROCKABYE HAMLET, will be will be directed and produced by Robert W. Schneider and music directed by Joshua Zecher-Ross.
Robert W. Schneider said, "Rockabye Hamlet was one of the shorter-lived Broadway musicals of the 1970s meaning only a handful of audiences got to experience one of the generations most experimental works. Cliff and I are both pleased that an all-star Broadway cast has come together to give contemporary audiences a glimpse into the raucous, rocking twist on Shakespeare that first came to Broadway forty-two years ago."
Tickets, starting at $35, are still available. In addition to the ticket price, there is food and beverage minimum of $25.00 54 SINGS ROCKABYE HAMLET tickets can be purchased at 54below.com. Tickets on the day of performance after 4:00 are only available by calling (646) 476-3551
Michael Feinstein, one of the world's greatest musical artists, and 54 Below, Broadway's Supper Club, have united to give New York an unparalleled destination for entertainment and dining. Feinstein's/54 Below, Broadway's Supper Club, is the performance venue in the grand tradition of New York City nightlife. A few blocks from the heart of Times Square and just below the legendary Studio 54, Feinstein's/54 Below is a classically designed state-of-the-art nightclub in the theatre district that hosts audiences with warmth and style. Feinstein's/54 Below will present iconic and rising stars from the worlds of Broadway and popular music. The venue provides a food and beverage menu from early evening through the wee hours of the morning that is worthy of the world-class entertainment on the stage. In their description on the venue, The New York Times writes Feinstein's/54 Below "has the intimacy of a large living room with unimpeded views and impeccable sound; there is not a bad seat. Its sultry after-hours ambience is enhanced by brocade-patterned wall panels planted with orange-shaded lanterns. And the atmosphere is warmer and sexier than in Manhattan's other major supper clubs. Located at 254 West 54th Street, Feinstein's/54 Below features up to three shows nightly with cover charges ranging from $15-$105. www.54Below.com/Feinsteins