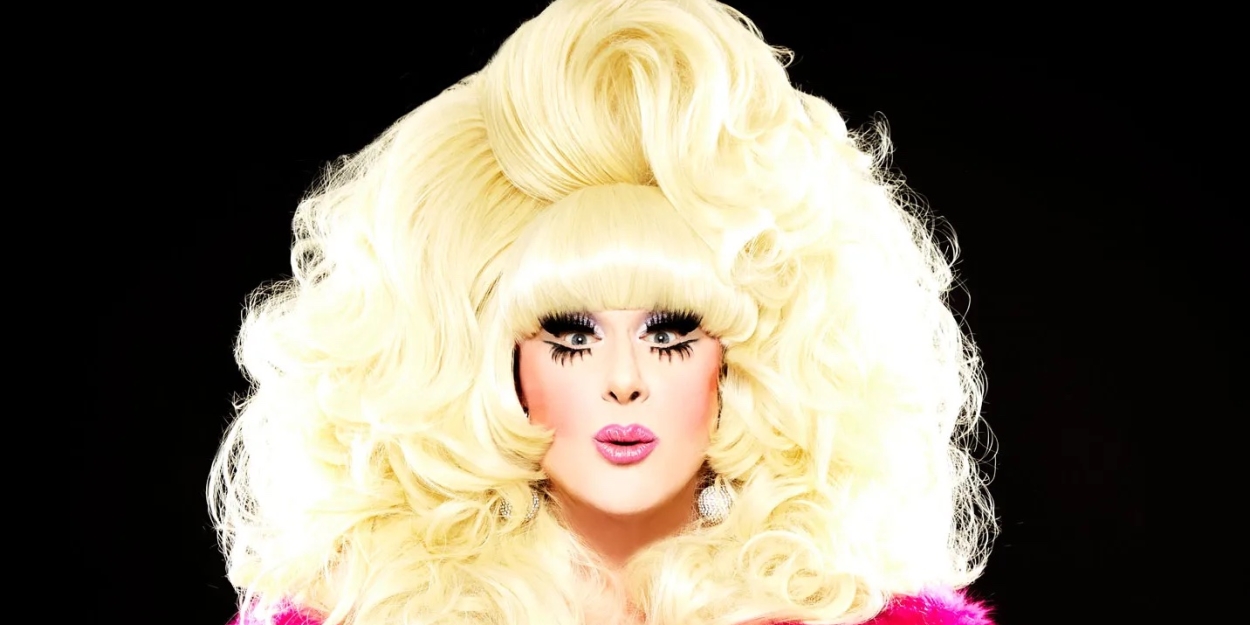 Drag Legend Lady Bunny to Present DON'T BRING THE KIDS at The Green Room 42 for Four Shows
Lady Bunny shares Atlanta roots with fellow drag star and former roommate, RuPaul, and is most famous for co-founding and emceeing Wigstock.
THE GREEN ROOM 42 will present drag royalty Lady Bunny in a new show "Don't Bring the Kids," an hour of jokes and demented song parodies, for four nights: Tuesday, April 4 at 7:00 PM; Tuesday, April 11 at 7:00 PM; Wednesday, April 19 at 9:30 PM; and Tuesday, April 25 at 7:00 PM.
The internationally known drag icon, comedian, recording artist and jet-set DJ is as famous for her big-banged bouffant and her notoriously naughty wit as for her ability to get a dancefloor jumping. A Manhattan gal since the early 80s, Lady Bunny shares Atlanta roots with fellow drag star and former roommate, RuPaul, and is most famous for co-founding and emceeing Wigstock, the annual New York City Labor Day outdoor drag festival that ran for nearly 20 years.
Lady Bunny is a living drag legend, international sensation, razor-witted comic, fab DJ, and one kooky queen. Since Wigstock and the days of cutting her comic teeth reducing even the toughest New York City crowds to shrieking hysterics, Bunny's fame has gone global. She tours constantly, taking her bawdy brand of humor to audiences from Cincinnati to Los Angeles, Buenos Aires, London, Marrakesh and Sydney. Bunny has been lucky enough to share the stage or screen with many of her idols including Patti LaBelle, Joan Rivers, Bea Arthur, Charo, Lynda Carter, Chaka Khan, Grace Jones, and Christina Aguilera at Radio City Music Hall. One-woman show titles like "That Ain't No Lady!," "Trans-Jester," "Pig in a Wig," and most recently, "Cuntageous," offer a hint as to what to expect. From riotously risqué to vividly vulgar, Bunny gleefully delivers full-strength, downright dirty, gobsmackingly un-P.C. adult humor. Lady Bunny can be seen in films and television, most recently in Wig, the HBO Wigstock documentary made with Neil Patrick Harris, and the feature film Hurricane Bianca: From Russia with Hate. She was the "Dean of Drag" on three seasons of "RuPaul's Drag U," has been roasted by Joan Rivers, roasted Pam on "The Comedy Central Roast of Pamela Anderson," and emceed the LGBT prom in one of the most popular episodes of "Sex and the City."
Bunny DJs lavish fashion week affairs, corporate bashes, and private parties as well as-yes!-gay weddings and bar mitzvahs. Like many DJs, Bunny moved into songwriting and recording. In addition to writing and producing her pop song parodies, she has released several solo singles, including "Take Me Up High," which hit #18 on the Billboard Dance Chart, and two duets with RuPaul, "Throw Ya Hands Up" and "Lick it Lollipop." Bunny has been photographed by Andy Warhol and many of the world's most influential fashion photographers, including Francesco Scavullo, Mario Testino, and Ellen Von Unwerth. The Daily News, Time Out New York and V named Bunny as one of the most stylish New Yorkers. Her shows have elicited rave reviews from The New Yorker and The New York Times.
Bunny can be seen co-starring with Flotilla DeBarge in "DAP," the duo's video parody of Cardi B's "WAP." Their filthy version racked up over 100,000 views in its first week and cheered by fellow comedians Margaret Cho and Jenifer Lewis. "Ebony and Irony," Bunny's new podcast with "RuPaul's Drag Race: All Stars" winner Monet X Change, is available on all platforms, and she has a new on-demand duet special with Bianca Del Rio called "HHN: Hateful Hags Network."
Lady Bunny will perform "Don't Bring the Kids" on Tuesday, April 4 at 7:00 PM; Tuesday, April 11 at 7:00 PM; Wednesday, April 19 at 9:30 PM; and Tuesday, April 25 at 7:00 PM at The Green Room 42 (570 Tenth Avenue at 42nd Street, on the 4th Floor of Yotel). The cover charge ranges from $20-$40. A livestream option is available for all shows at $20 each. For tickets, please visit www.TheGreenRoom42.com.
THE GREEN ROOM 42 - founded in 2017, and located in the heart of the theatre district in YOTEL Times Square - is Broadway's newest and most spacious cabaret club. Hailed by the New York Times as "Broadway's Off-Night Hotspot," our curated nightlife experience features your favorite Broadway stars in live performance, and a delicious menu of food and drink. The Green Room 42 opens the doors of hospitality to the nightclub stage while providing value and accessibility to the New York theatre community. Past shows have featured artists such as Josh Groban, Tina Fey, Katharine McPhee, Sara Bareilles, Kathleen Turner, Alice Ripley, Eva Noblezada, Reeve Carney, Lillias White, Frances Ruffelle, Frankie Grande, David Phelps, and over 5,000 others. The Green Room 42 has become a cornerstone of the Broadway community, redefining the cabaret industry, and all it's missing is YOU. Sit back, have a drink, and relax, because we've got your evening all planned in Broadway's off-night hotspot.
Facebook: @GreenRoom42
Instagram: @TheGreenRoom42
Twitter: @TheGreenRoom42
------------------------------------------------------
UPCOMING MUSIC HIGHLIGHTS AT THE GREEN ROOM 42
Wednesday, March 15 at 9:30 PM
DANNY VISCONTI and John Hill
"Hair and Teeth"
*Livestream Available*
Longtime collaborators, former roommates, and notoriously infamous "Watch What Happens Live with Andy Cohen" writers, John Hill and Danny Visconti bring their sick and twisted energies to the stage for a spiritual (and musical) quest to find inner peace (and outer beauty). "Hair and Teeth" is a journey of the heart told through vulnerable revelations and through classic American songs by artists such as Jessica Simpson and Beyoncé. The show features musical director Brian Nash.
March 30, June 22, October 5 and December 7 - Thursdays at 7:00 PM
"LEOLA'S LADY LAND LOUNGE"
Written & performed by Will Nolan
*Livestream Available*
Your favorite BroadwayWorld Award-winning senior citizen-redneck-lesbian welcomes NYC's greatest talent to Leola's Lady Land Lounge, the monthly live talk show. Singers, dancers, actors and artists of all kinds join Leola inside the rainbow-cladded walls of her Lady Land Lounge. It's one part variety show, one part chat show, and oodles of laughs. Plus, there's gonna be snacks and prizes. And sometimes prizes that are snacks!
Sunday, April 2 at 7:00 PM
"Terminal Ingenue: The Mis-Education of Melissa Errico"
With the racy wit and smiling mischief that have delighted readers of her columns in The New York Times, Melissa Errico will sing her way through her own history, on Broadway and off. Falling in love with the theater at the ripe age of twelve, her journey takes her through her precocious appearance as Eliza in the Broadway revival of My Fair Lady, her triumphs in One Touch of Venus and Amour, and her struggles with the more equivocal adventures of High Society and Dracula. Wryly dubbing herself the "terminal ingenue," with her ever-fresh prettiness and silver-flute voice sustaining her in ingenue roles until well in her forties, she sings her way right through promise, frustration and absurdity - and then past marriage and into motherhood and on to maturity. A special singers' story, Melissa's "miseducation" is also an everywoman's story of silence and song, frustration and eventual fulfillment. The show, including songs by Lerner & Loewe, Kurt Weill and Ogden Nash, Cole Porter, Michel Legrand and Stephen Sondheim, will feature musical director Tedd Firth.
Thursday, April 27 at 7:00 PM
"THREE MEN & A BABY GRAND"
With Brandon James Gwinn, Dylan Hartwell and Greg Sullivan
*Livestream Available*
Real-life actor husbands Dylan Hartwell and Greg Sullivan force their long-time friend Brandon James Gwinn to co-parent "Three Men and a Baby Grand," a night of music and comedy. Born somewhere between harmonies and hilarity, this evening features fresh takes on familiar favorites, outrageous parody, and original numbers. The show, which has enjoyed successful appearances at Provincetown in addition to sold-out performances in New York City, was nominated for "Best Cabaret Show" at the 2022 Glam Awards and is the winner of two 2022 Broadway World Cabaret Awards for "Best Debut Show" and "Best Original Song."
Sunday, May 15 at 7:00 PM
Charlie Romo and VANESSA RACCI
"Forbidden Love: The Love Story of Bobby Darin and Connie Francis"
*Livestream Available*
This show tells the tale of the tragic love story of Bobby Darin and Connie Francis featuring storytelling, dialogue and all of their greatest hits.
Vanessa Racci is featured as Connie with Charlie Romo playing Bobby.