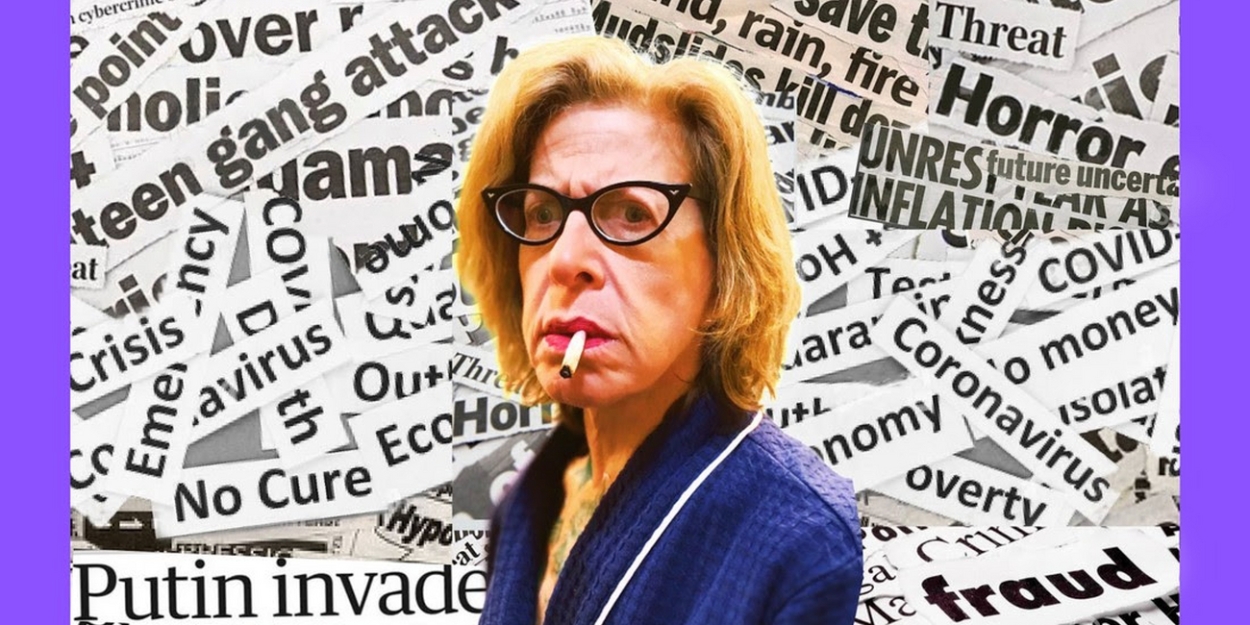 Celebrate Valentine's Week With Jackie Hoffman, Lea DeLaria, Justin Vivian Bond & More at Joe's Pub
The lineup also features Tony winner John Cameron Mitchell & Amber Martin, and more.
Joe's Pub has announced upcoming shows for February 13-26.
The lineup features Ian Manuel, singer-songwriter and Guitar virtuoso Sunny War, Lea DeLaria, multi-instrumentalist Jay Rodriguez Sierra, Jackie Hoffman, and Justin Vivian Bond, and more.
See the full programming below!
Eros: A Night of Passion with Ianne and The Baddies
Tuesday, February 14 at 7:00 PM
This Valentine's Day, Eros: A Night of Passion with Ianne and The Baddies makes a triumphant return to New York audiences. Produced by the legendary Black Trans Femmes in the Arts, Eros is a cabaret about pleasure, play, and so much more. Featuring songs from the world of musical theater and beyond, the show is a love letter to Black Trans people who are rarely given space to talk about our joy, love, and intimacy particularly on a day like Valentine's Day. Under the music direction of the incomparable Saul Nache with background vocalists Marla Louissant and Garnet Williams, Eros is the perfect foreplay to any Valentine's Day plans. Bring yourself. Bring a lover. Bring a friend who might be more than a friend and enjoy a night of passion with Ianne Fields Stewart!
Tuesday, February 14 at 7:00 PM
After a few wonderful years embracing the food and music of New Orleans, Ali Grieb is happy to be back in her home city, New York! Known for her charisma and ability to captivate a room, Ali's vocals have the ability to transport you back to a time where cold martinis, crooners, and low lighting were king. In addition to music, Ali is known for her comedy, writing, and corporate consulting business: HospitaliTY Included. The Library at The Public is located on the mezzanine of The Public Theater. This performance is free with the purchase of dinner and/or drinks.
Tuesday, February 14 at 9:30 PM
Lea DeLaria returns to Joe's Pub with her annual celebrated show, "Fuck Love," this year featuring Special Guests Kate Rigg and Lilli Cooper!
Lea DeLaria seems to have achieved overnight stardom with her three time, SAG Award winning, stand-out role as 'Carrie 'Big Boo' Black' in the Netflix hit series "Orange is the New Black." However, DeLaria's multi- faceted career as a comedian, actress and jazz musician, has in fact, spanned decades.
Lea holds the distinction of being the first openly gay comic on television in America which led to countless Television and Film roles portraying Police Lieutenants, PE Teachers and the Lesbian who inappropriately hits on straight women. Lea was recently seen on Broadway in the hit play POTUS, as 'Queenie' in HULU's "Reprisal," and as 'Molly Yarnchopper' in the Netflix and DreamWorks animated series "Kipo and the Age of Wonderbeasts.
Ian Manuel: The Diamond in the Dirt
Wednesday, February 15 at 9:30 PM
In an hour of poetry, storytelling, and music, Ian Manuel performs the story of his unique and uncommon life. Now an accomplished poet, Ian was 13 years old when he was directed by older juveniles to commit a robbery. During the botched robbery attempt, Ian shot a woman who suffered a nonfatal wound. Ian turned himself in to the police and was charged as an adult with armed robbery and attempted murder. He was sentenced to life imprisonment without possibility of parole where he spent the next 26 years - 18 of them in solitary confinement.
Since his release, Ian has spoken and performed his poetry to a myriad of audiences at Carnegie Hall, The Public Theater, NYU Law, Florida State University, and Alabama University, among others. Ian's poetry has been studied at both Butler University and the School of Visual Arts in NYC, and his poem "Uncried Tears" was featured in the best-selling book Just Mercy by Bryan Stevenson. In 2017, Ian was the first unpublished writer ever to be granted a MacDowell Colony Fellowship. His memoir was published this past May by Pantheon, an imprint of Penguin Random House. Ian is a current Art For Justice Fellow, and works as Program Manager of Culture Change at the New York City Mayor's Office of Criminal Justice.
Thursday, February 16 - Saturday, February 18 at 7:00 PM
In an inspired flight of fancy Mx Bond creates a playlist for Julie London's imagined, unrecorded record, A Julie Valentine, the follow-up to her under-played, and under-appreciated 1968 pop album, Yummy, Yummy, Yummy.
Yummy, Yummy, Yummy was Julie's final release from Liberty Records, known as The House That Julie Built. Julie became a star and put Liberty Records on the map with the mega-hit, now classic torch song "Cry Me a River," written by her high school sweetheart Arthur Hamilton and released in 1955 on her eponymous record, Julie Is Her Name. After Yummy, Yummy, Yummy she never recorded another album. But if she had, it might have been...
A Julie Valentine!
Jay Rodriguez Sierra: Belonging
Thursday, February 16 at 9:30 PM
​​Belonging is a casting of a convalescent spell set to music and text.
This immersive experience work features Carl Hancock Rux - Orator, Marc Ribot - Guitar, Yayoi Ikawa - Piano/ Keys, Melissa Slocum - Bass, Wil Calhoun - Drums, images/visuals by Ehab Omar, and composed by Jay Rodriguez Sierra - Reeds. It is a sonic calendar of transmissions for all sentient beings and a cry of defiant hope. It answers the longing to be, and the awareness of our place in the universe.
Magic perhaps... and wonderous.
Friday, February 17 - Saturday, February 18 at 9:30 PM
Jackie Hoffman is back at Joe's Pub....purchase tickets at your own risk.
Jackie was most recently seen in the Philadelphia Theatre Company's World Premiere production of The Tattooed Lady, and Off-Broadway in Fairycakes. She can currently be seen as 'Uma Heller' on HULU's "Only Murders in the Building." She appeared on Broadway in Hairspray, Xanadu, The Addams Family, and On The Town. Jackie won an Obie Award for David and Amy Sedaris's play, The Book of Liz, and was nominated for a Primetime Emmy Award and a Critics' Choice Television Award for her role as 'Mamacita' in Ryan Murphy's "Feud: Bette and Joan." Her legendary solo shows at Joe's Pub are where she gets a chance to swipe back at the man and say what she can't say in her legitimate jobs.

Sunday, February 19 at 7:00 PM and Sunday, February 26 at 6:30 PM
Tony Award-winning star of stage and screen John Cameron Mitchell (Sandman, Hedwig and the Angry Inch), one of alt-culture's boldest creators, joins forces with international cabaret star Amber Martin for a world premiere evening of songs, stories and characters, all chosen by the hand of fate on the 'cassette roulette.' With very special guest surprises. Backed by Justin Craig and the Hedwig house band Tits of Clay, it's never the same show twice! J. Hoard will open the show on February 26 only.
Soles of Duende
Sunday, February 19 at 9:30 PM
A Brooklyn-born Puerto-Rican from New Haven, a Mexican Puerto-Rican Jew from the Lower East Side, and a Bengali Indian from Jersey walked on to the wooden floor & the rest? History. Bonded by their deep love of music, their crafts, and true connection, Soles of Duende is on a lifelong mission to elevate the joy and music of true collaboration across disciplines and the celebration of the forms they practice. Based in the sounds of Tap (Amanda Castro), Flamenco (Arielle Rosales) and Kathak (Brinda Guha) , Soles of Duende's fire is the spirit that lives within each of these women to celebrate their connection given their beautiful differences and to uplift the forms that made them.
Yemen Blues
Tuesday, February 21 and Wednesday, February 22 at 7:00 PM
Conceived from vocalist Ravid Kahalani's vision, Yemen Blues' original music mixes of Yemen and West Africa influences with contemporary grooves from funk to mambo and the deep soul of old chants. Conjuring up a rich and diverse aural palette with the use of percussion, oud, horns, and strings, Yemen Blues coexists in both the past and present, at once timeless and modern.
Yemen Blues' myriad influences carry over on stage, where the ensemble navigates from the boisterous to the romantic, from joyous celebration to anguished balladry. Horns fire off emphatically, percussion adds deep rhythmic textures, and the enchanting oud strums out subtle melodies. Frankly, Yemen Blues is one of the most gripping and fun live bands in contemporary music today.
You Like Me: An Evening of Classic Acceptance Speeches
Tuesday, February 21 at 9:30 PM
This Oscar season, join some of downtown's funniest performers as they reinterpret classic speeches from awards-show history, from Roberto Benigni to Mariah Carey, in a special edition of the acclaimed live series celebrating the publication of "Oscar Wars: A History of Hollywood in Gold, Sweat, and Tears," by The New Yorker's Michael Schulman. No celebrity is safe in this merciless send-up of self-congratulation! Full, starry lineup to be announced.
Sunny War
Wednesday, February 22 at 9:30 PM
"I feel like there are two sides of me," says the Nashville-based singer-songwriter and guitar virtuoso known as Sunny War. "One of them is very self-destructive, and the other is trying to work with that other half to keep things balanced." That's the central conflict on her fourth album, the eclectic and innovative Anarchist Gospel, which documents a time when it looked like the self-destructive side might win out. "Everybody is a beast just trying their hardest to be good. That's what it is to be human. You're not really good or bad. You're just trying to stay in the middle of those two things all the time, and you're probably doing a shitty job of it. That's okay, because we're all just monsters."
Extreme emotions can make that battle all the more perilous, yet from such trials Sunny has crafted a set of songs that draw on a range of ideas and styles, as though she's marshaling all her forces to get her ideas across: ecstatic gospel, dusty country blues, thoughtful folk, rip-roaring rock and roll, even avant garde studio experiments (like the collage of voices that closes "Shelter and Storm"). She melds them together into a powerful statement of survival, revealing a probing songwriter who indulges no comforting platitudes and a highly innovative guitarist who deploys spidery riffs throughout every song.
Joe McGinty & The Loser's Lounge: Blondie vs. The Pretenders
Thursday, February 23 - Saturday, February 25 at 7:00 PM
Thursday, February 23 - Saturday, February 25 at 9:30 PM
Joe McGinty & The Loser's Lounge are back at Joe's Pub on February 23-25 with all of the incredible songs, great performances, irreverent antics and special guests that you can only find at The Losers Lounge. For one weekend only, only at Joe's Pub.
Sunday, February 26 at 9:30 PM
"Not Looking" is a series currently in development, created by and starring Delius Doherty, Jonathan Burke, and Ahmad Maksoud. "Not Looking" centers three newly single Black and Brown gay men in New York City who make a pact to stay out of relationships for a year in order to support each other on their journeys of self-discovery. It examines themes often neglected by television: the first-generation American experience, colorism, and the nuances of racism. The series cast also includes Cameron J. Ross, Julius Chase, J. Daughtry, David J. Cork, Andrew Keenan-Bolger, Michael Mott, Caroline Bowman, David Cromer & more.
JOE'S PUB, a program of The Public Theater, was named for Public Theater founder Joseph Papp. Since it opened in 1998, Joe's Pub has played a vital role in The Public's mission of supporting artists at all stages of their careers with an intimate space to perform and develop new work. Joe's Pub presents the best in live music and performance nightly, continuing its commitment to diversity, production values, community, and artistic freedom. In addition to one-night-only concerts and multi-night engagements, Joe's Pub is home to the annual Habibi Festival, which hosts artists representing contemporary and traditional music of the SWANA (Southwest Asia/North Africa) region, and The Vanguard Award & Residency, a yearlong curation series that celebrates the career, and community, of a prolific and influential artist-including Nona Hendryx, Judy Collins, Laurie Anderson, and Barbara Maier Gustern. With its intimate atmosphere and superior acoustics, Joe's Pub presents over 700 shows featuring artists from all over the world and hosts over 100,000 audience members annually. Beyond public performances, Joe's Pub also leads artist development programs like New York Voices, a commissioning program that helps musicians develop new performance projects, and Joe's Pub Working Group, an artist-led development and collaboration cohort. Current commissioned artists include Daniel J. Watts & Nick Blaemire, Liza Paul & Bahia Watson, Sunny Jain, Vuyo Sotashe & Chris Pattishall, and treya lam. Joe's Pub is supported in part by an American Rescue Plan Act grant from the National Endowment for the Arts to support general operating expenses in response to the COVID-19 pandemic.