Click Here for More Articles on NEW YORK CITY
BWW Review: Natalie Douglas Shares Her Love for Cher in Her Latest TRIBUTES at Birdland
It's safe to say that Natalie Douglas is a little obsessed with Cher.
Throughout TRIBUTES: CHER, the latest in her award-winning TRIBUTES series, Douglas made her way through the icon's life from her early career up to the present, both in song and in story. But the real focus of the July 16 show at Birdland wasn't necessarily in identifying with the woman, the myth, the legend that is Cher. (After all, how can anyone fully relate to someone for whom a phrase as simple as "Hi again" is a meme-able moment?)
Really, the show was about kneeling at the altar of Cher and bearing witness to everything she's accomplished. "And if someone says Cher's voice is not good? That person is stupid," she joked. "She is singing her ass off. That's why it looks the way it does at 72."
Douglas opened the proceedings with a fun, slightly daring choice in "Welcome to Burlesque" (Charlie Midnight/Matthew Gerrard/Steve Lindsey/John Patrick Shanley) from BURLESQUE, going for a less sultry and more straightforwardly inviting vibe than the source material. In fact, inviting is the perfect word to describe Douglas's demeanor all night long. If her incredible vocals weren't enough to put you at ease, her loose, joyous energy was more than enough to do the trick.
Take her thrilling cover of "Dark Lady" (Johnny Durrill), before which she warned that audience participation during the chorus required two claps, not three. With that order of business out of the way, she dove in fully, belting her way through the bewitching '70s hit. Afterward, she gushed, "I had no idea that was so much fun to sing, you guys." But the audience knew because you could feel how much fun she was having, long before she said it explicitly.
Between numbers, she recalled tidbits---often juicy ones---from Cher lobbing insults at Sonny during the leaner years of the late '60s to hating the demo for "If I Could Turn Back Time" because it was sung by the songwriter---and longtime Cher collaborator---Diane Warren. "She's one of your friends," Douglas grimaced to hilarious effect.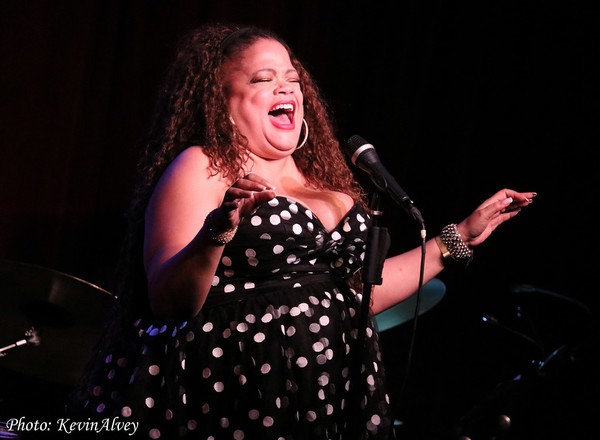 She always had time to find a light moment, even leading into her haunting rendition of "Bang Bang (My Baby Shot Me Down)" (Sonny Bono). Paired with an almost militaristic drum beat, it was the perfect marriage of Cher and Nancy Sinatra's interpretations while never falling into mimicry. "Now Sonny wrote this song," she said with a tilt of her head, joking about the song's mystifying tempo change before she began. "And, suddenly, the tarantella!" With the number, she had two false starts, though she could've restarted 100 times and it would've been worth it for that tempo change alone, which sparked big laughs from the crowd and a lot of good-natured head-shaking from Douglas after the sprint was over.
If knowing her Cher-story weren't enough, she'd also traveled to Vegas to see the singer's act, for research, she said. A not-insignificant amount of the act was simply Douglas conjuring up her recollections of that night, like the star's decision coming out looking like the Virgin Mary in a gondola for "After All" (Dean Pitchford/Tom Snow). "It makes no sense whatsoever and it's the best thing I've ever seen," she raved.
And, even though, as Douglas noted, Cher and Peter Cetera never sang it live together, she was not without a duet partner for her rendition, bringing Garth Kravitz (currently on Broadway in GETTIN' THE BAND BACK TOGETHER) onstage for the soaring ballad.
Douglas shook things up as well, with the help of music director Brian Nash on piano and keyboards, along with Alec Berlin on guitar, Endea Owens on electric and acoustic bass, and Jerome Jennings on drums. Nash's arrangement on "I Found Someone" (Michael Bolton/Mark Mangold) culminated with Douglas transitioning into "If I Could Turn Back Time," and even though she barely dipped a toe into the latter, the result was so explosive, it'd be impossible to accuse her of giving the song short shrift.
The show ended as it began, with a number from a campy movie musical, this time a cover of
ABBA's "Fernando" (Benny Andersson/Bjorn Ulvaeus) in honor of Cher's turn in MAMMA MIA: HERE WE GO AGAIN.
After weaving sunny asides in between ballads and belters and hits to form a kind of friendship bracelet for the audience, this marked yet another perfect instance of Douglas celebrating the beauty of what fandom can be at its best. It was a sacred space where people who recognize the genius of a charming, insanely talented chanteuse could come together joyfully and leave everything else at the door. And, no, I'm not just talking about Cher.
---
Natalie Douglas returns to Birdland with TRIBUTES: CELEBRATING ELLA on August 20 at 7:30 PM. For tickets and information, visit www.birdlandjazz.com.
Troy Frisby is an entertainment writer and digital news producer based in New York. Follow him on Twitter @TroyFrisby.
Related Articles
Troy Frisby is a writer and producer for Zazoom Media Group, producing entertainment and news video content for clients including AOL and MSN. Previously, he (read more...)