BWW Review: In the Calm Before the Storm, Randy Rainbow Throws an ELECTION EVE PARTY at Birdland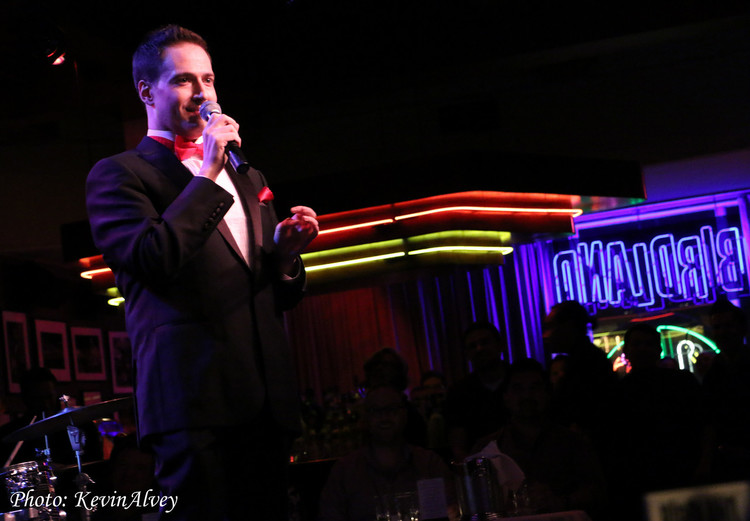 There's no easy way to talk about a performance ostensibly thrown in honor of a presidential candidate who didn't end up winning.
Let's be clear: Randy Rainbow's ELECTION EVE PARTY held on Monday, night at Birdland wasn't exactly a non-partisan event. The performers dropped more "I'm With Her" references than at an actual Clinton rally, and the party likely could've sustained itself on Rainbow's viral parodies alone.
For instance, Rainbow opened the show with "Ya Got Trump Trouble," a parody of "Ya Got Trouble" (Meredith Wilson) from THE MUSIC MAN he originally released on YouTube back in July, with lyrics such as, "No sign of a tax return yet/Melania's ripping off the Gettysburg Address."
But, if possible, the vibe throughout the night was often decidedly somber, as if anticipating the events to come some 32 hours later.
Compared to his over-the-top video persona, Rainbow was a bit reserved onstage at the onset, though no less funny. Throughout the Election Eve Party, a trio of performers from the recently-opened HOLIDAY INN ---Travis Ward-Osborne, Jenifer Foote and Borris York---sang back-up for Rainbow. With direction by Victor Wisehart and musical direction by Tedd Firth, Rainbow was also accompanied by Michael Klopp on drums, Firth at the piano, and Steve Doyle on bass.
While the event was part of the venue's Broadway at Birdland concert series, the night was not without jazz, as brothers Will and Anthony Nunziata took the stage next, sporting glistening sequined jackets for their flashy take on "This Could Be the Start of Something" (Steve Allen). The always-engaging Max von Essen (AN AMERICAN IN PARIS) matched them with a faithful cover of "Luck Be a Lady" (Frank Loesser) from GUYS AND DOLLS.
Returning to the mic, Rainbow next invited Laura Osnes (Rodgers + Hammerstein's CINDERELLA) to the stage. Presumably referring to Osnes's beginnings on GREASE: YOU'RE THE ONE THAT I WANT, he joked that if the ex-Apprentice host is "the worst of reality TV, she's the best." And Osnes certainly was, giving a rendition of Stephen Sondheim's "Children Will Listen" that was as sobering as it was lovely.
There wasn't a dud in the bunch, but the show truly kicked into high gear when Julie Halston (ON THE TOWN, THE BABYLON LINE) brought on the belly laughs by reading excerpts from Nancy Reagan's autobiography, My Turn: The Memoirs of Nancy Reagan.
You may not think hearing snippets from a late First Lady's memoir would be particularly funny (to which Halston argued that it's not really speaking ill of the dead if you're reading their own words) and you'd be very, very wrong. She chose a few passages, in which Reagan shared the difficulties she had with her eldest daughter, Patti Davis, who didn't quite live up to her mother's expectations. As Mrs. Reagan, Halston's MOMMIE DEAREST-esque revulsion at her daughter's rebellion---"We bought her a horse!" rivaled "She could've met Gorbachev!" as the night's best one-liner---was utter perfection.
Marty Thomas (XANADU) gave a country-tinged riff on Rachel Platten's "Fight Song" (Platten, David Bassett), a favorite of the Clinton campaign. Carrie Manolakos sang The Beatles' "Let It Be," while York left the chorus to take center stage with a genial cover of The Cure's "Lovesong" (the connection to the election was less clear with this one).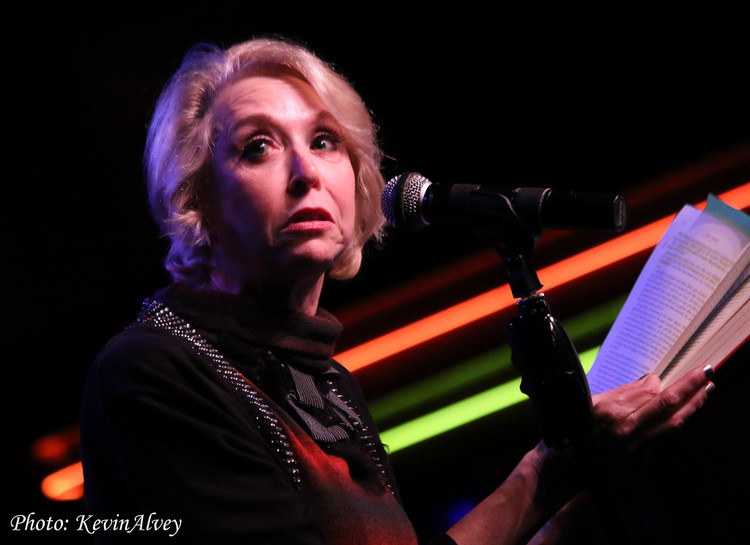 However, it was the comics who ruled the day, including Christina Bianco, who churned out impression after impression after impression. In just a few minutes, she ran the gamut from Drew Barrymore to Adele, and even WILL & GRACE's Karen Walker, but she shined brightest when she embodied a few of Broadway's greatest divas. She wrapped up her set with a flawless replica of Idina Menzel on FROZEN's "Let It Go" before letting her own voice shine. At the end, she sniffed, "Trump never bothered me anyway."
And then there was fellow comic Michelle Collins, who was pure joy from start to finish and would've stayed up there all night if she could have, joking that she planned to sing "the entire songbook of DREAMGIRLS." (She didn't, but she did belt out an impressive snippet from LES MIS.) If she did go a tad longer than her allotted tight five talking about her dress and Australia's case of "gay face," based on the almost uninterrupted laughter from the audience, nobody minded much.
Rainbow's close friend, Gerard Salvador (MAMMA MIA), sang "The A**hole Is a Trump," a tweaked cover of "The Lady Is A Tramp" (Richard Rodgers) that, while playful, was the least natural of the song parodies.
While Julie James, host of SiriusXM's ON BROADWAY, sang about Attila the Hun and Matt Doyle (THE BOOK OF MORMON) performed a warm cover of "Make You Feel My Love" (Bob Dylan) in an effort to make the crowd feel her love, Emily Goglia (GREASE LIVE!) and John Pinto Jr. (THE BOOK OF MORMON) truly blew the room away with a feverish presentation of Barbra Streisand and Donna Summer's "No More Tears (Enough Is Enough)" (Paul Jabara/Bruce Roberts).
To end the night, Rainbow returned for a spectacular grand finale that featured not one but two renditions of "Braggadocious," his ode to Trump in the key of MARY POPPINS' "Supercalifragilisticexpialidocious" (Sherman Brothers). And instead of getting antsy, the audience, who had demanded the encore performance, sang right along with him on take two, tying things up with a perfect communal bow.
Rainbow may have hoped for a different outcome, but if his recent track record (and his own words) are any indication, at the very least, the next four years should be extra parodocious.