Click Here for More Articles on NEW YORK CITY
BWW Review: Broadway's Resilient Moms Gather At Feinstein's/54 Below To Send Love And Light to Ruthie Ann Miles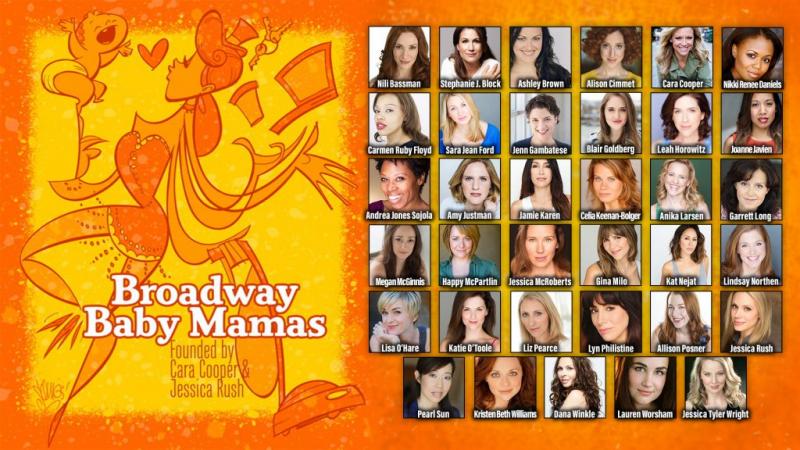 Of the many great parts of the Broadway community and the performing arts community at large, perhaps the greatest is its ability to come together and provide support for one another.
BROADWAY BABY MAMAS, held at Feinstein's/54 Below on March 15 little more than a week after the unthinkable tragedy involving Ruthie Ann Miles, was an incredible example of just how deep that support runs.
While the fundraiser was scheduled prior to the March 5 crash which left Miles in critical condition and took the life of her four-year-old daughter, Abigail, it was arranged so a portion of the proceeds would benefit Miles and her family. But far more than just a financial contribution, emcee Celia Keenan-Bolger and the night's performers did a remarkable job of sending love and light their way all evening long.
Jenn Gambatese (SCHOOL OF ROCK) opened the 9:30 PM performance with a Motherhood medley of songs that were important to her when she first became a mom. She combined THE KING & I's "Getting to Know You" (Rodgers and Hammerstein), Phil Collins' "You'll Be in My Heart" from TARZAN, "You've Got to Be Carefully Taught" from SOUTH PACIFIC, and THE LION KING's "Circle of Life" (Elton John). It was a slow-burner of a performance for a very good reason, and with the difficult task of opening such an emotional show, she handled it wonderfully.
Taking the stage, Keenan-Bolger noted that the initial impulse was to "celebrate motherhood and talk about how fucking hard it is," acknowledging the working mothers of decades past who carved out a space for later generations.
But in the wake of what happened, she knew the event had to shift from a concert about support to one centered on the power of collective positive thinking. Aside from a slightly tempered tone, however, that shift wasn't so dramatic, as the groundwork had already been laid for these women to come together for such a purpose.
From there, the working moms who took the stage sang numbers both old and new, from Joanne Javien's (THOROUGHLY MODERN MILLIE) cheery performance of "And He Smiles" (Aaron Kenny/Rob Berliner)---written especially for her son---to Katie O'Toole's (JERSEY BOYS) cover of ALADDIN classic "A Whole New World" (Alan Menken & Tim Rice)---sung from mother and child---to Nikki Renee Daniels (THE BOOK OF MORMON) and Anika Larsen's (BEAUTIFUL) bittersweet duet of James Taylor's "You Can Close Your Eyes."
Andrea Jones Sojola (PORGY AND BESS) won over the crowd with her riff on "My Favorite Things" from THE SOUND OF MUSIC. Cutting herself off part-way through the song, she joked, "Actually, I could give a rat's behind about girls in white dresses." Getting candid about the more frustrating aspects of motherhood, bombastically presenting her real favorite things---from long walks in Central Park by herself to not being interrupted while on the phone---with an operatic finish.
Equally clever was Lisa O'Hare and Lauren Worsham's "That Horrible Mummy" (Steven Lutvak), a take on "That Horrible Woman" from A GENTLEMAN'S GUIDE TO LOVE AND MURDER, which the pair starred in together. Sung from the perspective of a duo of mother-hating brats, the pair brought new meaning to "the terrible twos" (in the best way possible).
As interesting as many of the performances were the reasons they were chosen. "What a Mother Does" (Benj Pasek/Justin Paul) from A CHRISTMAS STORY was uniquely special for Gina Milo, as it was her first musical after becoming a mom. The varied interpretations of motherhood allowed the evening's tone to change on a dime, sometimes even within one number. MARY POPPINS alum Ashley Brown was all charm when she took the stage, making jokes about motherhood before cracking, "Yes, I always sing to my kid in leather pants." But her early breeziness couldn't have been in starker contrast with her performance of "Baby Mine" (Frank Churchill/Ned Washington) from DUMBO, sung with enough heart and magnetism to give you chills.
Keenan-Bolger noted that the event was organized and produced by women, complete with an all-female band, consisting of musical director Emily Marshall on keys, Julia Adamy on bass, Jessie Linden on drums and Meghan Rose on guitar.
For the final solo number, the crowd was treated to Stephanie J. Block's (FALSETTOS) truly extraordinary performance of "Something Beautiful" (Stephen Flaherty/Lynn Ahrens), joking that she had to sing from the point of view of Mother Earth because giving birth three years ago has left her too emotional to sing from her own perspective. Pulsating with emotion, Block poured meaning into every note and filled the room with an almost shocking intensity.
Former JERSEY BOYS co-stars Cara Cooper and Jessica Rush, who co-produced and directed the show with Worsham, took the stage, explaining how this all began as a Facebook support group for Broadway moms. After explaining their mission, the entire group, including Happy McPartlin (COME FROM AWAY), Jessica McRoberts (SPIDER-MAN: TURN OFF THE DARK), Alison Cimmet (SHE LOVES ME), Nili Bassman (CHICAGO), and Allison Posner (THE LAST SONG OF EDDIE SCOURGE), came together to close out the show with "You'll Never Walk Alone" from CAROUSEL.
As they sang about the power of resilience, the night's themes dovetailed beautifully, tying back to Miles in a way that was affirming and never minimizing. That, above vocal prowess or anything all else, made witnessing these women, standing together and supporting their peer amid an unimaginable experience, nothing short of extraordinary.
---
Troy Frisby is an entertainment writer and digital news producer based in New York. Follow him on Twitter @TroyFrisby.
Related Articles
Troy Frisby is a writer and producer for Zazoom Media Group, producing entertainment and news video content for clients including AOL and MSN. Previously, he (read more...)