Click Here for More Articles on NEW YORK CITY
BWW Interview: Justin Sayre Discusses Bringing THE MEETING* to an End, Creating Queer Spaces, and What's Next For the Show's Creator
Justin Sayre is calling the final editions of THE MEETING* to order.
For eight seasons, over seven-and-a-half years, he has led the International Order of Sodomites---the IOS for short---as the Chairman of the "centuries-old organization promoting the lives and legacies of the LGBTQIA community."
The final two shows of the acclaimed comedy/variety show, set for Sunday, May 14 at 7:00 and 9:30 pm at Joe's Pub, have long sold out. Yet they'll be broadcast online via Joe's Pub Livestream, with Sayre also taking over the Joe's Pub Instagram account that same day.
Those last shows will break from form, ditching the tradition of honoring one gay icon or pop culture touchstone each month for what Sayre says will be "kind of a free-for-all." They're also expected to feature incredible performers like Nathan Lee Graham, Justin VivIan Bond, Rob Maitner, and Natalie Joy Johnson, among many others.
And while the show may be coming to an end, Sayre has plenty of irons in the fire, including SPARKLE & CIRCULATE WITH Justin Sayre, the "official comedy podcast" of the IOS, as well as the premiere of his new solo play, THE LAMENTABLE TALE OF A DOG; AS TOLD BY BEPPO, FORMERLY OF THE CASTAGLIONI COMPANY OF PADUA.
Before he flew over from Los Angeles for those final shows, we spoke with Justin over the phone about what THE MEETING* has meant to him over the years, why it's time to call it quits, and what's next.
This interview has been edited for length and content.
---
Each month, the show celebrates a particular icon or pop culture icon. Do you have any favorite themes from the past eight seasons?
What we've always kind of prided ourselves on is it was never a show about imitation. So it was never about doing a song the way George Michael did it or Shirley Bassey did it. It was always how those icons affected other artists making art. In that way, it's always been an amazing adventure to see what people bring to the work.
Some of my favorite shows... We did a Diana Ross show years ago that was just fantastic, and seeing all the different ways people celebrated her. Just recently, we did an Indigo Girls show I loved, and hearing people talk about them and watching them sing their songs was just fantastic.
Was there anyone or anything you didn't get to that you couldn't cram into the final season?
Oh, sure. I always wanted to do a Blondie edition, a TWIN PEAKS edition, THE COLOR PURPLE. That was kind of the fun of the show is there was always something new to do. There was always some new direction that we could've taken it; the possibilities were limitless. If I had to come up with another season right now, I could probably think of a dozen people I'd want to do.
So why is now the right time to bring an end to THE MEETING*?
Well, it's been seven-and-a-half years. It started out at The Duplex, on a lark, where I did the first two shows and really did the first two shows with, "This may not work. I don't know if anybody's going to come to this." Luckily, it did, and it just kept growing from there. While I'm very proud of everything we've created, I think it's time to move in a different direction. I've grown as a performer. I think the show has grown in a different trajectory. Now, I'm still interested in performing at Joe's. I've already set up some shows for the fall. But I think it's time to close one chapter and open a new one.
Can you hint at all about what those new shows will be?
It's gonna be a lot more solo work. I've gotten a lot of worried emails and texts, like, "Are you still going to talk about politics and gay culture?" Of course! Of course I am. If we were going to dinner, I would talk about it. Who I am and what interests me as a performer and comedy person, it will still happen. It's just a different guise. So the shows are a little more solo, a little more centralized around a specific theme. There'll be a little music and maybe a guest or two, but it won't be a variety show in a classic sense of what THE MEETING* has always been. But I've really been using it as a blank slate to create something entirely new, so I'm looking at a whole host of things.
You've talked a lot about the importance of creating and holding onto queer spaces. Was that always something, when you were creating the show, that was central to it? Or did that evolve as the show evolved?
It was always the central theme. It was always about community, and it was a show about community. And it was a show about how that community talked to itself. So even in the setup, I was the Chairman of the Board. Everybody in the room was a member of the IOS, always. We never discriminated. Gay, straight, whatever: you were in. And that camaraderie, that instant [feeling] of "we're all in on the joke" was the cornerstone of what the show was. And it allowed us---I talk about our producers, Dan Fortune and Adam Rosen, but I also talk about the host of amazing performers we've had over the years---because I don't feel like I do it alone... I really feel like it's a community effort.
I know crowds of tables, where this is what they do together every month. They buy the table, and they have dinner before. I've had letters from people who say they've met friends or started dating somebody there. And it really has been and continues to be an experiment in how we create queer spaces and how we maintain them. And I'm really proud of that, not just in what the show's about but all of its offshoots.
What do you hope the legacy of THE MEETING* will be?
It's hard for me to say. I don't know if it's up for me to decide. I'm getting a little emotional, but I was very fortunate to come up in a time when there was a pantheon of amazing downtown performers making art, like Justin VivIan Bond and Kenny Mellman doing Kiki and Herb, Joey Arias, Taylor Mac and Penny Arcade. I belong, I feel, to an upcoming class with people like Cole Escola and Erin Markey and Bridget Everett, all taking that mantle on and continuing what downtown comedy alt-cabaret can be. If anything, I hope I did those people proud, and I hope I was able to continue the amazing work that I saw. And I hope that I still do.
There is nothing like being in a cabaret room and sitting with someone who's talking exactly to your fears and hopes and joys. I've been forever changed by experiences I've had in those rooms. To be a part of that and be a part of that legacy is something I'm extremely proud of, and I hope I've done well by them.
I was at the Patti LuPone show last month, and you bid farewell to [longtime pianist and musical director] Tracy Stark. Did you expect that it was going to be this emotional?
You know, and I hate to say things like this, but that's always been in the show. Seeing someone like Justin Vivian and Kenny do Kiki and Herb, that was something that was unafraid to go to dark places and unafraid to hold space where there was real tenderness, real sorrow, real pain. We can do all that and then make you laugh in the next line. Part of the thing I wanted to do with THE MEETING* was have a space where all of that was okay--- all those expressions. You will be thoroughly entertained, but you're going to feel all the feelings.
When we said goodbye to Tracy... Tracy Stark is a genius, and I have loved her. Tracy started to play our shows at The Duplex. She's been with the show that long. We hired her a couple times, and she just said, "You know, I'll just do it. I love you guys so much, and it's always so fun. Why don't I just do it?" Every month, she showed up and just blew it out of the park and really became another member of the IOS. Being up there, knowing it was her last show, it was emotional because she'd been there from the beginning and, each month, brought such an amazing amount of talent and grace and beauty to the show, and it got emotional for me.
In the show, you're speaking directly to the LGBTQ community, but you're not reinforcing old ideas. I think it's on your album [THE GAY AGENDA], where you say something like, "The LGBT community is racist. The LGBT community is sexist..." You're definitely unafraid to sort of go after them in a certain way. Is that something you've always had, or is that something you built up to, not being afraid of losing the audience?
The thing that I've been lucky about is that I've never been afraid to call that stuff out. I see my gayness or my queerness or however you want to talk about it as a gift because it makes me understand, in small ways and in comparative ways, what the experiences are of people who kind of live outside the kind of white, male middle-class monolith. I understand parts of it, and it's all varying degrees. But I see that as a privilege. I see that as a great privilege in my life, that I get to look at somebody and say, "I get what that is. I get that that sucks, but I'm here with you." And that's the strength that I feel, as a queer person, that I bring to it.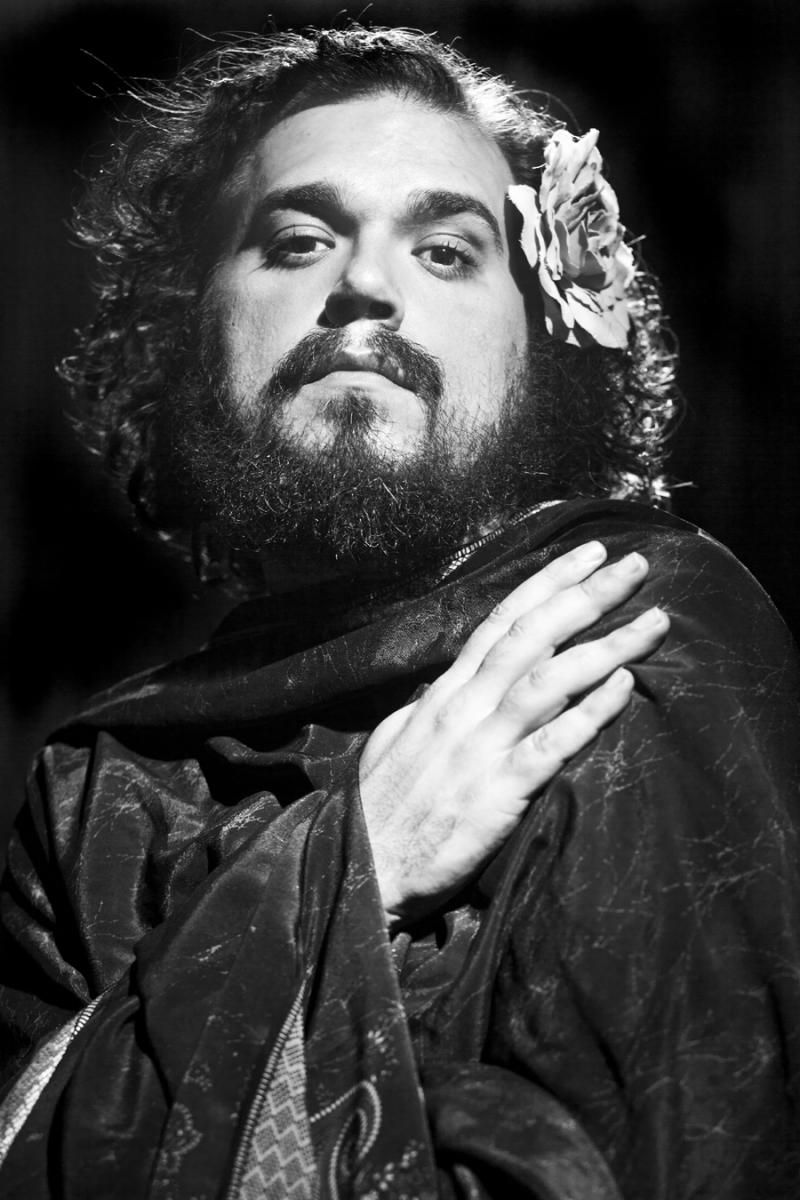 So when I talk about racism, I talk about it not only from the perspective of seeing it in the community, but also saying, "Can't you see that's the same thing you're talking about?"
How we are racist in the community, we're taking on the roles of our own oppressors. We're doing the things that are done to us, and you have to see the hypocrisy in that.
And back to the question of community, I think framing the whole conversation under this [idea of], "l am part of the community. I am with you" makes those conversations easier to have. Because I'm sitting here and saying, "It's not, 'They are racist, these a**holes over here.' It's, 'We as the community are racist.'" Look at the way we treat each other. Look at the way we talk to each other on Grindr or Scruff. Look at the way we treat our trans people. Look at the way we treat women. Look at the way we talk about aging. How can we call these things out and be better? When you see we're in this fight together, I think there's a strength in numbers, when you're combating those sorts of influences. I think the outcomes have been positive.
On THE GAY AGENDA, on the same topic, you talk about ageism. You have a bit where you say something like, "Don't cast a shady eye at the 60-year-old gay guys at the bar. Those are your gay mentors." I was curious who your queer role models were growing up or who the most important queer icons were in your eyes.
The thing is, one of the ways that the show was born is that I didn't really feel like I had queer icons growing up. When I had come to New York, so many people had died in the AIDS crisis. I moved in '99, and you were still feeling the aftershocks of a whole generation of people being gone. And that was why community became so important because I didn't see it. I hadn't been around for the ACT UP days. I'd seen when the cocktail started taking effect, and everybody kind of went back to their corners. It felt like a huge loss, and I've discussed this with many other artists of my generation in particular. It took us years to discover artists that, had they lived, we would've been making work with. Digging up things that had been lost because the few that had survived were under enormous pressure and had so much PTSD from losing their friends that they weren't gonna pass us a book, you know?
So we really had to discover a lot of it on our own. But in the years that have followed that, I've really been able to connect with a lot of people. And it's been people like Justin Vivian and Joey Arias... and all these people who have been downtown making work and part of the queer scene for so long, that have involved me and tied me to a queer lineage of great artists. It's made a difference. It's made a very big difference in my life and also my work. For queer people that I see influencing me, I've talked about them three times but, you know, Kiki and Herb were a huge influence. And then people like Charles Ludlam and Ethel Eichelberger, certainly, and Jackie Curtis. They're all over my house as I'm walking through all these pictures.
I have a picture of James Baldwin on my desk that I write at because he's somebody that's gonna keep me honest and keep pushing me further to tell the truth. There's so many fantastic artists, and I always feel very connected now to a queer lineage of art and creation that I don't think I had when I started the show.
In that vein, I also wanted to talk about [your podcast], SPARKLE & CIRCULATE. Do you have any guests lined up for the near future?
We just did a show with [cabaret star] Amber Martin. I know I'm taping a whole bunch of them when I get to town for over the summer. I'm actually interviewing Jake Shears tomorrow in L.A.
Do you have any dream guests?
There are certain people that, it sounds silly, but I'd really like to sit down and talk to Kate Bornstein for a while. I don't know how it would go, but I'd really like to talk to Shirley MacLaine. I don't know how it would go, and I don't know how it's gonna happen, but I really want to do that.
[Laughs] I just rewatched her Oscars speech [for TERMS OF ENDEARMENT] yesterday.
Ugh. Love her. Love her. But it also just grows out of love. There's folks that I know that are making amazing work, like Drew Droege is so fantastic and smart. I would love to talk to Drew. Bowen Yang and Matt Rogers are doing their podcast [LAS CULTURISTAS], and I really love what they're doing, so we're going to have them on the show. And also, within that, I think there's an element where I really want to start talking to people who are making different kinds of work. Someone like Tommy Pico the poet, and SaeEd Jones the poet, or Eileen Myles. People that are not kind of comedy people that can riff with you but who are part of this queer lexicon of amazing work that's being made.
You're also doing your play [on May 18]. Can you tell me a little about THE LAMENTABLE TALE OF A DOG?
The High Line in New York does this OUT OF LINE series. This is the second year they've done it, and they commission four artists to make a performance for the park. They came to me and said, "Do you want to make something?" And I said, "Sure." When the election happened and with everything that followed, I kind of wanted to write something political because I'm obviously politically minded.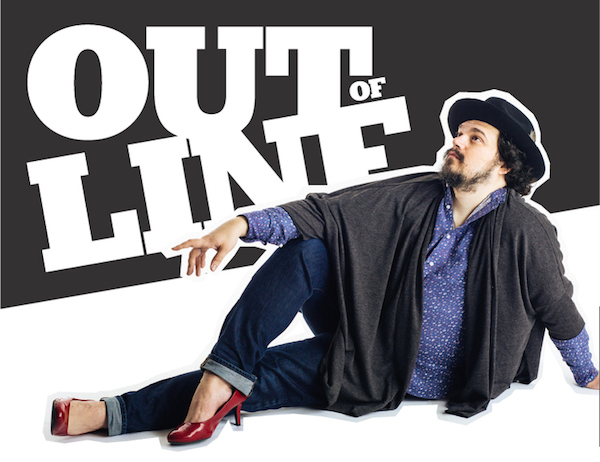 But I didn't want to write something overtly political because I felt I'd been doing that with THE MEETING*. I wanted something very different. So I ended up coming up with this little story about this clown and his performing dog. And his dog dies. And in the face of the death of his dog, he can't be funny anymore because he starts to see all the troubles of the world.
So THE LAMENTABLE TALE OF A DOG is his recounting the life of his dog in these funny little stories and trying to get back an understanding of how we laugh and how we can laugh when we know of all the troubles that are in the world. Because, you know, through all of this terrible ordeal we're currently in, I've never seen humor, and I've never seen joy be more important. I think they are the greatest asset we have right now. That we can poke fun at this terrible man and his policies, that we can bring joy to the hard work we have ahead of us, is how we're going to win.
So being able to write this, which is all about a clown finding his joy, has been a real cathartic experience. Luckily, the High Line was up for it from the go, and they've been nothing but supportive and wonderful, and I'm very excited to see how it all turns out. "See how it all turns out." I have to do it! I hope one day very soon to get to the point where I just show and the show happens, and I watch and go, "Oh, that's pretty good. See you later." But we're not there yet.
---
Justin Sayre will host the final two shows of THE MEETING* at Joe's Pub on Sunday, May 14th at 7 and 9:30 pm. The evening will feature several special guests, including Justin VivIan Bond, Erin Markey, Gabrielle Stravelli, and many more. Lance Horne serves as the evening's music director. Check out the live-stream here. Both SPARKLE & CIRCULATE and THE GAY AGENDA are available on iTunes. Visit TheHighLine.org for tickets and information on THE LAMENTABLE TALE OF A DOG.
Troy Frisby is an entertainment writer and digital news producer based in New York. Follow him on Twitter @TroyFrisby.