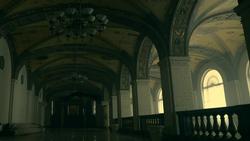 Opposite Worlds, an all-new competitive reality series - with an interactive twist - is coming to Syfy.
Opposite Worlds will run for 12 episodes over six weeks (two episodes per week), with the second weekly episode featuring a live element (a first for a Syfy reality series). In Opposite Worlds, 14 people from all walks of life face off in opposing teams that live in a house separated into two distinctly different worlds: one past and one future, each with its own unique advantages and disadvantages. Adding to the drama is a glass wall dividing the house into the two environments, allowing the teams to watch, envy and dread each other's every move. Every week, as cast members compete in a series of fast-paced challenges, viewers will be asked to participate in real time on social media and affect the outcome of each player's fate.
Opposite Worlds will be executive produced by JD Roth, Todd A. Nelson, Brant Pinvidic and Adam Kaloustian for Eyeworks USA. The series is based on the hit Chilean format, Mundos Opuestos, originally broadcast on Canal 13 and distributed by Bainjay International.