HITLER'S EMPIRE: THE POST WAR PLAN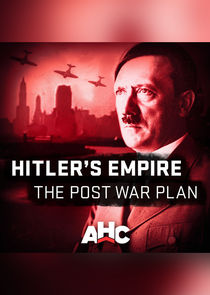 In this brand-new and exclusive six-part series author and historian, Guy Walters, reveals how Hitler had already started to implement plans of world domination long before the war had started and explores how the Fuhrer intended to carry them out regardless of the human cost.
Until 1942, no one could have predicted the outcome of the Second World War. But one man was in no doubt that victory was inevitable, in fact Adolf Hitler was so confident of winning he didn't just go to war with soldiers, guns and tanks; he also went with the blueprints for a whole new world.
Each episode of the series follows Guy as he investigates a different aspect of the Nazi post-war plan for a new world order: from how Hitler began constructing buildings on a truly colossal scale for his new world capital to how a new and expanded Germany rising out of the ashes of conquered Europe would have meant slavery for millions. Guy will also show how Hitler had started to take over America from the inside, revealing large-scale support for the Nazi regime in the land of the free.
- Source
TVMaze
BWW Exclusive: THE 101 GREATEST MOVIE SCENES of All Time - from CITIZEN KANE to PINK FLAMINGOS, from THE SOUND OF MUSIC to PARASITE
by Peter Nason - May 26, 2020
BWW Reviewer Peter Nason chooses the 101 greatest scenes in cinema from 1901 to 2020. See if your favorite movie moments made the list!...
Ring In 2019 At The Sheen Center! Lineup Of Events Announced
by Alexa Criscitiello - December 10, 2018
The Sheen Center for Thought & Culture has announced its 2019 winter/spring season, a rich program of theater, film, music, poetry, art, and talk events featuring artists and thought leaders including Grammy Award-winning singer-songwriter Mary Chapin Carpenter;Tony Award winner Lena Hall; Grammy Aw...
BWW Exclusive: The 101 GREATEST PLAYS of the Past 100 Years (1920-2020)
by Peter Nason - April 07, 2020
BWW Reviewer Peter Nason chooses the greatest theatrical works (non-musical) from 1920-2020; see if your favorites made the list!...