World Premiere of MOWGLI: LEGEND OF THE JUNGLE to be Held in Mumbai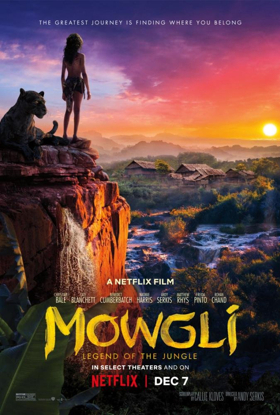 The World Premiere of Netflix's Mowgli: Legend of the Jungle, will be held in Mumbai on November 25th, 2018 with director and star Andy Serkis joined by Christian Bale, Freida Pinto, Louis Ashbourne Serkis and newcomer Rohan Chand who plays Mowgli in the film.
Mowgli: Legend of the Jungle is the first time India will be the destination of a major Hollywood motion picture premiere with its lead cast in attendance. The star-studded cast will walk the red-carpet and attend the world premiere screening.
This reimagining of Rudyard Kipling's classic, one of India's most beloved stories, will be available to Netflix members worldwide starting December 7th, 2018. The cast includes Christian Bale as Bagheera, Cate Blanchett as Kaa, Andy Serkis as Baloo, Naomie Harris as Nisha, Peter Mullan as Akela, Louis Ashbourne Serkis as Bhoot and Benedict Cumberbatch as Shere Khan with Matthew Rhys and Freida Pinto playing key characters from the local village and Rohan Chand in the title role of Mowgli.
Mowgli: Legend of the Jungle is produced by Jonathan Cavendish, Steve Kloves and David Barron.
Acclaimed actor and director Andy Serkis reinvents Rudyard Kipling's beloved masterpiece, in which a boy who would become a legend, wants nothing more than to find a home. Torn between two worlds, that of the jungle and that of humankind, Mowgli must navigate the inherent dangers in each on a journey to discover who he really is. Christian Bale, Cate Blanchett, Benedict Cumberbatch, Freida Pinto, Matthew Rhys and Naomie Harris lead an all-star cast along with newcomer Rohan Chand ("Mowgli") in this visually spectacular and emotionally moving adventure. It will also be dubbed in Hindi, Tamil, Telugu and Bengali.