VIDEO: The Battle Rounds Begin on THE VOICE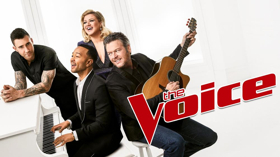 Last night was the first round of Battle Rounds on The Voice! Below are the artists that won their Battles, or were Stolen by another coach.
The Battle Rounds continue next week on THE VOICE, Monday, April 1 (8/7c) on NBC.
The "Battle Rounds" continue as the coaches enlist music industry powerhouses Charlie Puth, Kelsea Ballerini, Brooks + Dunn and Khalid to prepare their artists to go head-to-head in the hopes of advancing to the next round. With plenty of steals left in play, the coaches are eager to fill their teams with the best talent. Carson Daly ("TODAY Show") hosts.
Beth Griffith-Manley, 46
Team John (Stolen from Team Kelly)
Hometown: Detroit, Michigan
Resident: Detroit, Michigan

Beth's father, Johnny Griffith, was a member of the famed Motown band the Funk Brothers and the keyboardist on countless Motown hits. Beth got her start in music by working as a receptionist at Harmonie Park Studios where she began doing voice-over work, singing on demos and caught the ear of legendary producer Michael J. Powell. Powell introduced Beth to eight-time Grammy Award winner Anita Baker, who hired her as a background vocalist and Beth went on to spend the next five years touring the world. Currently, Beth is a background vocalist for Motown recording artist KEM.

Song: "Jealous" by Labrinth
Performance:
The Bundys, Megan (31), Katey (28), Ryan (25)
Team Kelly
Hometown: Cincinnati, Ohio
Resident: Katey: Chicago, Illinois, Megan/Ryan: Nashville, Tennessee

Music runs in this family. Their mom was in the church choir, their dad in musical theatre, and their younger brother is in a rock band. In 2010, Megan moved to NASHVILLE to pursue a solo career. She later asked Katey and Ryan to join her and sing harmony on her album, which sparked their interest to become a trio. In 2016, they opened for LeAnn Rimes and toured the U.S. Katey later got married and now lives in Chicago, which makes working as a trio difficult. The Bundys are the first trio to audition for "The Voice" and they are hoping this opportunity will bring the band back together.

Song: "Songbird" by Fleetwood Mac
Performance:
Domenic Haynes, 18
Team Adam
Hometown: Upland, California
Resident: Tampa, Florida

Domenic was raised in an athletic household with a mom who was a track star and a football-standout dad. Domenic won every track meet he competed in until a hamstring injury during his freshman year of high school prevented him from running for two years. He turned to music and quickly fell in love with singing and songwriting. In his senior year, Domenic was able to run again and made it to state qualifiers. He planned to run track in college while working toward a scholarship to USC School of Music, but that plan is on hold while he pursues music full time.

Song: "I Need A Dollar" by Aloe Blacc
Performance:
Gyth Rigdon, 24
Team Blake
Hometown: Singer, Louisiana
Resident: Singer, Louisiana

Gyth is no stranger to hard work after growing up on his family's racehorse farm. A typical morning would start at 5 o'clock to feed, wash and train all 27 horses. Gyth found his musical calling at 15 when he joined THE FAMILY campfire jam session. At 17, his father booked him a three-hour show at a biker bar where he has been playing gigs ever since. Gyth took his show on the road for a few years and came back a hometown hero after sharing the stage with artists such as Jake Owen and Gary Allen. Gyth hopes "The Voice" will help launch his music career to the next level.

Song: "Drunk Me" by Mitchell Tenpenny
Performance:
Jej Vinson, 22
Team Kelly
Hometown: Davao, Philippines
Resident: Los Angeles, California

Jej was born and raised in the Philippines to a traditional Filipino family. He started singing karaoke after watching his parents sing in choir. When he was 15, his parents moved THE FAMILY to America for a better life and landed in South Dakota. At 18, Jej joined an a cappella camp in Los Angeles and knew music was his calling. THE FAMILY packed up and followed Jej to California where he studies music at USC and was formerly the music director of the school's a cappella group. Outside of school, Jej has a part-time job at a restaurant.

Song: "Jealous" by Labrinth
Performance:
Maelyn Jarmon, 25
Team John
Hometown: Frisco, Texas
Resident: New York, New York

Maelyn has always loved music, despite facing some challenges. At 2 years old, she had tubes inserted into her ears to treat recurring ear infections. The tubes ultimately damaged her eardrums and left her deaf in her right ear and with only 80% hearing in the left ear. But that didn't stop her. At 13, Maelyn started voice lessons and became heavily involved in musical theater. At 17, she was encouraged to try Broadway and her parents moved with her to New York City to give it a shot. At 21, she stepped away from Broadway and is now focusing on creating original music.

Song: "When We Were Young" by Adele
Performance:
Matthew Johnson, 25
Team Kelly (Stolen from Team John)
Hometown: Jacksonville, Florida
Resident: Jacksonville, Florida

Matthew found confidence in his voice when he was 15 through singing in church. He joined a Christian a cappella group and travels the country singing at events. He also sings background vocals for a local artist and tours. Outside of singing, Matthew holds a full-time job working for a collections agency. He uses his warm demeanor to call people behind on car payments and help get them caught up. Matthew comes to "The Voice" ready to give up his cubicle and focus on his singing career.

Song: "Never Too Much" by LUTHER Vandross
Performance:
Rod Stokes, 34
Team Adam (Stolen from Team Blake)
Hometown: Moss Point, Mississippi
Resident: Grand Bay, Alabama

Rod grew up watching his sister sing in church, but he was too shy to participate. Being a larger kid, he ended up spending most of his time playing football. He continued to play in college, but his football dreams were cut short when he had to drop out to take over THE FAMILY construction business. Without football in his life, Rod felt inspired to start singing and his family started their own traveling musical ministry. Rod met his wife on the road, and since being married he has lost over 100 lbs. Rod is ready to give his music career a real shot on "The Voice" stage.

Song: "Drunk Me" by Mitchell Tenpenny
Performance:
Shawn Sounds, 33
Team John
Hometown: Los Angeles, California
Resident: Houston, Texas

Shawn grew up around music and was enrolled in college-level classes for vocal performance, theater and dance by the time he was in fourth grade. In high school, his family moved to Florida where he joined a community choir that traveled the state singing with artists such as BARRY Manilow. After graduating college, Shawn took a break from music to focus on his career in teaching. He currently teaches middle school and loves singing and playing music for the kids. Recently, a video of him singing to his class went viral after peaking Snoop Dogg's interest.

Song: "Never Too Much" by LUTHER Vandross
Performance:
** Comeback Artist **
Savannah Brister, 17
Hometown: Memphis, TN
Resident: Memphis, TN
Savannah started her musical journey on the piano at age 7. At 13, she started singing to accompany her tunes and begged her parents for vocal lessons. A year later she was playing festivals and fairs around Memphis. She is very active in church and currently sings for the youth group and women's ministry. Savannah started home schooling in high school so she could focus on her music and is a self-proclaimed nerd. She embraces her quirkiness, but her mom says it's Savannah's smile that leaves a lasting impression.

Song: "When We Were Young" by Adele
Performance:
Related Articles View More TV

Stories