Stef Dawson And Penn Badgley Star In Vendetta Drama THE PAPER STORE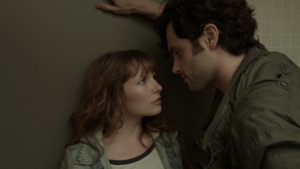 Academic cheating, romance and revenge intersect in the award-winning indie drama THE PAPER STORE, starring Stef Dawson (The Hunger Games franchise), Penn Badgley (Lifetime's upcoming series You, Gossip Girl) and Richard Kind (Inside Out, Argo). The vendetta drama is set to release across broad VOD streaming platforms, including Amazon and iTunes, beginning July 24, 2018.
THE PAPER STORE follows academic ghostwriter Annalee (Dawson), working in the shadows of a college campus until Sigurd (Badgley) hires her to author his entire graduate degree. Their working relationship evolves into a romance, until the affair turns sour and SECRETS start to spill. Annalee rats out Sigurd to Professor Kane (Kind), but instead of swift justice Kane has his own idea of what should happen next. Call it extortion; call it blackmail. Whatever you call it, the ugliness is just beginning.
THE PAPER STORE is based on Pew award-winner Katharine Clark Gray's original play, 516 [five sixteen]. She produced the project with her creative partner and husband Nicholas Gray, who also directed, under their Uncompromised Creative banner.
THE PAPER STORE received numerous awards on the festival circuit, including 'Best Drama' at Manhattan Film Festival, 'Best Drama' at Los Angeles Film Review and 'Best Foreign Drama' at Fort Worth Indie Film Showcase. Badgley and Dawson took home 'Best Actor' and 'Best Actress' respectively at Oxford International Film Festival, along with a 'Special Jury Mention' for Badgley at the Manchester Film Festival.
Besides earning awards, the film has also been resonating with audiences and for good reason. Katharine Clark Gray explains, "In addition to being a juicy revenge drama, the film also shines a light on the issues of spiraling tuition costs and student debt-issues that will ring out to anyone managing an unwieldy student loan or struggling to finance someone's higher education."
Behind the camera, the Uncompromised team brought in as principal producers Emmy-nominated producer Jonathan Gray (HBO's Nightingale), no relation; producer / casting legend Bonnie Timmermann (Heat, BULL Durham, Miami Vice) and producer John Grossman of Front Wheel Productions; as well as veteran cinematographer and lighting designer Richard Sands as director of photography.
About Uncompromised Creative
Uncompromised Creative is Nicholas Gray and Katharine Clark Gray, a husband-and-wife team based in Brooklyn, NY. They make films, plays, and assorted web content, and provide script and production consultation services to a range of fellow creatives. Nicholas and Katie believe that compromise means each side ends up disappointed. Consensus, on the other hand, gets everyone on the same team. Because when you're jumping a gorge, you don't go halfway. uncompromisedcreative.com
THE PAPER STORE will be available for VOD streaming on Amazon and iTunes beginning July 24, 2018.
For more about THE PAPER STORE visit: www.UncompromisedCreative.com