Shane Dawson, Ninja, and More Take Home STREAMY AWARDS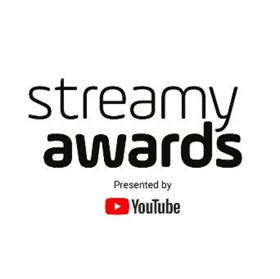 dick clark productions and Tubefilter announced the winners of the final eighteen Streamy Awards categories, presented live from The Beverly Hilton. The Streamy Awards, honoring the best in online video and the creators behind it, was streamed live globally on YouTube and hosted by comedy quartet The Try Guys.
The show featured many memorable moments: Comedy quartet The Try Guys hosted their first ever awards show with one group member, Eugene Lee Yang, in full drag; trophy presenter Charo kept the audience on their toes with multiple outfit changes; Olympic Silver Medalist and freestyle skier Gus Kenworthy presented worthy canine Todd, the Golden Retriever, with the first-ever "Milk-Bone® Dog of the Year Honor;" Talent on-stage including Mamrie Hart, Grace Helbig, Liza Koshy and DeStorm Power urged viewers to get out and vote; and R&B singer-songwriter-producer Montell Jordan closed out the show with a throwback performance of his 90's platinum-selling hit single, "This Is How We Do It."
The biggest names in online video and BEYOND came out to celebrate at the Beverly Hilton for this year's show. The presenter list included Kalen Allen, BlameItOnKway, Molly Burke, Dobre Brothers, Miles Brown, Sofie Dossi, Teala Dunn, Eva Gutowski, Hannah Hart, Mamrie Hart, Gabbie Hanna, Grace Helbig, Katie Angel, Katya & Trixie, Gus Kenworthy, Liza Koshy, The Cast of Ladylike, LaurDIY, Annie LeBlanc, Elle Mills, Laura Marano, Tana Mongeau, Jason Nash, Tyler Oakley, Anthony Padilla, Trisha Paytas, Poppy, Andrea Russett, Patrick Starrr, Alyson Stoner, Members of the Sugar Pine 7 cast, Christine Sydelko, Nick Viall, Sebastian Villalobos and Alex Wassabi.
Tonight's winners included:
OVERALL
Breakout Creator
Bretman Rock
Dobre Brothers
Elle Mills
***Emma Chamberlain
Ninja
Comedy
***Brandon Rogers
Hannah Stocking
Jenna Marbles
Jack Douglass
Lilly Singh
Documentary
60 Second Docs
New York Post's Extraordinary People
MEL Films
The Mortified Guide
***Shane Dawson's "The Truth About Tanacon"
First Person
Alex Wassabi
Casey Neistat
***David Dobrik
Emma Chamberlain
Gabbie Hanna
SUBJECT
Dance brought to you by Just Dance® 2019
1MILLION Dance Studio
Dytto
Kaycee Rice
Kyle Hanagami
***Matt Steffanina
Fashion
Cheap Thrills with Tabasko Sweet
IAMKARENO
Koleen Diaz
***Niki and Gabi
TheNotoriousKIA
Food
Binging with Babish
Cooking with Marshmello
Bon Appétit's Gourmet Makes
The Icing Artist
***Worth It
Health and Wellness
Buff Dudes
Doctor Mike
How to ADHD
***Jay Shetty
Kati Morton
Lifestyle
Brooklyn and Bailey
Eva Gutowski
Jess and Gabriel
***Merrell Twins
Mr. Kate
Pop Culture
Do They Know It?
Game Theory
Sneaker Shopping
Super Carlin Brothers
***Vogue's 73 Questions
Science or Education
AsapSCIENCE
The King of Random
Mark Rober
***Marques Brownlee
Nas Daily
SOCIAL VIDEO
Storyteller
Amanda Cerny
***Gabbie Hanna
Jeffree Star
Shay Mitchell
Tana Mongeau
PERFORMANCE
Acting in a Comedy
Arden Rose - Mr. Student Body President
***Liza Koshy - Liza on Demand
Melvin Gregg - God's Son
Nate Contreras - Cheap Thrills with Tabasko Sweet
SungWon Cho - Anime Crimes Division
Acting in a Drama
***Anna Akana - Youth & Consequences
Annie LeBlanc - Chicken Girls
DeStorm Power - Caught
James Bland - Giants
Jesse Ridgway - My Virtual Escape
Ensemble Cast
Caught
***David's Vlog
Escape the Night
Ladylike
The Try Guys
AUDIENCE CHOICE
Audience Choice: Creator of the Year
Andrei Terbea
Casey Neistat
David Dobrik
Dolan Twins
Emma Chamberlain
Gabbie Hanna
Liza Koshy
Ninja
***Shane Dawson
Safiya Nygaard
Audience Choice: Show of the Year
Blippi
Escape the Night
F2 Finding Football
Good Mythical Morning
The Philip DeFranco Show
REACT
Rooster Teeth
***The Try Guys
Yappie
The Young Turks
Milk-Bone® Dog of the Year Honor
Louboutina the Hugging Dog
Pierre Don't Care
***Todd the Hero Dog
For a full list of winners for the 8th Annual Streamy Awards, please see below.
The 8th Annual Streamy Awards is executive produced by dick clark productions' Ariel Elazar, Rika Camizianos, Alexi Mazareas and Michael Nieporent as well as Streamy Awards founders Drew Baldwin and Joshua Cohen.
For more information, visit www.streamys.org.Join the conversation on social media with #streamys and be sure to follow Streamy Awards on YouTube, Facebook, Twitter, Instagram and Snapchat.
Related Articles View More TV

Stories