SciFi Adventure TIME TRAP Takes Home Jury Prize at Hollywood Film Festival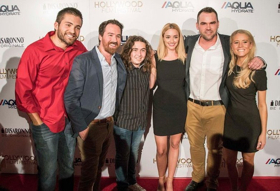 On Saturday Night, Hollywood icon Ed Asner presented award-winning Texas directors Mark Dennis and Ben Foster with the Jury Prize for "Most Innovative Narrative Feature" at the 20th Annual Hollywood Film Festival, which they accepted for their film, TIME TRAP. The event was held at Paramount Pictures and attended by Time Trap cast members Cassidy Gifford (The Gallows), Reiley McClendon (Pearl Harbor), Brianne Howey (The Exorcist Series), Max Wright (Freaks of Nature) and producer Zachary Matz (City Island).
Festival CEO Brad Parks said, "Time Trap looks like an early Spielberg movie and takes the audience through a suspenseful and fun adventure that leaves people feeling good about the future of our world... and these innovative and exceptional young filmmakers certainly left us all feeling very inspired about the future of Hollywood." Time Trap follows a group of archaeology students searching for their professor who has disappeared while exploring a mysterious cave in rural Texas. When the students become trapped underground, they discover a rift in the space-time-continuum causes time to pass differently inside the cave.
ABOUT THE HOLLYWOOD FILM FESTIVAL In its 20th year, the Hollywood Film Festival's mission is to discover, foster and support independent artists in film, theater and music through educational or artist programs, and by providing a platform for artists to share their stories with the world.
ABOUT MARK DENNIS AND BEN FOSTER Time Trap is the second feature for University of Texas graduates, Mark Dennis and Ben Foster. Their first film, Strings, garnered 13 awards at 18 film festivals across the country, including 3 Audience Awards, 2 Best Director Awards, Best Thriller, and a Special Jury Prize from the Honolulu Film Festival. It also played to sold out audiences and received critical acclaim at the Hollywood and Austin Film Festivals.
In 2015, Foster and Dennis re-teamed to shoot Time Trap, which celebrated its World Premiere at the 2017 Seattle International Film Festival, screened to critical acclaim at the Woodstock and Austin Film Festivals, and won the 2017 Jury Prize for Most Innovative Film from the 20th Annual Hollywood Film Festival.