RLJE Films Presents SLEEP NO MORE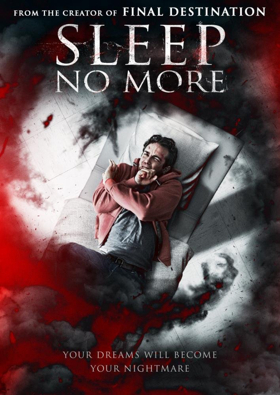 RLJE Films (NASDAQ: RLJE) will release the horror film SLEEP NO MORE on VOD, Digital and DVD on October 2, 2018. Written by Jason Murphy (The League of Extremely Ordinary Gentlemen) and directed by Phillip Guzman (Dead Awake), SLEEP NO MORE stars Keli Price ("Side Effects"), Lukas Gage (Assassination Nation), Yasmine Aker (12 Strong), Brea Grant ("The Arrangement"), Stephen Ellis ("You're the Worst") and Christine Dwyer ("Jesus Christ Superstar Live in Concert"). RLJE Films will release SLEEP NO MORE on DVD for an SRP of $27.97.
In SLEEP NO MORE, five graduate students are conducting a study to prove the theory that once you've passed 200 hours without sleep, you will never need sleep again. As the hours tick by and their struggle to stay awake intensifies, they each start to have strange and unsettling experiences. Visions from the past, violent impulses and terrifying waking nightmares begin to take hold and turn this experiment into a desperate fight for survival.
ABOUT RLJE FILMS
An RLJ Entertainment, Inc. brand (NASDAQ: RLJE), RLJE Films new and upcoming features include Terminal starring Margot Robbie, Simon Pegg and Mike Myers and written & directed by Vaughn Stein; and the 2018 Sundance Film Festival hit Mandy from writer/director Panos Cosmatos and starring Nicolas Cage, Andrea Riseborough and Linus Roache. RLJE Films' past films include I Kill Giants starring Zoe Saldana, Pilgrimage starring Tom Holland, and writer/director S. Craig Zahler's Brawl in Cell Block 99 starring Vince Vaughn and Bone Tomahawk starring Kurt Russell. These titles are distributed in multiple formats including theatrical, VOD, DVD, Blu-Ray, and digital download. www.us.rljentertainment.com.