NikoFrank Productions Presents LADIES IN ACTION With Star Director Victoria Clark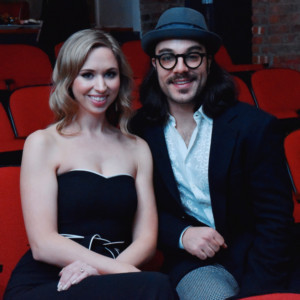 Maggie Politi & Spiro Marcos, co-founders of NikoFrank Productions, presented the screening of a female film making initiative, Ladies In Action. It's a series of 4 short films, eclectic in genre, all written by, directed by, and starring women.
Tony Award Winner VICTORIA Clark (Light in the Piazza) named star director on My First Start starring Brittany Jeffery ("Law & Order SVU") & co-written by Jamie Buxton & VICTORIA Clark.
Victoria Clark is a four time Tony nominated actress & Tony Award Winner for her work in Light In the Piazza, Gigi, Cinderella, & Sister Act. She has appeared in 12 Broadway plays & musicals. Her tv/film credits include Wanderland, The Happening, "Homeland", "Law & Order SVU", "The Good Wife", "Law & Order" & several more.
The other films in the series include The Consultant written by & starring Sarah Pribis (HQ Trivia Host) & directed by comedy director Lauren Greenhall (National Geographic's "Wild After Dark" & The New Yorker's "Daily Shouts" ). Tell Me written by & starring Virginia Cavaliere (Mamma Mia) & directed by Emily Weinstein (Bombay Arthouse). BFF written by Maggie Politi (award winning comedy writer, Berlin Flash Film Festival & Katra Film Series) starring Manon Mathews (Holiday Breakup, Netflix) & directed by Megan Macphee (Creator of award winning web series UnBalanced).
NikoFrank Productions recently premiered their comedic short film BFF at The Big Apple Film Festival in NYC. It will go on to the New York City International Film Festival on February 25th. It can also be found on Roku until February 28th thanks to The NYWIFT. Maggie Politi recently won Best Female Filmmaker at The Katra Film Festival Grand Finale for her work on Never Have I Ever & Ladies In Action.
Watch comedic short film BFF here:
Their work has been official selections in 18 international festivals including the International Online Webfest, The LA CineFest, The Audience Awards 2017 Comedy Festival, The Miami Independent Film Festival,The New York Short Film Festival (NYSFF), Austin Comedy Short Film Festival, Berlin Flash Film Festival, Women's Only Entertainment Film Festival, Florida Horror Film Festival, NY Indie Theatre Festival, Katra Film Series, & The Portland Comedy Film Festival.
Ladies in Action was presented by NikoFrank Productions with executive producer Amy Schwegel. It was produced in association with Mighty Lucky Studios alongside executive producers Beau Allulli, Rachel Allulli, David Levine, Yasemin Tulca, & with co-producer Bespoke Entertainment.
Special thanks to Sprinkles Cupcakes, Kind Bars, Chipotle, Doughnut Plant, California Pizza Kitchen, Bobo's Bars, Pick a Bagel, & Schmackary's for supporting women in film.
Photography by Suzana Culum