New Female Led Comedy OVERTHINKING WITH KAT & JUNE Now Streaming On YouTube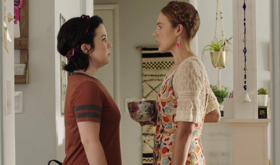 From Youtube Originals and AWESOMENESSTV comes 'Overthinking with Kat & June,' a new female-led comedy now streaming on Youtube Premium. The half-hour comedy series focuses on the inner thoughts of two women as they form a strange but beautiful friendship.
You can watch the first episode of 'Overthinking with Kat & June' here.
The hopes, dreams, and fears (mostly fears) of Kat & June's inner lives are heard out loud in this comedic series about the birth of a female friendship. Tenea Intriago ("Law & Order: SVU") has been cast as Kat, Alexia Dox ("Quick Draw") as June. Rounding out the cast is Justin Kirk ("Weeds") as David, Sasheer Zamata ("Saturday Night Live") as Tiff, Emily Hinkler ("The Good Doctor") as Tessa, and Elizabeth Hinkler ("The Good Doctor") as Molly. 'Overthinking with Kat & June' is created by Mackenzie Yeager ("Girl Meets World," Hulu's "All Night").
YouTube Premium is a subscription service that offers access to Youtube Original series and movies, a streaming music platform, and an uninterrupted, ad-free experience across all of YouTube. Youtube Premium is currently available in the U.S., Australia, Austria, Belgium, Brazil, Canada, Chile, Colombia, Denmark, Finland, France, Germany, Ireland, Italy, Japan, Korea, Luxembourg, Mexico, Netherlands, New Zealand, Norway, Peru. Portugal, Russia, Spain, Sweden, Switzerland, the U.K. and Ukraine. www.youtube.com/premium
Launched in May 2005, Youtube allows BILLIONS of people to discover, watch, and share originally-created videos. Youtube provides a forum for people to connect, inform, and inspire others across the globe and acts as a distribution platform for original content creators and advertisers large and small. Youtube is a Google company.
Awesomeness, a subsidiary of Viacom Inc., is a media company serving the global Gen Z audience through its film and television studios. Since 2012, Awesomeness has created original programming and cultivated an audience made up of one of the most coveted and difficult to reach demographics. As a leading media brand for this generation, Awesomeness' world-wide distribution footprint spans owned, social and premium SVOD platforms. The company also includes a creative agency, creator network, and brand partnerships division. Awesomeness is headquartered in Los Angeles, with additional offices in New York and London.
This message contains information which may be confidential and privileged. Unless you are the intended recipient (or authorized to receive this message for the intended recipient), you may not use, copy, disseminate or disclose to anyone the message or any information contained in the message. If you have received the message in error, please advise the sender by reply e-mail, and
DELETE
the message. Thank you very much.
Related Articles View More TV

Stories
More Hot Stories For You