NBC's Writers on the Verge Program Names 2018-19 Class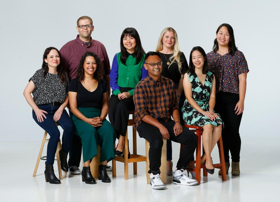 NBC's Writers on the Verge has named comedy writers Bernard Badion, Edward Excaliber, Joanne Lee and Sara White, and drama writers Pamela García Rooney, Marissa Lee, Tiffany Shaw Ho and Margot Ye as its 2018-19 class. They were chosen from an applicant pool of more than 2,200 submissions to be part of the long-tenured initiative for emerging diverse writers.
Now in its 13th year, Writers on the Verge is an annual program for talented, aspiring writers of diverse backgrounds who are "on the verge" of breaking out, but would benefit from a final polish of their writing and pitch presentation skills to equip them for a successful career in television. The program is part of the network's robust talent infusion programs (NBC TIPS) that discover, develop and advocate for onscreen and behind the scenes talent of diverse backgrounds.
Writers on the Verge has a proven track record of developing successful television writers; graduates have been consistently offered staffing positions on top series immediately following completion of the program.
Seven writers from the previous two Writers on the Verge classes are staffed on primetime series and late night shows: Mnelik Belilgne (Apple's animated series "Central Park"), Melanie Boysaw (ABC's "Black-ish"), Allyssa Lee (The CW's "Charmed"), Eugene Garcia-Cross (Disney Channel's "Gabby Duran & the Unsittables"), Rayna McClendon (Syfy's "Deadly Class"), Eileen Shim (Hulu's "Light as a Feather") and Mellori Velasquez (NBC's midseason drama "The Enemy Within").
"I cannot understate the importance of giving talented writers from diverse backgrounds the tools to take their careers to the next level," said Karen Horne, SVP, Programming Talent Development & Inclusion, NBC Entertainment and Universal Television. "Our track record of preparing our Writers on the Verge to be staffed on a wide variety of series underscores our program's effectiveness in increasing the pipeline of skilled diverse writers."
For six months, the new Writers on the Verge class will learn how to develop pilot scripts guided by Horne and independent story and script consultant Jen Grisanti, a former CBS/Paramount and Spelling Television executive. They will also learn how to effectively pitch their ideas to television executives and receive valuable feedback on their scripts and pitch styles from industry professionals including network executives, showrunners and agents. The class also receives individual mentoring from NBCUniversal programming executives. At the end of the program, the writers will be considered for available writing assignments on an NBC series.
The 2018-19 Writers of the Verge are:
Bernard Badion: Badion most recently served as an assistant to "Fresh off the Boat" writer-co-executive producer Sanjay Shah. He has also worked as a writer's production assistant at Netflix's "One Day at a Time" and a production assistant at "Top Chef Masters." Badion received his Master of Fine Arts from Loyola Marymount.
Edward Excaliber: A comedy writer of Puerto Rican-Italian descent, Excaliber started his career writing full-length and short plays in Miami. After writing a couple of short films, Excaliber attended the American Film Institute Conservatory, graduating in 2016, where he focused on comedy features and pilots. The Miami native was also a member of the National Hispanic Media Coalition's 2017 TV Writers Program.
Pamela García Rooney: García Rooney was a high school English teacher before she was selected for the National Hispanic Media Coalition's TV Writers program. She now writes full-time drawing upon her Mexican-American culture and unique upbringing. The Laredo, Texas native earned a Master of Arts in school counseling after completing her Bachelor of Arts in English from the University of Texas, Austin. She now lives in Los Angeles with her husband and two young daughters. García Rooney is represented by Paradigm Talent Agency and Brillstein Entertainment Partners.
Joanne Lee: The daughter of South Korean immigrants, Lee worked in finance, digital media and nonprofit industries before deciding to move to Los Angeles to pursue comedy writing. She was recently a 2018 Coalition of Asian Pacifics in Entertainment (CAPE) New Writers Fellow and wrote a freelance episode for "Andi Mack." The New York native is represented by APA.
Marissa Lee: Lee is a writer's assistant on Netflix's "Madam C.J. Walker" limited series. She previously worked as a writer's assistant on "Counterpart" at Starz. The Princeton graduate is represented by Industry Entertainment.
Tiffany Shaw Ho: Shaw Ho recently wrote a freelance episode for a forthcoming Netflix International Original Series. She is a graduate of the CAPE New Writers Fellowship and a finalist in the Slamdance Screenplay Competition. After graduating from Cornell with an economics degree, the Maryland native decided to pursue her passion for the arts which included receiving a Master of Fine Arts from USC's School of Cinematic Arts and studying painting in Taiwan. Shaw Ho is represented by Gramercy Park Entertainment.
Sara White: White is a showrunner's assistant on CBS' upcoming "Blood & Treasure." An avid traveler, she worked as a travel writer and co-authored two published travel guides for "Off Track Planet." She also taught English in Taiwan and Thailand and studied Balinese theater and dance at the Indonesian Arts College in Denpasar. The native Californian received her Master of Fine Art in Screenwriting from UCLA after living in New York for a decade.
Margot Ye: A South Florida native and first-generation Chinese American, Ye decided to follow her passion for the arts after pursuing a business degree from the University of Pennsylvania. After working at a talent agency, production company and post house, she studied at UCLA's School of Theater, Film and Television. Supported by an Alfred P. Sloan Foundation grant, her short film "Out of the Blue" received a DGA Student Film Award, LACMA's Young Director Art of Film Award and three UCLA Spotlight Awards for Best Narrative, Best Screenplay and Best Visual Design. She has produced multimedia content for media-tech companies including Hulu, Google, Niantic and Headspace.
Related Articles
View More TV

Stories