LOST GULLY ROAD Wins Best Feature Film at 14th Annual LA Femme International Film Festival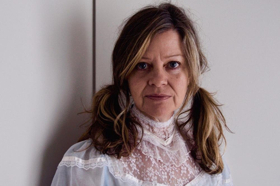 Blumhouse Productions' Jason Blum reneged on his claim that there are no women who can direct horror films, and Australian director Donna McRae should be on his radar. Her recent narrative film Lost Gully Road, competing for the AACTA award for Best Indie Film, the Australian Oscars, just took the top prize at the LA Femme International Film Festival, on Sunday, October 14th in Los Angeles.
Lost Gully Road?tells the story of Lucy, a directionless young woman who travels to a secluded cottage in the forest to wait for her sister. ?With no television and little communication to the outside world she spends her days alone and drinking to pass the time. That is, until her unexpected host decides to keep her company...As the sophomore feature of filmmaker Donna McRae, Lost Gully Road is visually and tonally a striking shift from her 2011 debut Johnny Ghost, yet both movies share a fascination with haunted women struggling with issues of control, identity, reality and history. The film depicts the strange sense of isolation and entrapment so specific to Australian cinema and is reconfigured in a horror context to grant McRae a voice to speak of the ubiquity of sexual violence and the subjectivity of trauma in a unique way.
Written by McRae and Michael Vale, Lost Gully Road stars Adele Perovic (The Code), John Brumpton, co-star of the Australian cult film The Loved Ones, and legendary Aussie actress Jane Clifton (Prisoner/Cell Block H). According to journalist Alexandra Heller-Nicholas: "Like all great horror films, Lost Gully Road speaks a profound truth through its employment of the supernatural and the fantastic. Spooky, tense and at times extremely uncomfortable, Lost Gully Road forces us to see things that we might otherwise not believe are there, and to experience up close the subjectivity of what it feels like to live through the incomprehensible."
About Donna McRae
Melbourne-based filmmaker Donna McRae is undaunted by 'swimming against the tide'. She lectures at Deakin University and works across color, black & white, long takes and multi-channel video with exceptional fluency. Her particular interrogations of ghosts, 19th century gender roles and post-punk rock'n'roll offer a surprising and powerful potential.
After graduating from the Victorian College of the Arts, Donna had several shorts selected for local and international festivals while her first micro-budget feature,?Johnny Ghost?(2012), won seven awards and two Special Jury Prizes. Her video installations have screened in galleries worldwide and she makes collaborative works and music videos with visual artist Michael Vale.
Her second micro budget supernatural feature?Lost Gully Road?is on the festival circuit and is being distributed by Umbrella Entertainment in Australia. She has just won Best Feature at LA Femme International Film Festival in Los Angeles. Her feature documentary?Cobby: The Other Side of Cute?has recently premiered in San Francisco. She is in development with the Acme Film Company on her next project,?Kate Kelly, a 'ghost' western about Ned Kelly's sister which was selected forFrontiéres co-production market at Fantasia International Film festival in July 2016, and she is also part of a female Horror Anthology project with Unicorn Pictures.
About LA Femme Int'l Film Festival
Now in its 14th year, the LA Femme International Film Festival is a premiere festival that focuses on women filmmakers who create commercial films for a worldwide audience. The festival offers a unique opportunity for women filmmakers who seek a more creative approach to filmmaking as well as domestic and international film distribution. Along with TMS Entertainment USA, other festivals sponsors include: Sony Diversity, Writer's Guild of America (WGA) Women's Committee, Screen Actors Guild -American Federation of Television Radio Artists (SAG-AFTRA) Diversity, Eleven Arts Animation Studio and Columbia College Hollywood.
To interview Donna McRae or for more information on the film contact Deborah Gilels: ddgilels@prodigy.net
More about the film at: www.lostgullyroad.com