Disney Junior Marks the First Kids Television Premiere in Space With Screenings on the International Space Station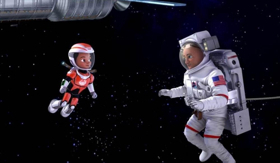 Lauded for inspiring young viewer's imaginations about space, Science and technology, Disney Junior's "Mission Force One," the latest chapter of acclaimed series "Miles from Tomorrowland," marked the first kids television premiere in space, when an episode entitled "The Space Station Situation" debuted to astronauts on board the International Space Station earlier this week. The episode, which features an exact replica of the space station using NASA's original designs, was also shown at a private screening event at the nonprofit Space Center Houston, the official visitor center for NASA Johnson Space Center, this past weekend before making its television debut, MONDAY, MAY 7 (5:30-6:00 p.m. EDT), on Disney Junior and in the DisneyNOW app.
In the episode, young adventurer Miles and his friends travel back in time to prevent the International Space Station from getting stuck in the future, with help from the astronauts on board. Revered space and Science figures voicing themselves include NASA astronauts Scott Kelly, Jeanette Epps and Yvonne Cagle; the European Space Agency's astronaut Samantha Cristoforetti from Italy; Russian cosmonaut Mikhail Kornienko; NASA space station flight director Holly Ridings; and NASA's Jet Propulsion Laboratory's Randii Wessen, Diana Trujillo, Bobak Ferdowsi and Kevin Hand. Bill Nye recurs as Professor Rubicon and the episode also features GRAMMY® Award-winning, world-renowned banjo player Bela Fleck.
"Mission Force One" follows Miles Callisto as he leads a highly skilled team of friends, each with their own unique STEAM abilities, on exciting outer space expeditions. Experts from NASA, NASA's JPL, the Space Tourism Society and Google serve as consultants on the series, which incorporates unique space and Science facts into each storyline.

Created and executive produced by Emmy®-nominated Sascha Paladino ("Henry Hugglemonster"), the series is a production of Wild Canary in association with Disney Junior.
Photo Credit: Disney Junior