Cynthia Nixon, Shaq, Bono & More To Appear in New Public Television Series POETRY IN AMERICA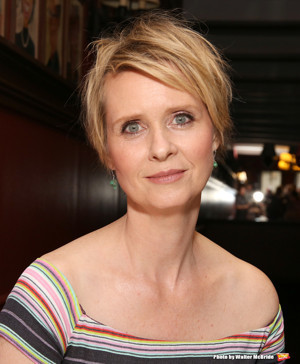 NBA Hall of Fame basketball star and platinum hip-hop artist Shaquille O'Neal reads the immersive Edward Hirsch poem "Fast Break" about the universal experience of playing basketball in a remarkable new 12-part television series Poetry in America that aims to bring poetry to millions of viewers.

New episodes of Poetry in America will be on public television stations nationwide starting Wednesday, March 28 through Wednesday, May 2. (Check local listings as some stations will debut the series at other times during the spring.)
The series includes in-depth conversations and poetry readings with celebrities, poets, and global figures, including U2 lead vocalist Bono, shoe designer Stuart Weitzman, former United Nations Ambassador Samantha Power, U.S. Senator John McCain, hip-hop recording artist/producer Nas, singer/songwriter Regina Spektor, The New York Times opinion columnist David Brooks, and more.
Words jump off the page, and meanings comes alive, as viewers experience the visual impact, music, and historical depth of the season's twelve poems. Each episode of Poetry in America features a poem read by a public figure, with a conversation led by Elisa New, series host and director and the Powell M. Cabot Professor of American Literature at Harvard University.
"Poetry is human language worthy of being shared. It's that sharing that I wanted this series-- more than anything else-- to be about," said Elisa New. "Each episode of Poetry in America says to the viewer: reading a poem in community with others enriches your life and deepens your understanding of the world."
Filmed on location, and including rich archival materials and animation, the series finds Emily Dickinson in Amherst, Carl Sandburg in urban Chicago, Langston Hughes in Harlem, and Galway Kinnell in the marshlands of Cape Cod. A basketball court is the setting for "Fast Break," and viewers see "The New Colossus" from the Staten Island Ferry."
Episode 1 begins with a clip of Cynthia Nixon playing Emily Dickinson the film "A Quiet Passion" and ends with an overlapping reading of the poem and cello performance by Yo Yo Ma. In episode 9, U.S. Senator John McCain discusses poetry's special resonance for those behind bars, joined by Playwright Anna Deavere Smith, poets Reginald Dwayne Betts and Li-Young Lee, as well as four exonerated prisoners.

Poetry in America is produced by Verse Video Education and presented by WGBH Boston. Major support for Poetry in America is provided by the Dalio Foundation. Support also provided by the Poetry Foundation, Nancy Zimmerman, Max Stone, and Deborah Hayes-Stone.
For more information, visit poetryinamerica.org and follow Poetry in America on Facebook, Instagram, and Twitter.
Photo Credit: Walter McBride