Click Here for More Articles on RATINGS WATCH
CBS's 60 MINUTES Makes Top 10 for Sixth Straight Week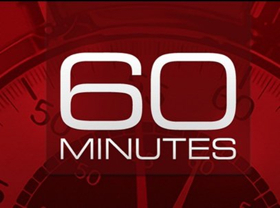 60 MINUTES made Nielsen's Top 10 list for the sixth week in a row. The CBS newsmagazine finished at #7 with an audience of 10 million viewers, according to Nielsen live plus same day ratings for Sunday, Dec. 10. It was the ninth time in 11 weeks that 60 MINUTES made the list, four times at #5 or better. The CBS newsmagazine was Sunday's #1 non-sports prime program.
Sunday's broadcast featured Lesley Stahl's story on the Russian opposition leader Alexey Navalny, Bill Whitaker's report on Calif. Gov. Jerry Brown and a profile of veteran actor Donald Sutherland by Anderson Cooper. Jeff Fager is the executive producer of 60 MINUTES, America's #1 news program. 60 MINUTES, the most successful television broadcast in history, began its 49th season in September 2016. Offering hard-hitting investigative reports, interviews, feature segments and profiles of people in the news, the broadcast begun in 1968 is still a hit in 2016, making Nielsen's Top 10 nearly every week. Over the 2015-2016 season,
60 MINUTES
continued its dominance as the number-one news program, drawing an average of 12.3 million viewers per week - almost twice the audience of its nearest network news magazine competitor and three million viewers ahead of the most-watched daily network evening news broadcast. The average audience for a
60 MINUTES
broadcast still dwarfs the biggest audiences drawn by cable news programs.
Related Articles