Click Here for More Articles on TV/Movies - TV Reviews
BWW Review: The Secret is Out on This Week's THE FLASH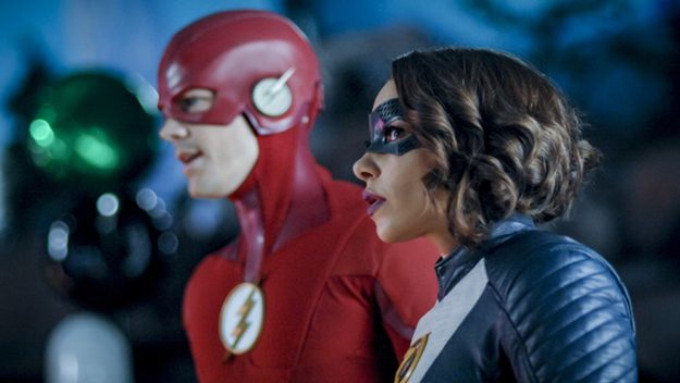 This episode felt like it could have been the season finale. Team Flash tries to track down Cicada 2.0, Nora tries to tell her father the secret she's been keeping from him all season, Cisco is starting to get serious with Kamilla, and Sherloque finally gets the answers he's been searching for.
In a panic when Cicada 2.0 (a.k.a. Grace Gibbons from the future) showed up in 2019, Nora runs back to 2049 to ask Thawne what's going on. He doesn't have an answer for her. Thawne tells Nora that he's out of time, that he can't help her anymore, and that she should just tell her father the truth. Nora realizes Thawne is probably right and spends the rest of the episode trying to find the opportune moment to tell BARRY what she's been hiding all season.
Back in 2019, while Team Flash tracks down Grace from the future, Grace tracks down the metahuman, Vickie, who accidentally killed her parents in an explosion. As Cisco said, "time travel sucks." Orlin tries to talk her out of it but he's still recovering from surgery last week so he has to stay holed up wherever Grace has him. Thankfully, Team Flash gets to Vickie before Grace does so the CCPD offers her and her family protective custody but Vickie hasn't told her husband and daughter about her powers and refuses. Because Nora is able to feel Grace's presence since Nora went inside Grace's brain, Team Flash is able to get almost everyone away from Grace before she shows up at Vickie's daughter's birthday party, but Vickie's daughter is injured.
Meanwhile, Cisco and Kamilla are getting serious, they even made their relationship social media official. Ralph, who we haven't seen in a couple of episodes, tries to get Cisco to introduce Kamilla to the world of The Flash. But Cisco's not interested. He likes Kamilla not knowing about his power, he likes feeling like a normal dude. But Ralph questions how long he'll be able to stop his two worlds from colliding.
Later, Grace tracks down Vickie and her family at the hospital. She threatens to kill Vickie's husband unless she surrenders. An epic battle ensues outside the hospital and Grace sends her dagger chasing XS and Vickie who eventually make it back to S.T.A.R. Labs safe. Orlin, with a sudden change of heart after taking the cure, shows up at the hospital and tries to talk Grace down. But Grace is merciless. She turns her dagger on her uncle, stabbing him in the back and killing him.
Back at S.T.A.R. Labs, Cecile senses that Nora wants to tell the team something. Unable to get the words out, Sherloque, who spent the entire episode piecing together the last bit of the journal puzzle, reveals that Nora has been working with Eobard Thawne. We've been waiting for this bomb to drop all season. Sherloque takes Team Flash through everything in classic Detective SHERLOCK Holmes style. BARRY doesn't say anything and throws Nora in the pipeline. The look of hurt and BETRAYAL on Barry's face really says it all.
Photo Credit: Sergei Bachlakov/The CW