Victoria Opera House Brings Classical Music To Young Audiences With An Experiential Format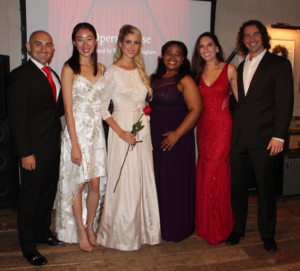 Manhattan-based soprano by way of Westchester County, Victoria Miningham, is a professional opera singer and entrepreneur with the ambition to share her passion of classical music with her peers. In September of 2017, Miningham produced an event in Manhattan at the members-only club, Soho House, that set the stage for what later became Victoria Opera House (VOH). This inaugural event presented a mix of opera singers from around the world including Miningham to perform almost a dozen classics. Since then, there have been two standing-room-only events at the popular Club which targets millennials in creative industries.
The second event produced by Miningham was during the fall of 2018 which featured the Martina Arroyo Foundation (www.martinaarroyofdn.org) and a new mix of singers from the Metropolitan Opera House. Artists included Jessica Sandidge, who recently performed in the debut of Marnie by Nico Muhly at the Metropolitan Opera. That evening, a Tenor from South Korea, WooYoung Yoon, also performed. He is a 2018-2019 Region Finalist in the Metropolitan Opera National Council Auditions. There were a total of 7 singers including Miningham to promote the Martina Arroyo Foundation's Prelude to Performance and the upcoming season of the Metropolitan Opera. The Met's Young Associates provided brochures and Victoria Opera House gave away two tickets to the Metropolitan Opera.
As Founder and Director of Victoria Opera House, Miningham says "Victoria Opera House is a reinvention of a night at the opera. My goal is to expose a new generation to the elegance, sophistication and of course the enjoyment of opera." VOH's most recent event took place on February 27 with a wine program presented by Adam Friedberg from AP Wine Imports (apwineimports.com) and Laura Carlisi, Soho House's New York Wine Manager. The event in February included a pianist and a living statue, a performance artist that mimicked a grapevine on stage. The songs were sung in three different languages matching the country of the wines, three singers from Bare Opera (bareopera.org) had a chance to perform and promote their company. The event was in partnership with the Soho House wine committee.
VOH is focused on millennial outreach programs which support local opera companies and music foundations. Events take place in settings where attendees are able to form stronger bonds with both the artists and their art. "Both the musicians and millennial generation benefit from this experience and its accessibility. I love my [New York] community and this art. So I want to ensure Opera is shared in the right way and that it leaves a positive impact," says Miningham who has provided free concerts to nursing homes and schools since she started singing.
The next VOH event is Sunday, March 10, with the Foundation for the Revival of Classical Culture at St. John's Church (218 W. 11th St., at Waverly Place) from 3 pm until 4 pm. Singers will perform all the great operatic classics. "The Foundation for the Revival of Classical Culture is thrilled to collaborate with Victora Opera House in our 'Bach to the Future' series this Sunday. I attended Victoria's Soho House event in September 2018 and was absolutely blown away by the caliber of both the performers and program," said Lynn J. Yen, Foundation for the Revival of Classical Culture. She continued, "It is obvious to me that Victoria's dedication to making the great and wonderful tradition of Western Classical Opera the cultural experience of millennial, will bear fruit. Our Foundation's mission is to make Classical Culture-the most inspired expression of human creativity belonging to mankind, of which Opera is an important part-the providence of every person, especially the young. This is why we are excited to work with Ms. Miningham. We both understand that not only can great music and culture enrich young people's lives, but they belong to everyone. I am very much looking forward to a long and fruitful collaboration".
VOH has provided events for real estate companies, weddings, and corporate holiday performances. Also featured on the Knot, VOH offers classical vocalists as well as musicians able to play the cello, fiddle, flute, guitar, harp, keyboard, organ, percussion, piano, saxophone, trumpet, and violin under the live music category. Events are tailored for clients who want to add the WOW! factor. Elements like Living Statues or Dueling Pianists can be incorporated into special event packages. VOH events mix opera with contemporary lifestyle by adding meaningful and relevant visuals. Performances are either accompanied by piano or an orchestra. For more information and to learn about upcoming events please visit Victoria Opera House online (victoriaoperahouse.net).