Photos: THE FLYING DUTCHMAN Opens at Glimmerglass Festival
The Glimmerglass Festival kicked off its 2013 season on July 6 with a new production of Wagner's The Flying Dutchman. BroadwayWorld has a first look at the cast in action below!
The Flying Dutchman is the second opera by Wagner that Glimmerglass has produced, following the company's 2008 American professionally staged premiere of Das Liebesverbot. Inspired in part by a harrowing ocean voyage, Wagner based his fourth opera on the story of a ghostly vessel doomed to traverse the seas for eternity. In The Flying Dutchman, the ship's captain comes ashore every seven years in hopes of finding redemption through the love of a woman.
The part of the Dutchman is sung by Ryan McKinny in his role debut. McKinny recently performed the role of Melot in Tristan und Isolde with Canadian Opera Company and Kurwenal in Tristan und Isolde with Houston Grand Opera. Melody Moore, who has performed with English National, San Francisco and Los Angeles operas, sings the role of Senta. The production is conducted by John Keenan, who has an extensive history conducting Wagner at the Metropolitan Opera. Jay Hunter Morris sings the role of the huntsman Erik, fresh off of his performances as Siegfried in the Met's 2013 Ring cycle. Peter Volpe sings the role of Daland. Volpe has recently performed with the Met, as well as Vancouver and Arizona operas.
The set is designed by James Noone, lighting is designed by Mark McCullough and costumes are designed by Erik Teague. The production is presented in German with English projected text.
The Flying Dutchman runs through August 24 at the Alice Busch Opera Theater in Cooperstown, New York. The show is performed in repertory with three other mainstage productions: Lerner and Loewe's Camelot, Verdi's King for a Day and Passions, a double bill of Pergolesi's Stabat Mater and David Lang'sthe little match girl passion. Tickets are available at www.glimmerglass.org or contact the Glimmerglass Box Office at (607) 547-2255.
Photo Credit: Karli Cadel/The Glimmerglass Festival

Peter Volpe as Daland (left) and Adam Bielamowicz as the Steersman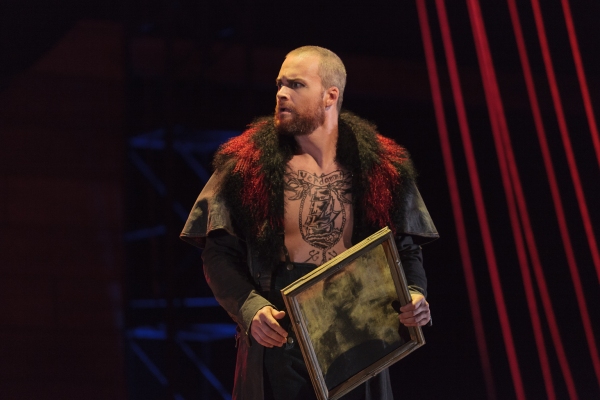 Ryan McKinny as the Dutchman

Ryan McKinny as the Dutchman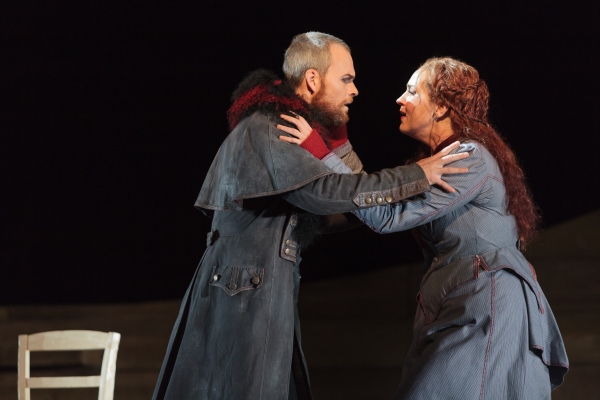 Ryan McKinny as the Dutchman and Melody Moore as Senta

Deborah Nansteel as Mary (center) with the chorus

Jay Hunter Morris as Erik and Melody Moore as Senta

The chorus

Melody Moore as Senta with the chorus