Photo Flash: Get A First Look At CENDRILLON At The Met
BroadwayWorld has a first look at CENRILLON at The Met - now on stage through May 11th! Check out the photos below!
"Glorious," raved the New York Times when Joyce DiDonato sang the title role of Cendrillon at the Royal Opera in 2011. "Her performance was thoroughly enchanting." Now, for the first time ever, Massenet's sumptuous take on the Cinderella story comes to the Met, with DiDonato starring in the title role. She is paired with mezzo-soprano Alice Coote in the trouser role of Prince Charming, Kathleen Kim as the Fairy Godmother, and Stephanie Blythe as the imperious Madame de la Haltière. Bertrand de Billy conducts Laurent Pelly's imaginative storybook production.
Charles Perrault's 1698 fairy tale, the classic telling of the Cinderella story, is an excellent source for an opera-providing color, romance, and relatable themes for audiences of all ages. The work includes many moments in which Massenet is at his best and most widely accessible, from the pageantry and glowing musical nostalgia for the French baroque in the court scenes to the otherworldliness of the love music to the wit and humor that permeate the work as a whole.
Massenet's score features a preponderance of the lower female voices-including a mezzo-soprano as the object of Cendrillon's affection-that were so favored by French composers in the 19th century. The result is an otherworldly yet sensual tonal palette that serves as a rich background for this familiar tale. Against all the fairy-tale wonder of the score, the title character and her prince are recognizably human. Their Act II love duet is a masterful moment emblematic of Massenet's elegant style: The prince is lyrically effusive, while all of Cendrillon's gushing emotion is expressed in a single refined yet poignant phrase as she says "You are my Prince Charming," recalled at other points throughout the score.

Joyce DiDonato in the title role of Massenet's Cendrillon. Photo: Ken Howard / Met Opera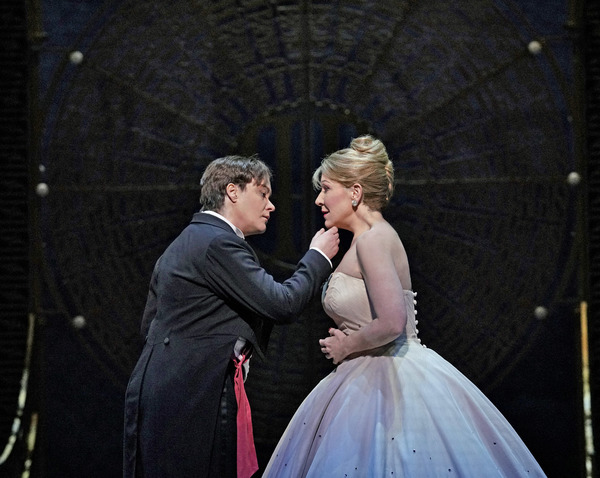 Alice Coote as Prince Charming and Joyce DiDonato in the title role of Massenet's Cendrillon. Photo: Ken Howard / Met Opera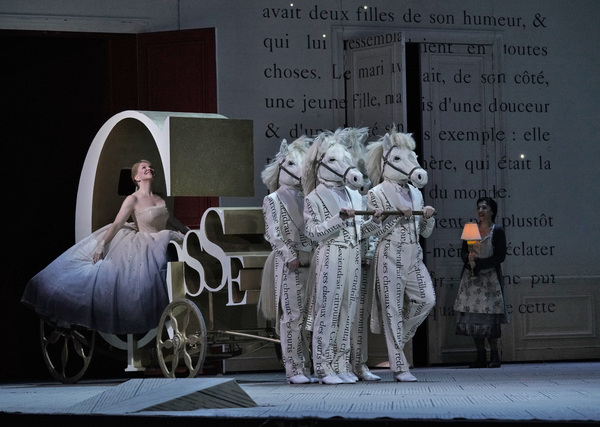 Joyce DiDonato in the title role of Massenet's Cendrillon. Photo: Ken Howard / Met Opera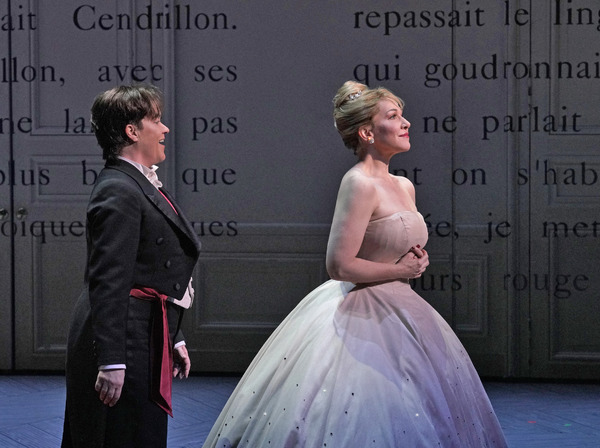 Alice Coote as Prince Charming and Joyce DiDonato in the title role of Massenet's Cendrillon. Photo: Ken Howard / Met Opera

Alice Coote as Prince Charming and Joyce DiDonato in the title role of Massenet's Cendrillon. Photo: Ken Howard / Met Opera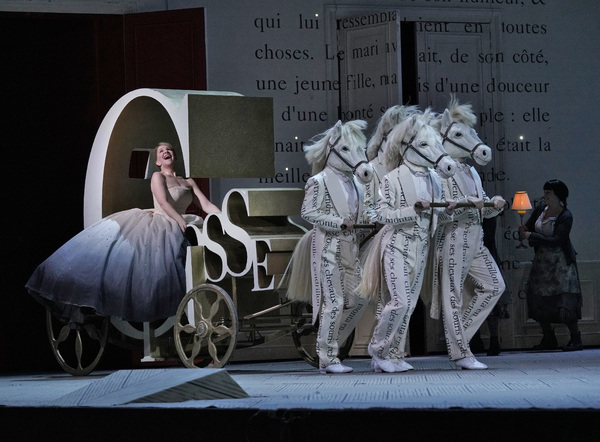 Joyce DiDonato in the title role of Massenet's Cendrillon. Photo: Ken Howard / Met Opera

Joyce DiDonato in the title role of Massenet's Cendrillon. Photo: Ken Howard / Met Opera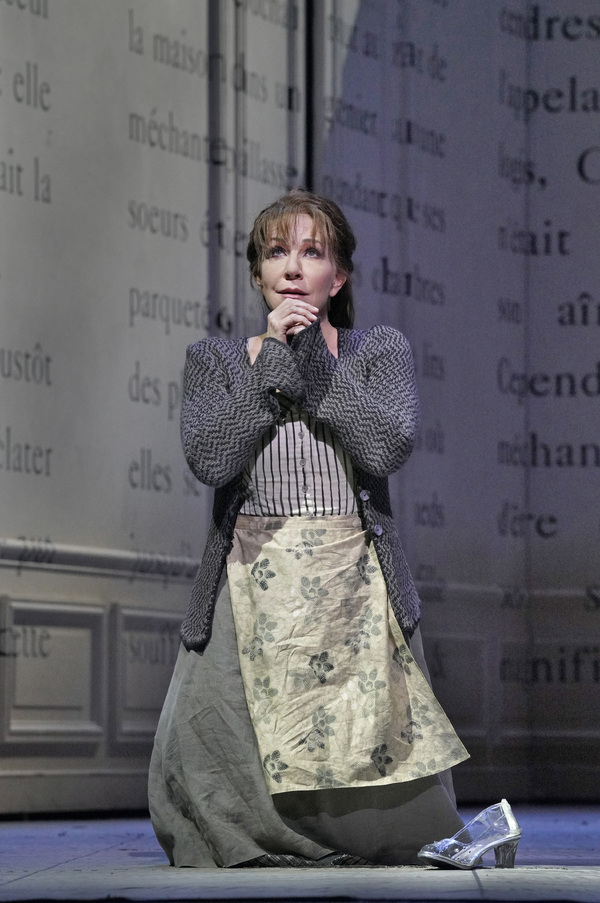 Joyce DiDonato in the title role of Massenet's Cendrillon. Photo: Ken Howard / Met Opera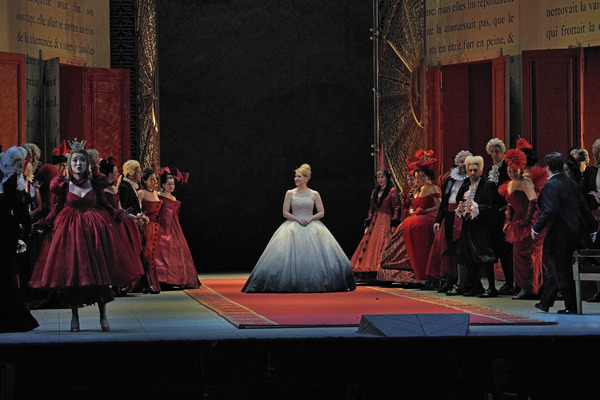 Joyce DiDonato in the title role of Massenet's Cendrillon. Photo: Ken Howard / Met Opera

Alice Coote as Prince Charming in Massenet's Cendrillon. Photo: Ken Howard / Met Opera

Maya Lahyani as Dorothée, Stephanie Blythe as Madame de la Haltière, and Ying Fang as Noémie in Massenet's Cendrillon. Photo: Ken Howard / Met Opera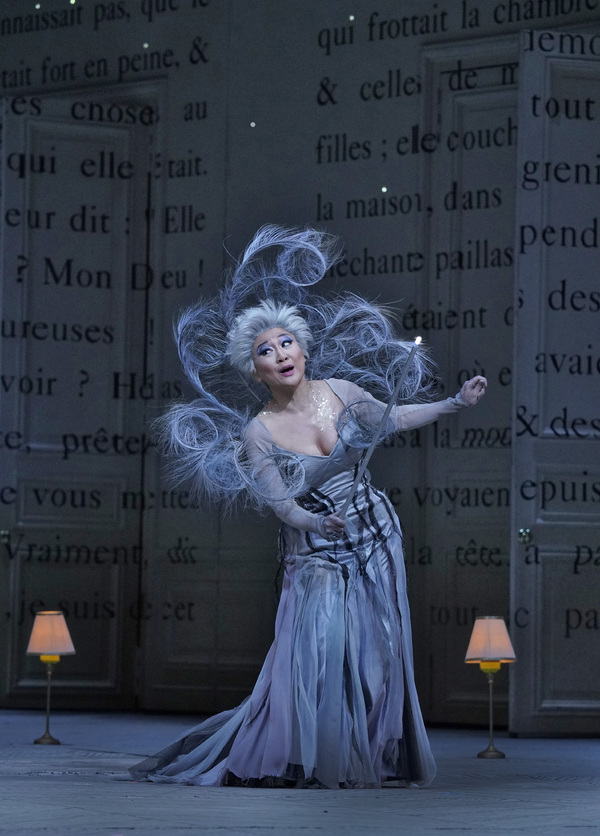 Kathleen Kim as the Fairy Godmother in Massenet's Cendrillon. Photo: Ken Howard / Met Opera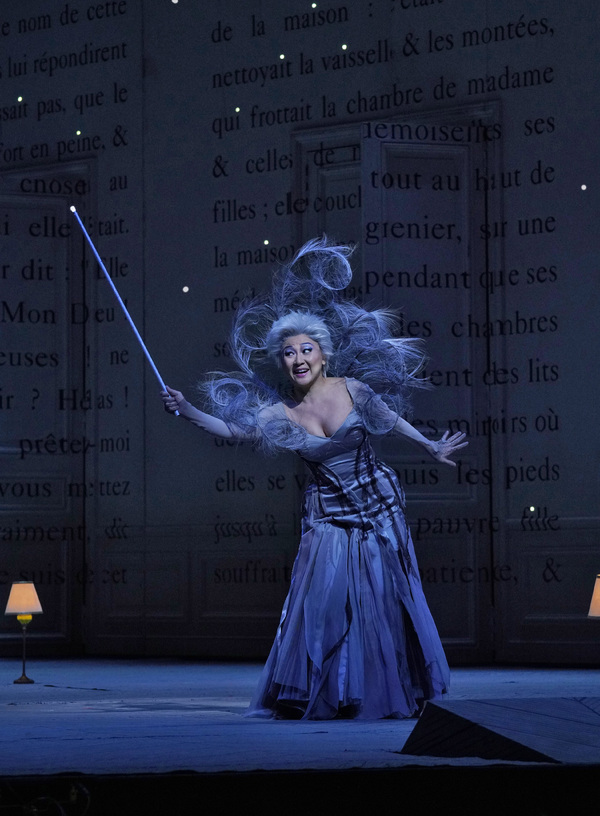 Kathleen Kim as the Fairy Godmother in Massenet's Cendrillon. Photo: Ken Howard / Met Opera

A scene from Massenet's Cendrillon. Photo: Ken Howard / Met Opera

Maya Lahyani as Dorothée, Stephanie Blythe as Madame de la Haltière, Ying Fang as Noémie, and Laurent Naouri as Pandolfe in Massenet's Cendrillon. Photo: Ken Howard / Met Opera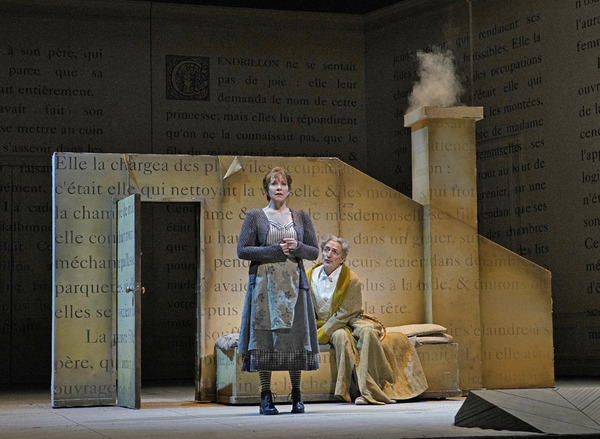 Laurent Naouri as Pandolfe and Joyce DiDonato in the title role of Massenet's Cendrillon. Photo: Ken Howard / Met Opera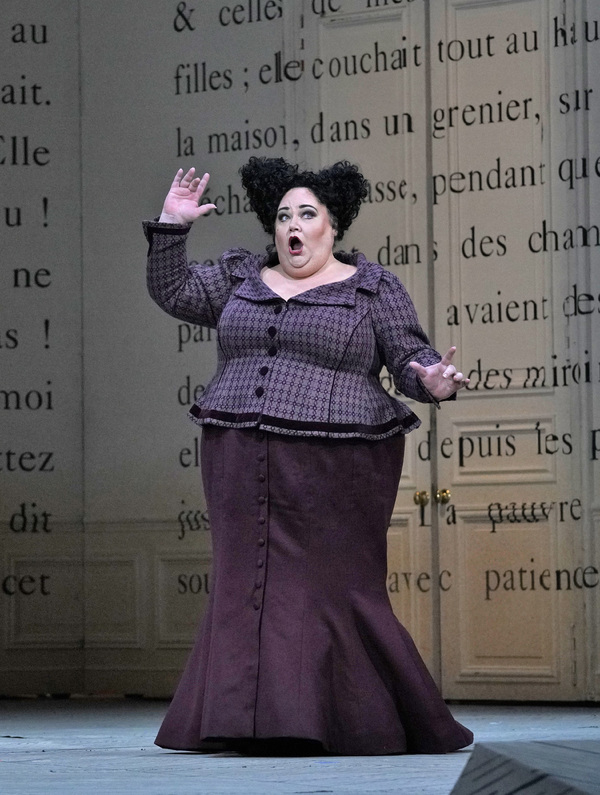 Stephanie Blythe as Madame de la Haltière in Massenet's Cendrillon. Photo: Ken Howard / Met Opera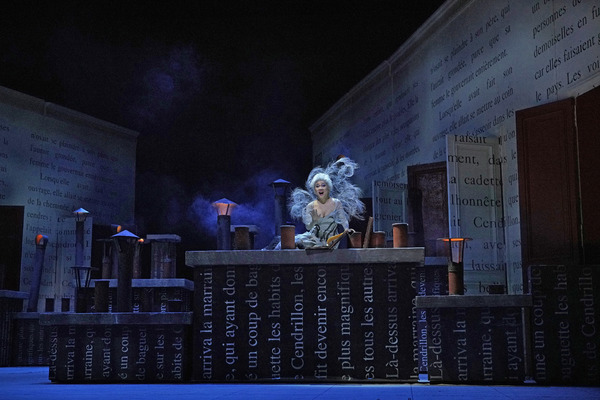 Kathleen Kim as the Fairy Godmother in Massenet's Cendrillon. Photo: Ken Howard / Met Opera

Ying Fang as Noémie, Maya Lahyani as Dorothée, and Laurent Naouri as Pandolfe in Massenet's Cendrillon. Photo: Ken Howard / Met Opera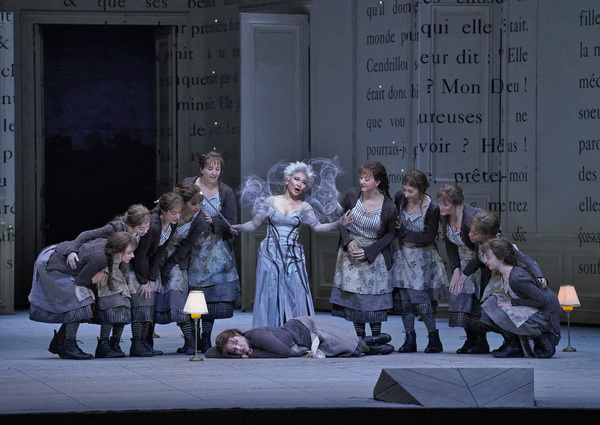 Kathleen Kim as the Fairy Godmother and Joyce DiDonato in the title role of Massenet's Cendrillon. Photo: Ken Howard / Met Opera

Maya Lahyani as Dorothée, Stephanie Blythe as Madame de la Haltière, and Ying Fang as Noémie in Massenet's Cendrillon. Photo: Ken Howard / Met Opera

Kathleen Kim as the Fairy Godmother and Joyce DiDonato in the title role of Massenet's Cendrillon. Photo: Ken Howard / Met Opera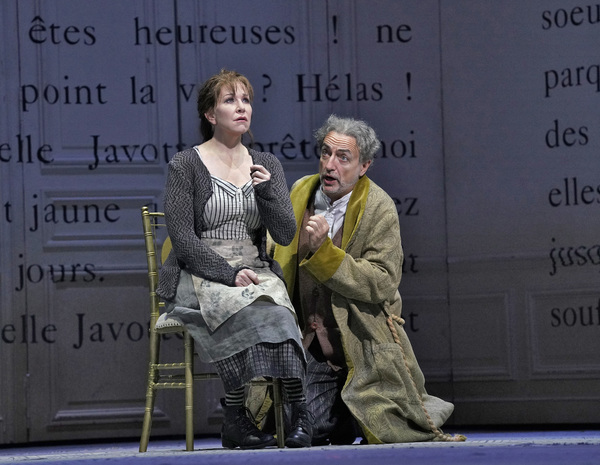 Laurent Naouri (right) as Pandolfe and Joyce DiDonato in the title role of Massenet's Cendrillon. Photo: Ken Howard / Met Opera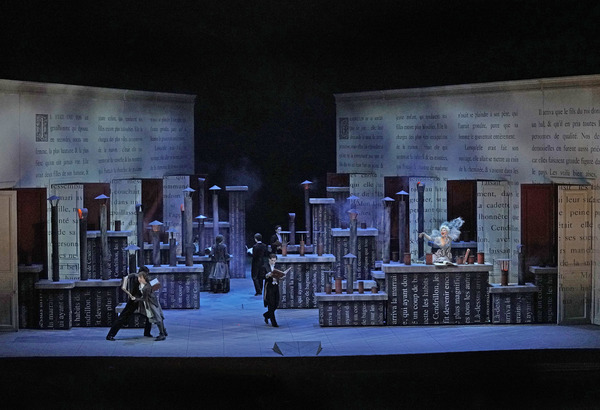 A scene from Massenet's Cendrillon. Photo: Ken Howard / Met Opera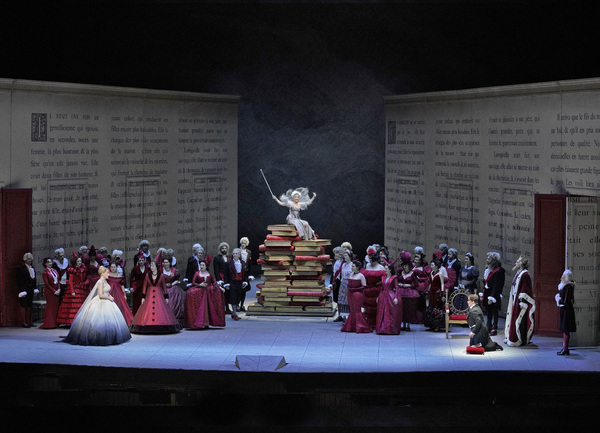 A scene from Massenet's Cendrillon. Photo: Ken Howard / Met Opera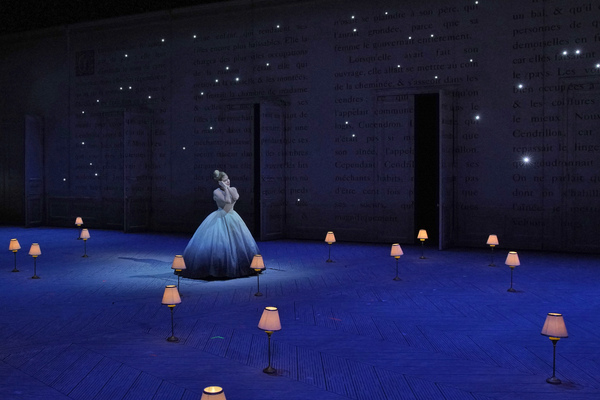 A scene from Massenet's Cendrillon. Photo: Ken Howard / Met Opera