Photo Flash: First Look at Tenor Anthony Kearns' Spring Tour
Tenor Anthony Kearns, kicked off his Spring Tour on March 2, 2012 at Kansas City Union Station's Grand Opening Gala and a special performance at the VooDoo Lounge (North Kansas City) on March 3. He wrapped up his multi-city solo tour on March 27 at the JFK Presidential Library in Boston, MA.  
We have a photo of Kearns with accompanist Dale Morehouse of the University of Missouri Kansas City below!
Mr. Kearns, a founding member of the Irish Tenors, also gave a cameo performance at the christening of the Grand Opening Gala of "Titanic: The Artifact Exhibit" at Union Station Kansas City the previous evening. The black-tie event for 500 guests was chaired by Michael Haverty, President & CEO of Kansas City Southern Rail.  George Guastello III, President and CEO of Union Station Kansas City, introduced Kearns before he sang the much-beloved "Danny Boy."
"I enjoyed performing in Kansas City at both occasions. Union Station is a magnificent building and Harrah's North Kansas City offered an intimate venue, with fine acoustics, and a welcoming crowd. I am also fascinated by the story of tragedy and triumph surrounding the RMS Titanic, a majestic ship that had strong Irish roots," said Kearns.
Mr. Kearns' next tour stop was Washington, D.C. on March 8th to perform as the featured entertainer at a benefit for U.S. military families honoring Governors Bob McDonnell (VA) and Martin O'Malley (MD), among others. 
Kearns joins the ranks of world-class performers who have performed in a Caesars venue, including: Frank Sinatra, soprano Helen Traubel, heldentenor Lauritz Melchior, bass Ezio Pinza, and baritone Robert Merrill. Luciano Pavarotti began his 2004 North American tour at Caesars Palace for his final worldwide tour.
Award-winning meteorologist, Joe Lauria of Fox4, was the master of ceremonies. Titanic Historian from the exhibit, Theresa Nelson, made brief remarks during intermission and Tony Cook presented guests with special tickets for private tours of the grand exhibit. 
Kathy Quinn, also an award-winning journalist with Fox4 (and Grand Marshal of the Kansas City Irish Day Parade), presented Mr. Kearns with a special collection of restored music by Tenor John McCormack.
Other notable guests included: Donald Quinn, founder of the Kansas City John McCormack Society; Ian Byrne, lead guitarist for the popular Celtic-rock band, The Elders; Charles Bruffy, Chorus Director of the Kansas City Symphony and winner of the 2008 Grammy Award for Best Small Ensemble Performance; Kansas City Congressional Candidate, Jacob Turk; members of the 509th Bomb Wing from the Whiteman Air Force Base; and Medal of Honor recipient Colonel Donald Ballard (the highest military decoration awarded by the U.S. government) who received a standing ovation for his service with the Marines, among others. 
Kearns' repertoire included: the popular song by Stuart Hamblen, "This Ole House"; the traditional Irish folk song, "Red is the Rose"; the humorous Irish ditty, "Kitty Me Love"; one of Tchaikovsky's most-famous ballads, "None but the Lonely Heart"; the classical French love song, "Plaisir d'Amour"; "Empty Chairs" from Les Miserables; and after intermission, "Funniculi, Funnicula"; "Bird Songs at Eventide" by English composer Eric Coates; the beloved, "Danny Boy"; the famous Mexican song, "Granada"; and as the grand finale, "God Bless America," performed a cappella.
Support for the event included: Boulevard Brewing Company, Harrah's North Kansas City, Snake Saturday Parade & Festival, The Irish Music Association, The Kansas City St. Patrick's Day Parade, The Kansas City Irish Festival, The Roasterie, Union Station Kansas City, and University of Notre Dame Kansas City Alumni Chapter.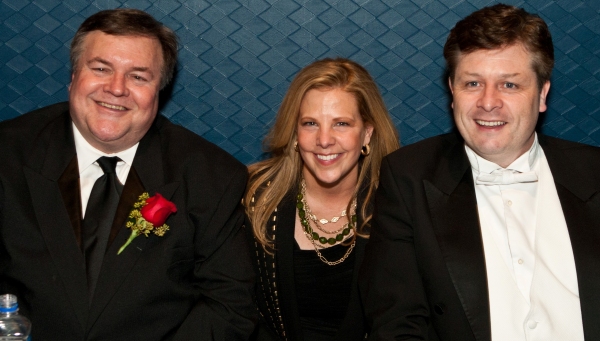 Anthony Kearns, Kirsten Fedewa, and Dale Morehouse