Photo Flash: First Look at Houston Grand Opera's PRINCE OF PLAYERS
Houston Grand Opera (HGO) presents the world premiere of PRINCE OF PLAYERS by distinguished American composer Carlisle Floyd on March 5, 11, and 13, 2016. A chamber opera in two acts, PRINCE OF PLAYERS is a high-spirited period piece that examines the fluidity of sexuality and gender roles. Scroll down for a first look at the cast onstage!
Edward Kynaston (c. 1640-1712) was one of the last Restoration actors to perform women's roles on the English stage. PRINCE OF PLAYERS deals with the crisis that this idolized star experienced when his career came to a halt with an edict from Charles II: "No He shall ere again upon an English stage play She." The opera follows Kynaston's fall from stardom, his descent into the theatrical lowlife, and his struggle to restore his stage identity set against the panorama of 17th-century London. The opera is based on the play Compleat Female Stage Beauty by Jeffrey Hatcher, which was inspired by references to Kynaston made in the detailed private diary kept by Samuel Pepys. The story was also the subject of the 2004 British-American-German film Stage Beauty, starring Billy Crudup and Claire Danes.
Most of the principal roles in PRINCE OF PLAYERS are being performed by artists and alumni of the HGO Studio, which Carlisle Floyd co-founded and co-directed with HGO General Director David Gockley in 1977. The role of Kynaston will be sung by American baritone Ben Edquist, an HGO Studio artist. Armenian soprano Mane Galoyan, also an HGO Studio artist, will sing Margaret Hughes, his dresser. King Charles II will be sung by tenor Chad Shelton, an HGO Studio alumnus who most recently appeared as Cavaradossi in HGO's 2015 performances of Tosca. Tenor Joseph Evans, who sang the role of Curley in HGO's production of Carlisle Floyd's Of Mice and Men, will sing Sir Charles Sedley. Tenor and HGO Studio alumnus Scott Quinn, who HGO audiences will remember as Pirelli in Sweeney Todd last season, will sing Villiers, Duke of Buckingham.
Three members of the creative team will be making their HGO debuts: English director Michael Gieleta has worked extensively in theater as well as at companies such as Santa Fe Opera and Chicago Opera Theater; set designer Shoko Kambara's work has been seen at Opera Philadelphia and The Juilliard School; and costume designer Gregory Gale was recently nominated for Tony Awards for his Broadway work on Cyrano de Bergerac and Rock of Ages. HGO Artistic and Music Director Patrick Summers will conduct.
HGO's ties with composer Carlisle Floyd, the company's Lynn Wyatt Great Artist 2015-16, are among the longest of any opera company and composer in history, spanning nearly 40 years. In 1976, HGO premiered Floyd's Bilby's Doll, the first of four Floyd world premieres by HGO, including Willie Stark (1981), The Passion of Jonathan Wade (new version, 1991), and Cold Sassy Tree (2000). In addition, HGO has staged his Susannah and Of Mice and Men.
Photo Credit: Lynn Lane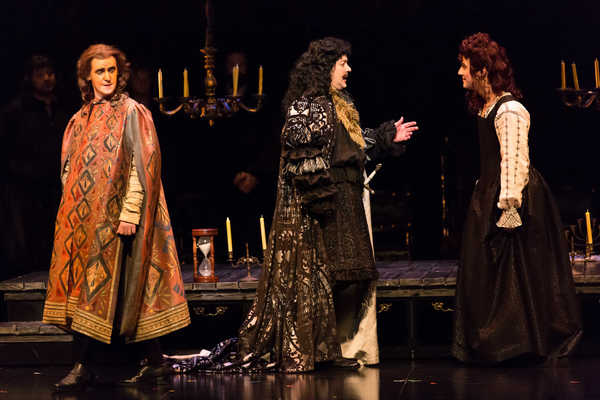 Federico De Michelis as Thomas Betterton, Chad Shelton as Charles II and Ben Edquist as Edward Kynaston

Ben Edquist as Edward Kynaston and Joseph Evans as Sir Charles Sedley

Sofia Selowsky as Nell Gwynn, Megan Mikailovna Samarin as Lady Meresvale, Chad Shelton as Charles II, Scott Quinn as George Villiers, Duke of Buckingham, Ben Edquist as Edward Kynaston, Said Henry Pressley as Hyde, Pureum Jo as Miss Frayne, Joseph Evans as Sir Charles Sedley, Mane Galoyan as Margaret Hughes, and the ensemble

Ben Edquist as Edward Kynaston and Mane Galoyan as Margaret Hughes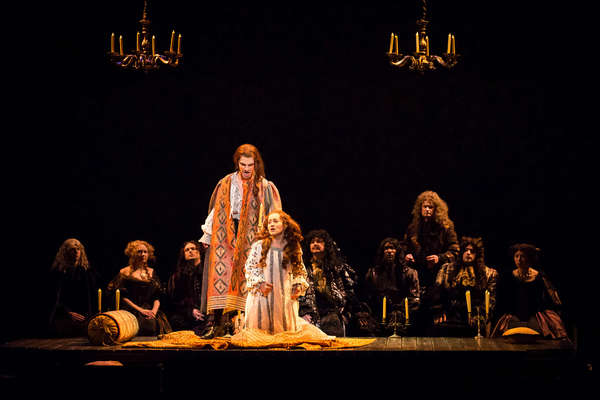 Megan Mikailovna Samarin as Lady Meresvale, Scott Quinn as George Villiers, Duke of Buckingham, Ben Edquist as Edward Kynaston, Mane Galoyan as Margaret Hughes, Chad Shelton as Charles II, Said Henry Pressley as Hyde, Joseph Evans as Sir Charles Sedley, Pureum Jo as Miss Frayne, and the ensemble